Aug 1 2020 - Activist teams up with potential acquirer to pressure CoreLogic
From CNBC: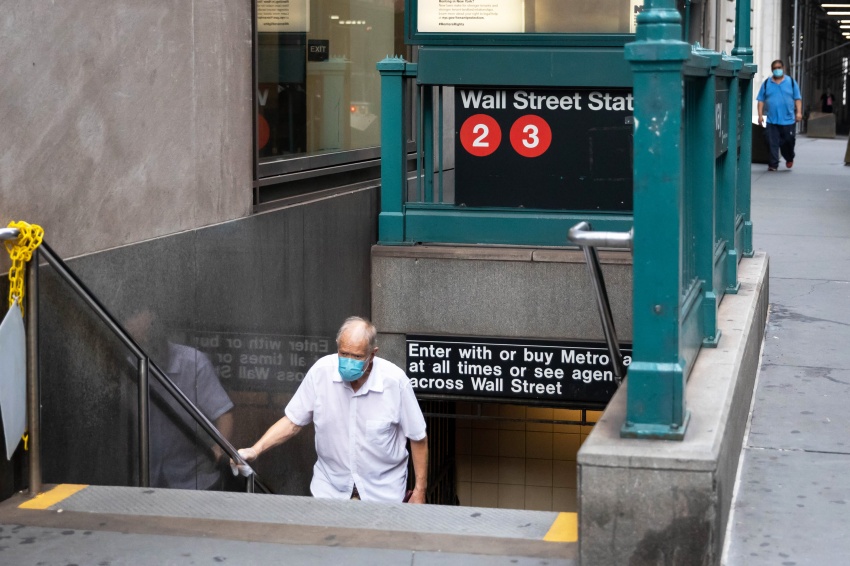 A pedestrian wearing a protective mask exits from the Wall Street subway station in New York, on Monday, July 20, 2020. Michael Nagle | Bloomberg | Getty Images
Company: CoreLogic Inc. (CLGX)
Business: CoreLogic is a provider of property information, analytics and data-enabled services. The company provides detailed coverage of property, mortgages and other encumbrances, property risk and replacement cost, consumer credit, tenancy, location, hazard risk and related performance information. Its segments include Property Intelligence (PI), Risk Management and Work Flow (RMW), and Corporate. The Property Intelligence segment owns or licenses real property, mortgage and consumer information, which includes loan information, property sales and characteristic information, property risk and replacement cost, natural hazard data, geospatial data, parcel maps and mortgage-backed securities information. The RMW segment owns or licenses real property information, mortgage information and consumer information, which includes loan information, property sales and characteristic information, natural hazard data, parcel maps, employment verification, criminal records and eviction records.
Stock Market Value: .4 billion (.16 per share)
Activist: Senator Investment Group/Cannae Holdings Inc.
Beneficial Ownership:  9.99%
Average Cost: .96 per share
Activist Commentary: Senator Investment is a New York-based hedge fund that is not historically known for activism. However, last year they hired Quentin Koffey from D.E. Shaw, who was previously a portfolio manager at Elliott Management and has years of experience in shareholder activism. Cannae Holdings, Inc. (CNNE) is a publicly traded holding company engaged in actively managing and operating a group of companies and investments. Cannae's primary investments as of December 31, 2019 include minority ownership interests in The Dun & Bradstreet Corporation, Ceridian HCM Holding, Inc. and Coding Solutions Topco, Inc. (the joint venture that now owns T-System Holdings, Inc.); majority equity ownership stakes in O'Charley's, LLC and 99 Restaurants Holdings, LLC; and various other equity and debt investments primarily in the real estate, financial services and healthcare technology industries.
What's happening:
On July 29, 2020, Senator Investment Group and Bill Foley's Cannae Holdings (the Group) sent a letter to the company announcing that following the company's rejection of its proposal to acquire it for per share, the group is moving forward with the process of calling a special meeting to remove a majority of the board and replace them with nine new directors.
Behind the scenes:
Senator teamed up with Cannae Holdings, a 2.89% holder, and offered to acquire the company at a 37% premium to the company's unaffected price and a 26% premium to the company's 52-week high. This is a situation analogous to the Valeant/Pershing Square/Allergan campaign of 2014. Cannae would like to acquire CoreLogic, but CoreLogic will never sell to them absent severe pressure from their shareholders. So, Cannae teams up with one of their larger shareholders, Senator, who will exert that pressure.
Situations like these straddle the fence of shareholder activism because it is unclear whether the "activist" is aligned with shareholders to get the highest price or aligned with the acquirer to get the lowest price. Absent a couple of occasional sentences alluding to maximizing shareholder value through a sale process, the Senator letter seems to be more interested in selling to Cannae than selling to the highest bidder. However, this is not consistent with Quentin Koffey's philosophy and history and we would expect him to assure that any sale of the company would only be done after an exhaustive search for the highest bidder.
The company was not interested in selling so they did not engage with Senator and instituted a poison pill and other tactics to thwart a potential hostile takeover. This is not unusual nor is it necessarily poor corporate governance in the context of a potential hostile takeover. However, Senator goes a little too far by characterizing these and other tactics as a "scorched earth" policy. Scorched earth tactics worthy of board replacement are examples like Darden hastily selling the valuable Red Lobster franchise shortly before they lost control of the board to Starboard and in the face of huge shareholder opposition to the sale. A board has the right to decide not to sell the business and instead focus on long term value. That is not bad corporate governance as Senator implies in their letter. Nor is it grounds to replace an entire board. There needs to be egregious conduct or underperformance at a company to justify replacing a majority of the board. Senator does not come close to alleging that kind of conduct here, and the company's performance in the year prior to the date Senator announced its acquisition offer was 22.2% versus 5.4% for the S&P 500. It takes a lot to replace a board majority and ISS and large institutional shareholders will not support such a move just because the new board may be more receptive to running a sales contest.
This is reminiscent of Marcato's attempt at Deckers where there also was no evidence of egregious misconduct or excessive underperformance and where Marcato stated that "there has been a total collapse in shareholders' confidence in the Company's Board of Directors and management team" and "a sale of the Company in this case very likely offers the highest risk-adjusted return for stockholders." Subsequently, Marcato reduced its slate from nine to three when it realized it was misguided going for a majority, and at the election they did not even get any of the three directors elected. On the day of the election in December of 2017 Deckers stock was trading at .98 per share. Today it trades at 5.51 per share.
Koffey has created significant value for shareholders at companies like Lowe's and has orchestrated some very positive transformations at companies like EQT. The major difference is that those restructurings were done in the public entity where the shareholders took the full risk and reaped the full rewards of the turnaround. In this situation, assuming that Bill Foley is the "Hunter Harrison" of this industry and the best guy to turnaround CoreLogic, Senator is asking shareholders to forego the tremendous upside of a successful turnaround for the certainty of a 37% return today.
Ken Squire is the founder and president of 13D Monitor, an institutional research service on shareholder activism, and the founder and portfolio manager of the 13D Activist Fund, a mutual fund that invests in a portfolio of activist 13D investments.