Sept 4 2020 - GameStop Short Squeeze Part III: Atop The Caldera
Summary
The final part in the GameStop Short Squeeze Series.
A comprehensive situation breakdown.
Thoughtfully gambling on the potential short squeeze.
Background
This is the third and final part of my three part series: GameStop Short Squeeze. See Part I & Part II here. This will also be the most detailed of the three parts given my belief that after earnings next week, this trade will no longer exist.
Caldera Eruptions
"Gases tend to become trapped at high pressure within the magma. When the magma approaches the surface of the Earth, the rapid off-loading of overlying material causes the trapped gases to decompress rapidly, thus triggering explosive destruction of the magma and spreading volcanic ash over wide areas."
(Source: Wikipedia)
The quote above is a perfect summary of the situation we find ourselves in. We've witnessed the magma slowly approaching the surface of the Earth. Next week, I believe we will witness a rapid and violent decompression that will result in the beginning of a historic short squeeze.
Business Woes
From 2016-to-Present, GameStop's (NYSE:GME) business has been in secular decline due to an industry transition to digital retail. Similar to Blockbuster, GameStop has been slow to respond to the ongoing shift in consumer behavior. Additionally, GameStop has faced numerous internal challenges including, but not limited to: Poor public perception, low morale among employees, weak management, expensive and ill-thought out M&A, low reinvestment, an expensive dividend (no longer in-place), declining revenues at the end of a lengthy console cycle, poor marketing efforts, a poorly designed website (personal opinion), rapid management changeover, and finally a lack of a comprehensive go-forward business strategy.
Things are looking bleak, and wise short-sellers have capitalized on this fact over the past five years - evidenced by GameStop's declining share price.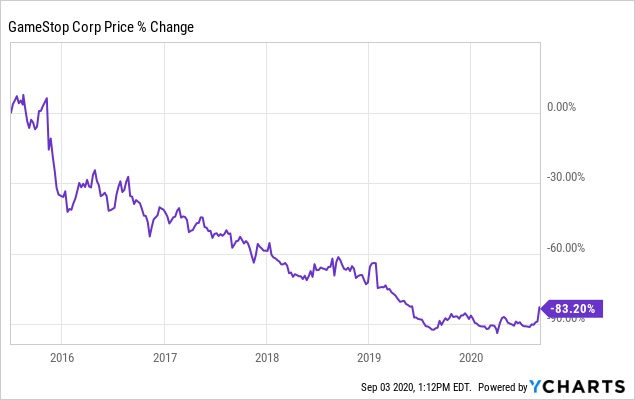 Data by YCharts
Short-Sellers
Over the past 5-years, Short-sellers have piled into this trade, emboldened by 5-years of consistent returns. This precarious situation has lead to GameStop becoming one of the most shorted stocks ever, as evidenced by the graphic below.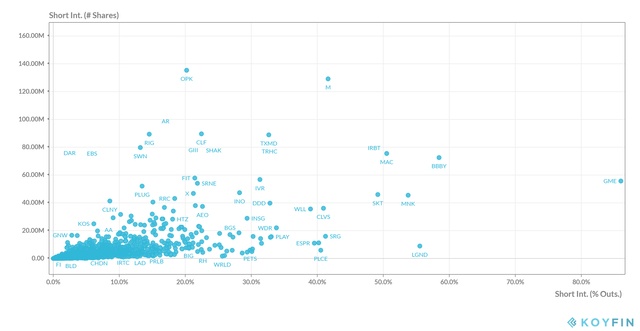 (Source: Koyfin)
Please note: the graphic above is based on shares outstanding and not the public float.
Public Float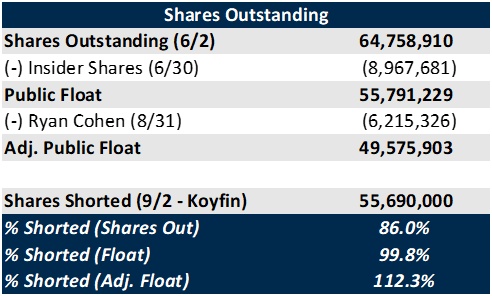 (Source: Myself, Koyfin, SEC Filings)
Fees: 17.8% as of 9/2 (source: iBorrowDesk)
Catalysts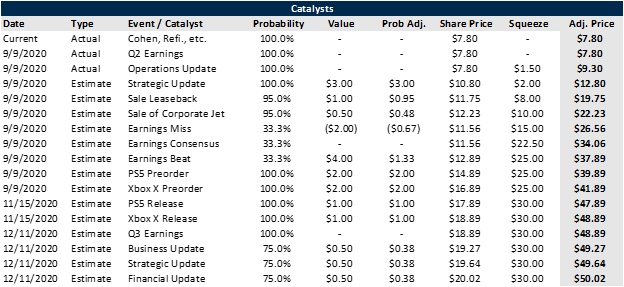 (Source: Self)
The Bullish Case
GameStop is a case study in negative bias. GameStop executed its debt exchange flawlessly. The company has made improvements in its vendor relationships, and is poised to generate meaningful free cash flow during the upcoming console cycle. They can expand high margin digital sales, close less profitable stores (reducing LT debt from leases), and paydown debt with excess cash on hand. They have the ability to buyback shares, and they don't pay a dividend allowing them to reinvest in the business. They also hold a unique position within the thriving video game industry, and I believe they could be a genuine buyout target for a larger digital retailer looking for brick and mortar exposure.
Risks & Challenges to GameStop
GameStop could go to zero over the next 3-5 years. Management could fail to turn the business around, destroying all remaining equity value in the business. The transition to digital retail could accelerate dramatically, especially in a COVID-19 world where people do not want to frequent physical retailers. GameStop faces numerous uphill battles in the future. For example, how will they generate cash flow post-console cycle? It is unclear that they have learned how to sustain profitability during off cycle years, and the console cycle may not be as beneficial as they expect it to be. If they do not clearly lay out a path forward and a strategic vision, I believe they will falter.
It is not certain that GameStop will stage a successful turnaround; however, I believe they have the tools and leadership to potentially make it happen.
Risks of Using OTM Call Options to Play a Short Squeeze
Option values are highly sensitive to volatility, the underlying price, and time. I am specifically using January dated calls because they provide ample time for my thesis to play out. For call holders (including myself), please be cautious of buying short dated options due to time decay. The risk of options expiring worthless is quite real and could result in a total loss of investment. This is not a conservative play, by any means. I still believe OTM call options remain the superior way to play a short squeeze because they benefit from what I expect to be an increase in volatility and share price.
Ryan Cohen's GameStop Investment
In multiple 13D filings, Ryan Cohen (in conjunction with RC Ventures) disclosed the purchase this month of 6.2 million shares at prices ranging from .60 to .73 a share. As of today, Cohen owns 9.6% of GameStop's shares outstanding.
Cohen said in the filing that he acquired the GameStop stake based on a view that the stock was "undervalued and represented an attractive investment opportunity." The filing said he could buy more shares, and that he could make proposals on changes in the company's ownership structure or strategy.
Ryan Cohen's Career
Ryan Cohen is the co-founder and former CEO of e-commerce company Chewy (CHWY), which was acquired by Petsmart in 2017 for .35 billion.
In 2011, at the age of 25, Cohen founded Chewy under its original name of MrChewy. In need of capital, Cohen says he originally approached over 100 venture capital firms and was rejected by all of them. In 2013, Cohen secured the company's first outside investment from Volition Capital for million. By 2016, he had raised capital from investors including BlackRock and T. Rowe Price New Horizons Fund. That year the company had 0 million in sales and had become the number 1 online pet retailer. By 2017, Cohen had raised 0 million and was preparing for an IPO.
In April 2017, PetSmart purchased Chewy for .35 billion in the largest e-commerce acquisition of all time. Cohen remained CEO following the acquisition and operated the business largely as an independent unit of PetSmart. In March 2018, he stepped down as CEO to pursue personal goals and spend time with his family. In June 2019, Chewy went public at a valuation of .7 billion.
(Source: Wikipedia, Forbes, Fortune)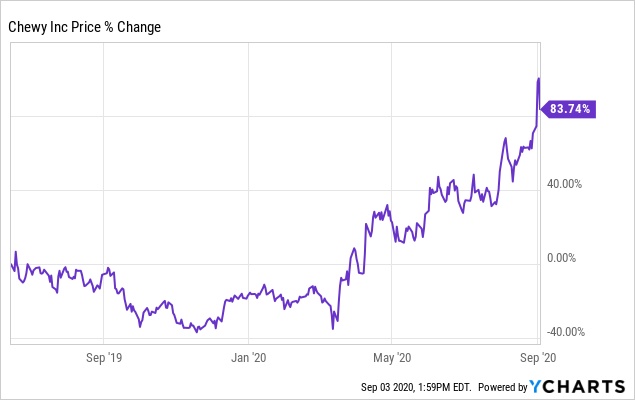 Data by 
YCharts
Ryan Cohen's Past Investments
Following the sale of Chewy, Cohen made significant investments into two companies, Apple and Wells Fargo. His Apple investment has made him the largest individual shareholder of the tech company with 1.55 million shares (6.2 million split-adjusted shares as of August 31, 2020).
(Source: Wikipedia, SEC Filings)
The New Board of Directors
In the past year, GameStop has made a concerted effort to redirect the focus of the business. As part of this effort, GameStop has made substantial changes to reshape its board of directors with successful industry veterans. Additionally, GameStop was the subject of a dramatic activist proxy battle in which hedge funds Hestia Capital Partners and Permit Capital Enterprise Fund elected to vote Paul Evans & Kurtis Wolf.
Grapevine, Texas, March 09, 2020 GME announced it has appointed three new independent members to its Board of Directors. Joining the Company's Board are Reginald "Reggie" Fils-Aimé, William "Bill" Simon and James "J.K." Symancyk. (Source)
In June 2020, activist investors won two board seats (Source)
Let me focus on one board member in particular.
J.K. Symancyk
James "J.K." Symancyk, has 25 years of executive leadership and operational experience in the retail and consumer products industries. He has served as President and CEO of PetSmart, Inc. since 2018. Mr. Symancyk previously served as President and CEO of Academy Sports & Outdoors, Inc., a retail and ecommerce sporting goods chain, from 2015 to 2018. Prior to that, he held leadership roles of increasingly responsibility at Meijer, Inc., a regional supercenter chain store, including as President; COO; and EVP, Merchandising & Marketing.
He began his career at Sam's Club, where he served as Divisional Merchandise Manager, among other roles. His current board memberships include Petsmart and Chewy, Inc., and previously Academy Sports & Outdoors. Mr. Symancyk holds a Bachelor's degree from the University of Arkansas. Mr. Symancyk has been appointed a member of the Compensation Committee.
Insider Buying
Insiders have primarily been GME purchasers.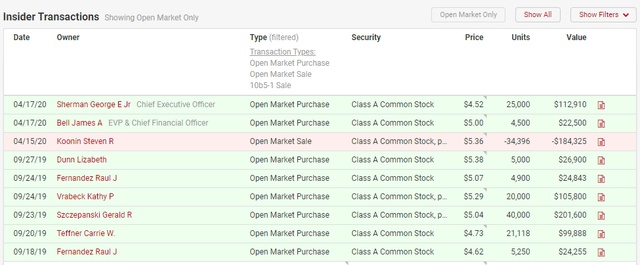 (Source: BamSEC)
Thoughts on Insider Ownership
It seems more likely than not that Ryan Cohen has some agenda beyond simple passive ownership in GameStop due to the following points.
Cohen's preexisting relationship with J.K. Symancyk at Petsmart & Chewy
Aggressive share purchases and 9.6% ownership in the company
Cohen's historical lack of diversification
Possibilities:
He is pursuing a buyout of the company
He is teaming up with an old colleague to help grow a new business venture
He is advising / consulting on growing the eCommerce portion of the business
He believes the company is undervalued and a good investment opportunity
Operating Leases ($ in Millions)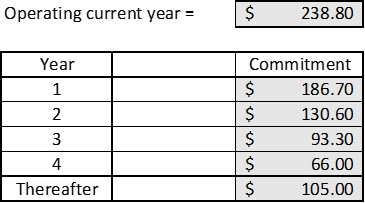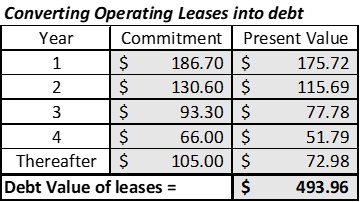 Firm Capitalization (Current)
Note: adj. for revolver payment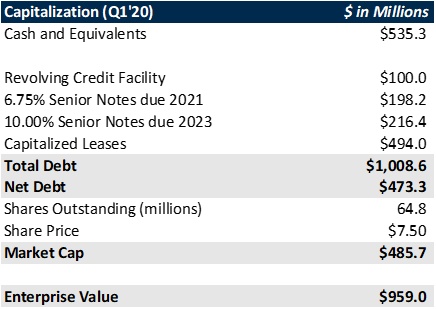 Adjusting for the sale leaseback & corporate jet proceeds for an estimated 0 million. (below)
Firm Capitalization (Adjusted)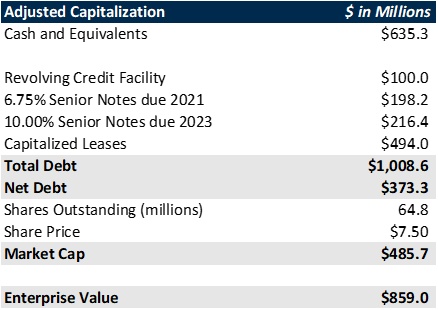 Conclusion: they have ample cash on hand to make it through another console cycle.
Peer-Level Valuation
The best comp I could find was Best Buy (BBY) and they trade around 0.6x sales. I could include a broader peer set with higher multiples, but I will be conservative and only use Best Buy. With a multiple re-rating, they would be worth to / share. Obviously this is contingent on them proving viability, but with a strategic shift (and Ryan Cohen's involvement) they could pull it off. Couple that with expected cash influx from the console cycle and thing start to look brighter.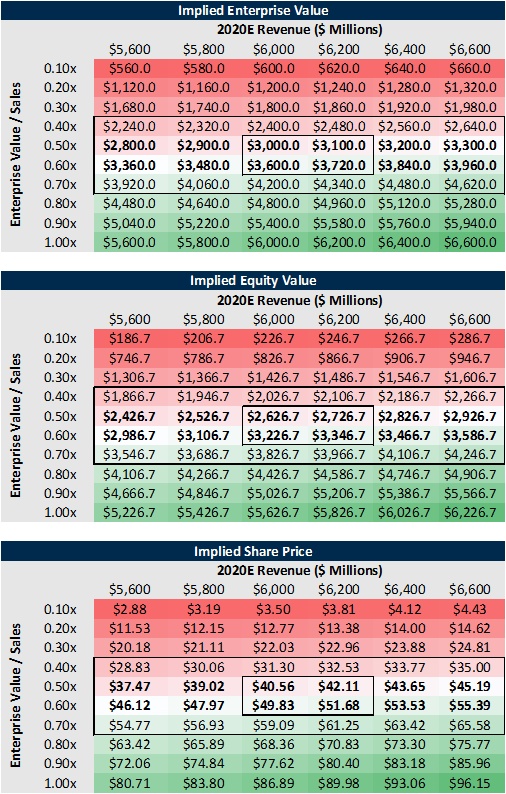 Other Exhibits
Console Sales Figures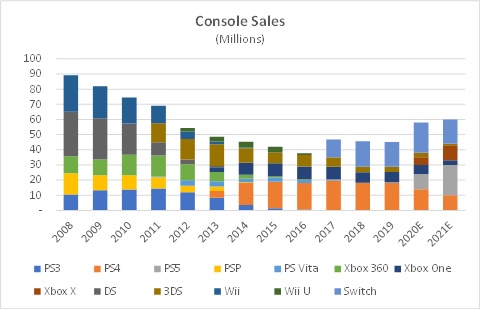 (Source: Statista & Estimates)
Segment Margins

Short Squeeze Case Studies
Volkswagen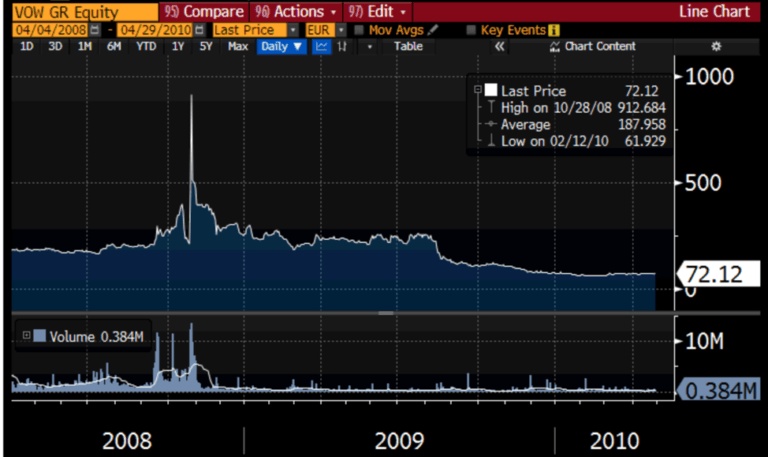 Blue Apron
Stock went form .25 to .84 in 4 days despite having short interest well below GME levels. APRN had only 10 million shares outstanding yet look at the volume once it happened.
Day -4 Volume: 605,707
Day -3 Volume: 643,071
Day -2 Volume: 865,065
Day -1 Volume: 751,150
Day 1 Volume: 17,603,439
Day 2 Volume: 31,976,289
Day 3 Volume: 48,743,512
Day 4 Volume: 24,675,461
(Source: Justin D.)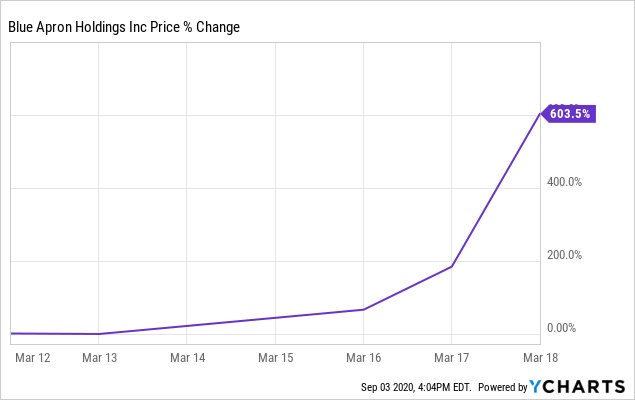 Data by YCharts
Option Model

(Source: Wikipedia)
Note: American options can be exercised at any time
Limitations
The underestimation of extreme moves in the stock, yielding tail risk
The assumption of instant, cost-less trading, yielding liquidity
The assumption of a stationary process, yielding volatility
The assumption of continuous time and trading, yielding gap risk
Today's Valuation (Assuming /share for simplicity)



(Source: Myself)
Adjusted Valuation
9/11/2020 date
/share underlying
400% volatility


(Source: Myself)
Just For Fun Valuation - 0/share
0/share underlying
500% implied volatility


(Source: Myself)
Actionable Takeaway
If you have a high tolerance for risk - I recommend making a small bet on OTM call options with the following expiration dates:
October 16, 2020 - Call - Strikes: (low) - (high)
January 15, 2021 - Call - Strikes: (low) - (high)
I personally own January 15, 2021 & OTM calls.
Final Thoughts
Next week is extremely important, and I wish everyone the best of luck in their investing endeavors!