Sept 10 2020 - Nikola: How to Parlay An Ocean of Lies Into a Partnership - Part 2
Less than two weeks prior to the announcement that Nikola had engineered a revolutionary hydrogen solution, the Nikola Twitter account reinforced that its focus was still on CNG (compressed natural gas), not hydrogen. "CNG is the way to go" it said: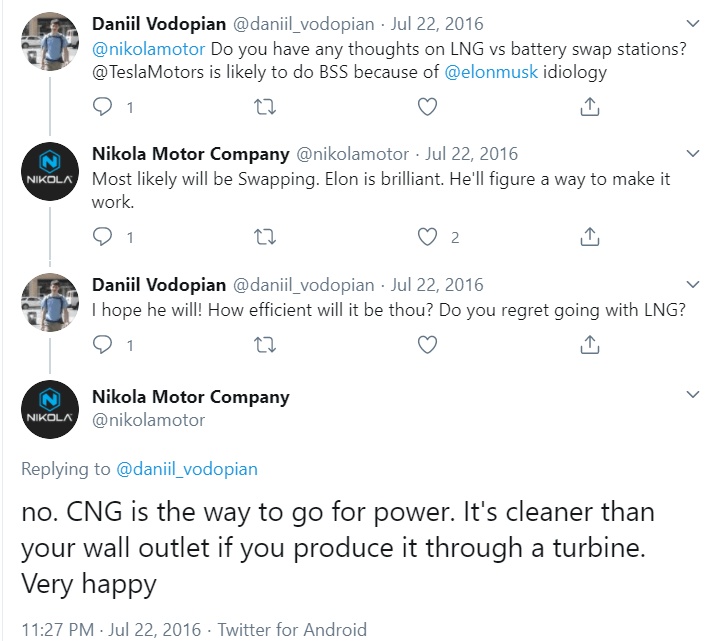 Months earlier Trevor had boasted in public interviews of its natural gas capabilities, stating:
"Our technology is 10-15 years ahead of any other OEM in fuel efficiencies, MPG and emissions"
It is unclear why Nikola decided to suddenly abandon its supposed 10-15 year advantage in natural gas.
Yet despite the "pivot" to hydrogen, the prototype being built continued to be focused on natural gas, according to those involved. The truck presented at the show had natural gas turbines installed, according to our sources.
Trevor Had "H2" Stenciled on the Truck Despite the Truck Apparently Having Zero Hydrogen Capabilities
As it turns out, building a zero-emission hydrogen truck is rather difficult. However, merely stenciling "H2" and "Zero Emission Hydrogen Electric" on the side of a non-functioning truck is much easier.
Trevor had H2 stenciled on the side of the Nikola One despite the reality that the Nikola One contained a turbine designed for natural gas and absolutely zero hydrogen technology whatsoever, according to our sources.
A video of the event showing the stencil-work can be seen here: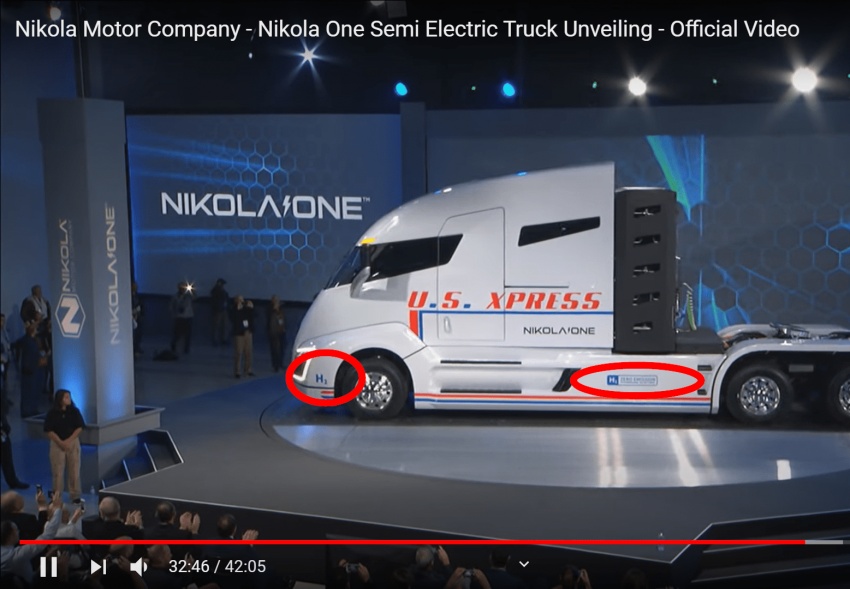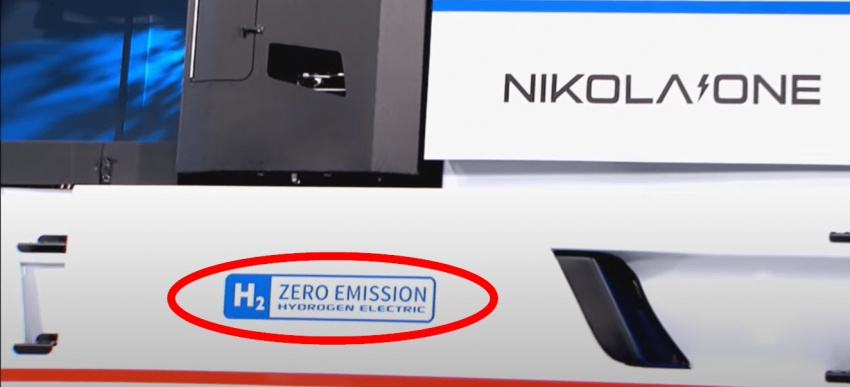 By November, one month before the show, a team from Brayton arrived with natural gas turbines, according to sources involved in the preparation. Since the turbines would be deep in the truck tucked against the battery, no one would be able to be see that there was no generator plugged into it and that it didn't, in fact, run on hydrogen. The fueling system was natural gas only.
"Get Exposed Wiring Looking as Nice as It Can"
: Emails Make Apparent the Last-Minute Rush to Make the Nikola One Look as Good as Possible in the Weeks Leading Up to the Show
As the show got closer, ambitions were reduced, and it was clear that everyone wanted to just make things look as good as possible for the presentation. We have reviewed emails that corroborate this, instructing workers to "get exposed wiring looking as nice as it can" and other last-minute touch-ups: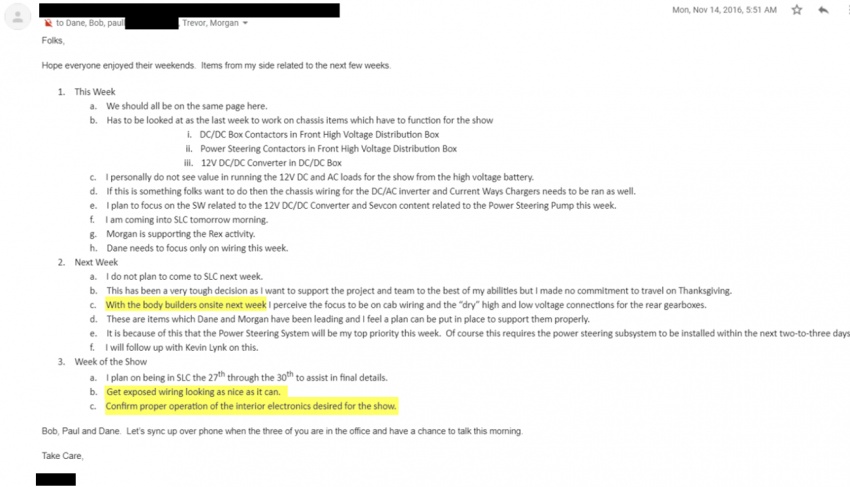 Most everything needed to be installed before the body arrived, so things were put in and buttoned up as well as they could be. The e-axles were installed without motor cores or gears and were installed empty on the "truck" by mid-November.
The body arrived in late November, and the team from N2A Motors, which makes custom car bodies, got it installed on Thanksgiving. This was roughly a week before the show and just days before the truck needed to be pulled onto the stage, which was being built on the other side of the factory.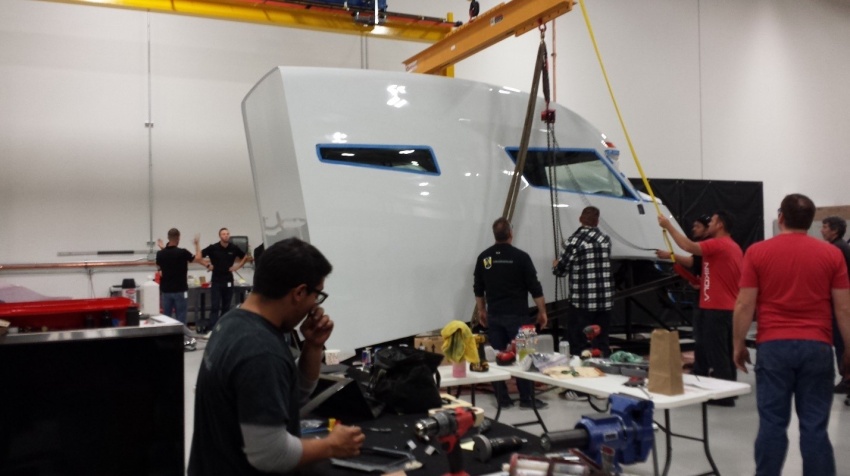 Once the truck was winched up onto the stage, an artist stenciled "US Xpress" onto the cab and "H2" prominently on various parts of the vehicle.
The Truck Could Not Power Itself, Let Alone Drive, So an Electric Cable Was Snaked up Through the Stage.
Trevor: The Truck is "Fully Functioning"
According to a source who worked on the project, and as is visible in this photograph, a cable was snaked up from under the stage through the floor of the cab to power the cabin screens.

Additionally, mockups of the infotainment pages were loaded onto the in-cabin displays.
In an attempt to underscore the functionality of the truck, Trevor put the focus on the only part of it that was turned on–the screens that were powered by the cable under the stage. But the screens, which had been loaded the day before with largely static webpages, according to our source, were reluctant to respond to his efforts.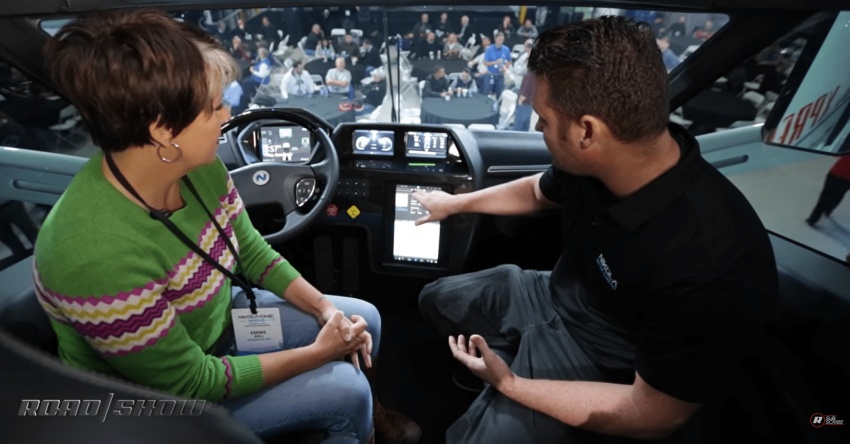 The statements made by Trevor don't strike us as optimistic "forward looking" statements. They were not exaggerations. They were simply bald-faced lies.
In January 2017, following the event, the company raised capital as part of its Series A round. [Pg. F-26] It also signed partnerships in the months to come with companies like major automotive supplier Bosch as well as fuel cell and hydrogen partners.
Presumably, the misleading representations made at the event helped fuel these new deals. Subsequently, CNH International jumped in with both an investment and agreement to aid in the manufacturing.
Following the Show, The Company Abandoned Development of the Nikola One, According to Text Messages from a Former Employee, Having Apparently Already Served its Purpose to Draw in Credible Partners and Investment Capital
To the surprise of people involved in the Nikola One project, development work on the truck did not continue after the show.
It appears the prototype had already served its purpose: giving the company the legitimacy it needed to raise more investment and court larger partners that would be able to build them an actual working model from start to finish.
It was not considered necessary to actually back up the false claims that had been made on the stage. Below is a text exchange with a former employee who corroborated this (in red).
(Source: Text conversation with former employee. Redacted small portions to protect identity of sources.)
2018: In Order to Continue the Appearance of Progress, Nikola Posted a YouTube Video of Its Nikola One "In Motion" on the Road.
Text Messages from a Former Employee Reveal the Truck Was Simply Filmed Rolling Down a Big Hill.  
As time passed and the hype from the December 2016 show faded with no major updates, skepticism began to mount about the Nikola One.
As shown above, no plans were in place to finish development of the Nikola One. Bosch, which had partnered with Nikola following the show, was still quite some time away from delivering working prototypes of Nikola's next development.
To remedy this 'hype gap', Nikola teased a tweet on October 6th 2017 about an upcoming video:

The first video, which was finally released in January, was for major auto parts manufacturer Phillips, and showed a short clip of the Nikola One easing to a stop sign.
But the main event was another video, entitled "Nikola One in Motion" released the next day on Nikola's corporate YouTube account and promoted on social media, garnering 230,000 views on Facebook alone. This video appeared to show the truck driving on a level road at a high rate of speed.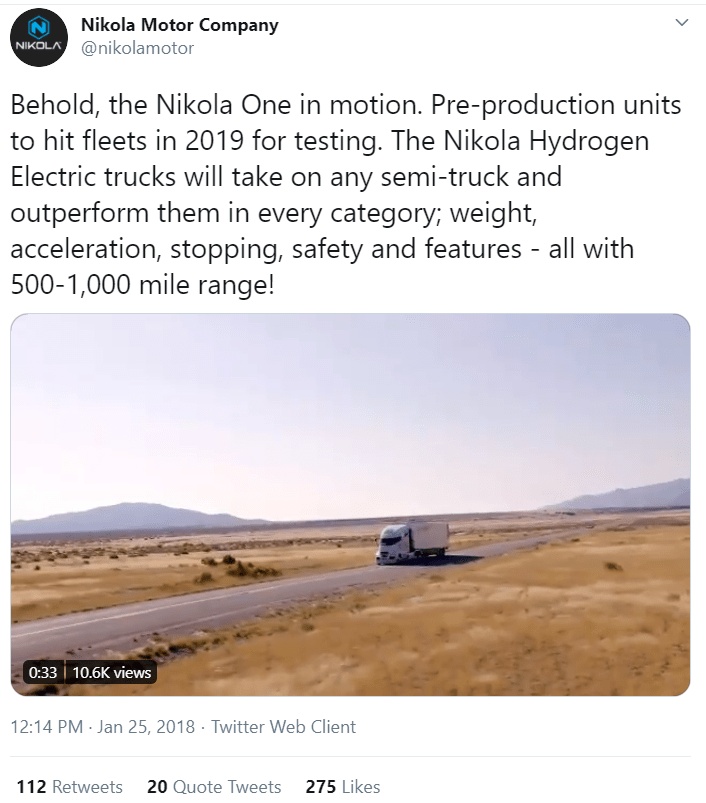 The video generated a tremendous amount of buzz and excitement about the pre-production units to be released the following year (which never happened).
But according to a former employee who spoke with Nikola Chief Engineer Kevin Lynk, the video was simply the result of Nikola towing the truck to the top of a hill and rolling it down.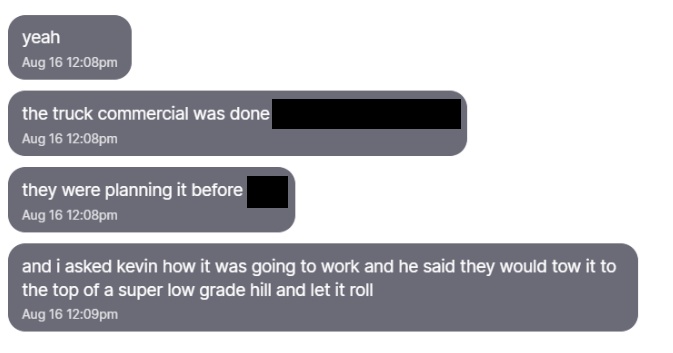 (Text messages with former employee. Note slight redactions to protect source identity)
The deception involved in the production of this video appears to have been elaborate. The company scouted a remote section of road on the Mormon Trail just to the south of Grantsville, Utah, which we have since located.
This section of road is lightly used and features a 2-mile-long perfectly straight stretch with a consistent 3 percent grade–plenty of length and enough of a slope to get a motorless truck rolling.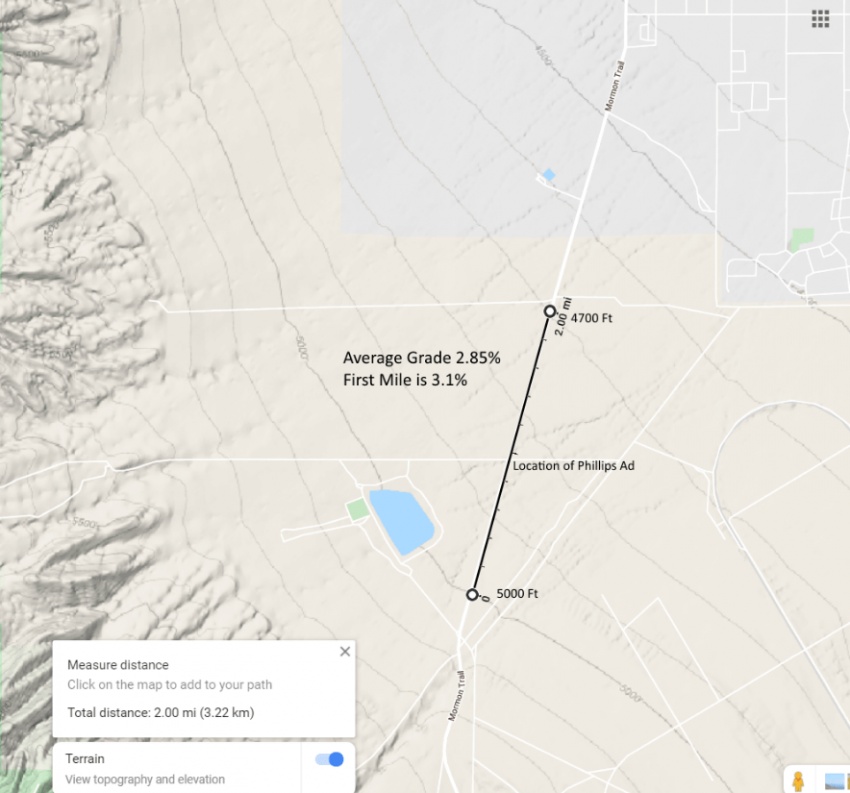 (Source: 
Google Maps
)
There were no features in the shot that would betray the slope, so the camera could be positioned at an angle that would make the road appear fairly level, or at times, even uphill:

We Rolled A Vehicle in Neutral Down the Same Hill. We Reached a Top Speed of 56mph and Rolled for ~2.1 Miles
An investigator sent to the exact site used by Nikola for their video tested the hill in an SUV by parking the vehicle at the top, then rolling from neutral. He was able to hit a top speed of 56 mph and rolled for approximately 2.1 miles.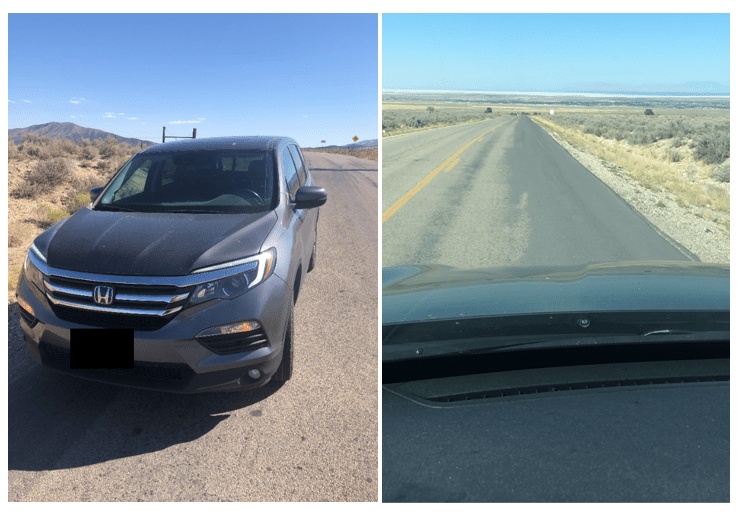 (Pictured: Investigator vehicle parked at the top of the hill [license plate redacted] and rolling down the hill)
The Media Took the Bait, Calling it 'Road Testing'. Nikola Then Featured the Video for Arizona Governor Doug Ducey When Announcing Its New Manufacturing Facility
Ducey: "This is a HUGE Announcement"
Although the company didn't specifically say the truck was moving under its own power, it was the clear implication. And the video had the desired results, with industry publications describing the footage as 'road testing':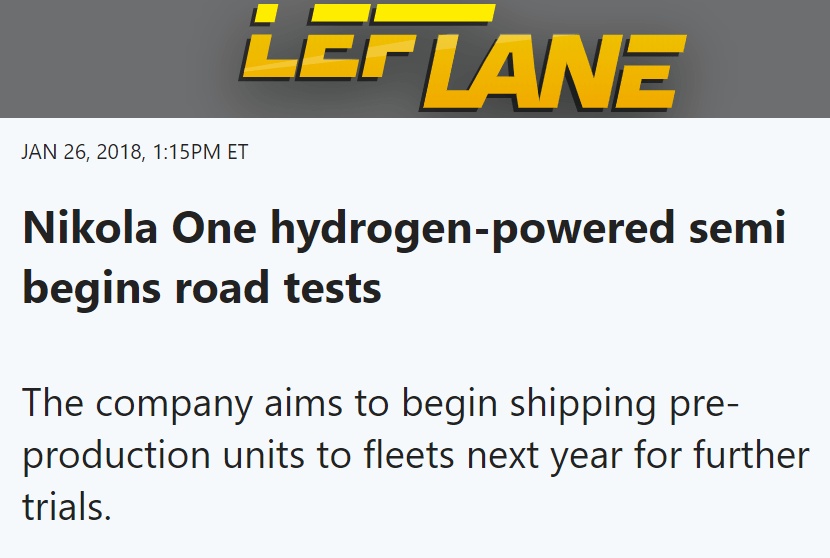 Another article described the truck as "cruising" when it was, in fact, just rolling down a hill.
The next week, Nikola held a ceremony to celebrate its deal to launch a manufacturing facility in Arizona, featuring the "Nikola One In Motion" video at the ceremony.
Immediately after playing the video for the audience, Arizona governor Doug Ducey exclaimed:
"Today, I'm proud to announce, that Nikola Motor Company, is coming to Arizona. This is a HUGE announcement! This is a manufacturing headquarters of hydrogen electric semi-trucks that will be moving to our state."
April 2019: Nikola "Unveiled" a Next Generation Version of NZT Off-Road Vehicle
The Design Was Quietly Scrapped Within Weeks of the Unveiling Due to Manufacturing Challenges
At the 2019 Nikola World event, Trevor introduced the company's luxury version of its off-road vehicle, the NZT. In a video of the event, Trevor can be seen praising the work that had gone into the design. He described how the vehicle was "fully enclosed," offered "luxury" design, and had "full HVAC, heating and air conditioning, the first one of its kind in the market."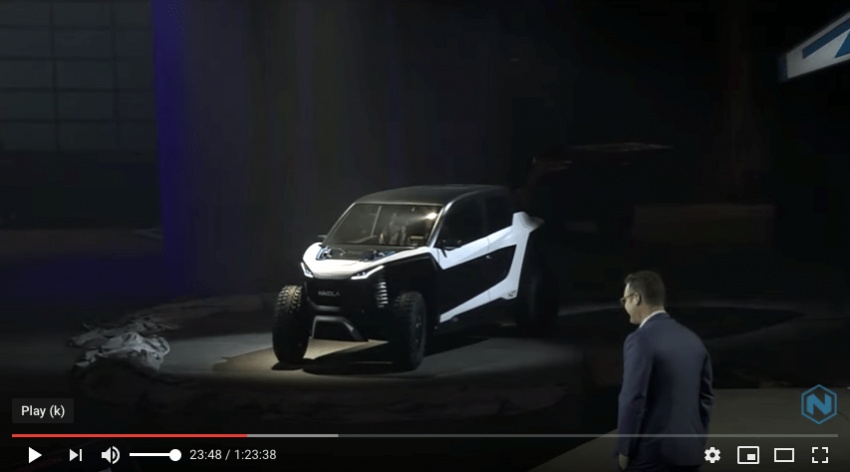 At the 22:22 mark Trevor gushed over the engineering:
"When we unveil this, pay close attention to the workmanship. The interior, the exterior. It rivals some of the best automotive engineering in the world. This is on an off-road vehicle. This is a moment that people from around the world have been waiting for."
Curiously, the new generation closed cabin version of the vehicle was vastly different from the open cabin version, which was set up on a track at the event for test drives. A video from the site showed the open version: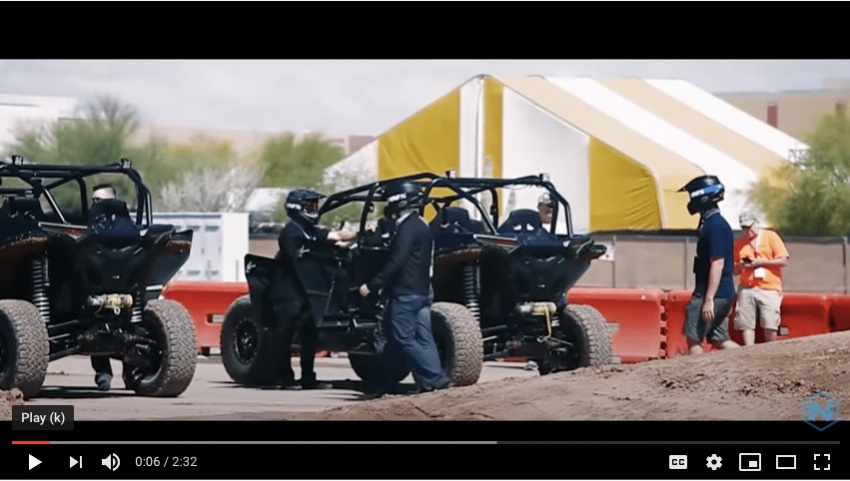 In fact, the closed cabin version was only a "mock up," and lacked some of the luxury features Trevor described on stage, such as the A/C, which could not be accommodated behind the dashboard, according to a former employee.
Within weeks of the event, Nikola management scrapped the design for the NZT because the model was not manufacturable as visualized on stage, according to the former employee.
The company now faced "a massive redesign" before it could bring the NZT to market, they said.
Despite regularly claiming to develop almost everything in-house, Nikola quietly outsourced the NZT redesign to a small company called Stellar Strategy LLC. Stellar is staffed by former executives of Polaris, a well-known producer of off-road vehicles who had advised Nikola on the open cabin version.
April 2019: Trevor Claimed on Video That Nikola's Headquarters Was Completely Off the Grid, with 3.5 Megawatts of Solar Installed on Its Roof
Reality: There Were No Solar Panels. The Lack of Panels Is Corroborated by Local Media and Subsequent Pictures
Trevor has claimed that Nikola has an off-the-grid headquarters with 3.5 megawatts of solar on its roof, a large installation. In an April 2019 pitch, for example, at the 10:03 mark, he states:
"We have the only off-grid headquarters that we know of, completely off of hydrogen, battery, and solar. We have 3.5 megawatts of solar up on the roof producing about 18 megawatts of energy a day in our headquarters, and we're storing 10,000 kilograms of hydrogen and using fuel cells as energy backup and batteries as energy sources as well. Our company is truly one of the most innovative companies in the world!"
Despite this claim, an article in June 2019 in BizJournals stated that the company had yet to install any solar panels on its roof.
We pulled satellite pictures of Nikola's headquarters (4141 E Broadway Road Phoenix, AZ) from Google Earth Pro and found that all subsequent overhead views (dated August 2019 and January 2020) showed no sign of solar panels on the roof either: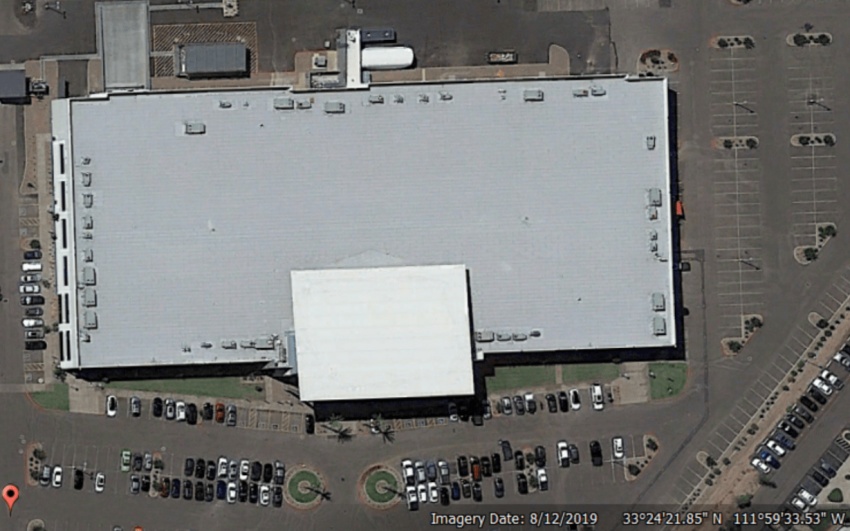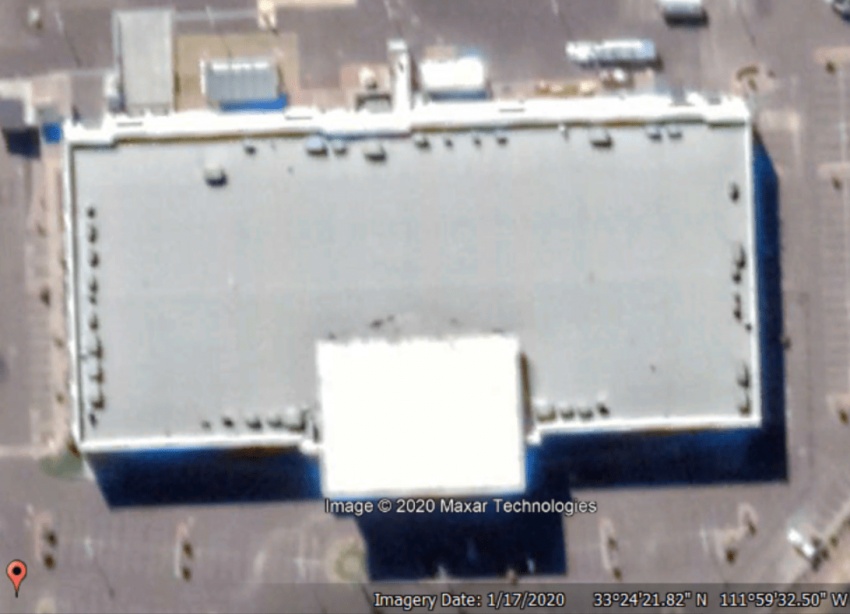 November 2019: Nikola Announces the Nikola Battery "Prototype Cell", Calling It "Game Changing Battery Technology"
In late October 2019, Trevor began teasing on twitter that Nikola was going to change the world with an upcoming announcement that was bigger than anything he had announced in the past:

It would later become clear that the above teaser tweet was issued 2 days before the company signed a Letter of Intent to acquire a battery technology company.
In mid-November, Trevor issued several more tweets, generating excitement and anticipation for the mystery reveal: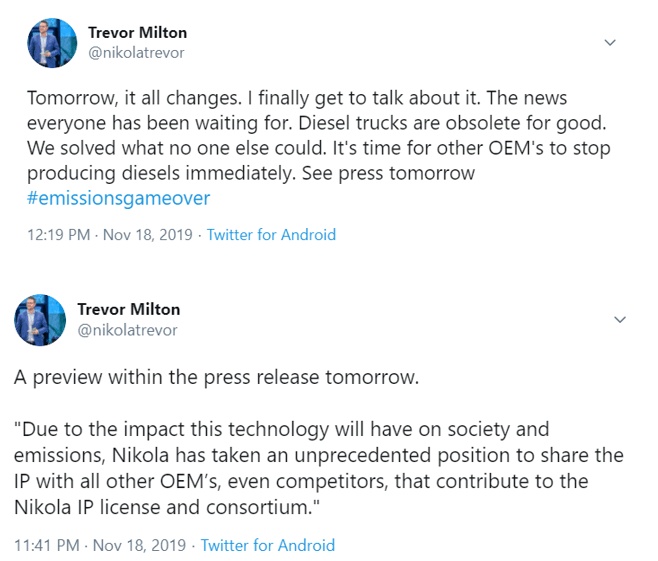 Finally, on November 19, 2019, the very day after Nikola began private negotiations to go public, [Pg. 81] Nikola announced that it had solved one of the greatest challenges facing sustainable energy; a high-density battery.

Nikola certainly didn't undersell the purported achievement:
"This is the biggest advancement we have seen in the battery world," said Trevor Milton, CEO, Nikola Motor Company. "We are not talking about small improvements; we are talking about doubling your cell phone battery capacity. We are talking about doubling the range of BEVs and hydrogen-electric vehicles around the world."
Trevor continued to tout the battery technology to his Twitter following, claiming he had seen the cell perform with his own eyes, and promised a major demonstration at Nikola world 2020.
He estimated the value of the new technology to be worth hundreds of billions. As we later learned, Nikola had signed a letter of intent to acquire the technology for only .5 million, which would have made this the most accretive acquisition in history: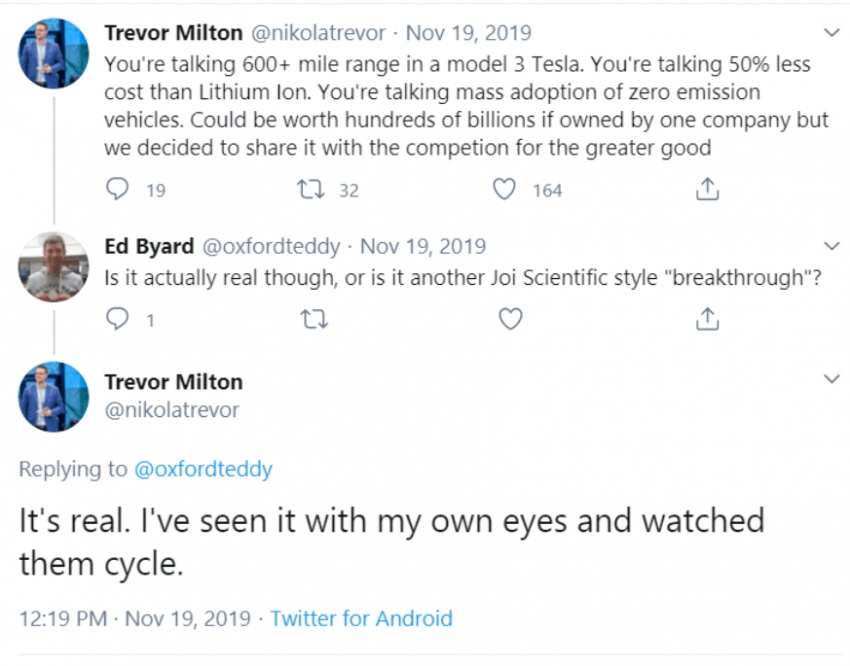 As with past claims, the public representations differed significantly from the private reality.
The battery announcement made reference to a letter of intent to acquire a battery company, though it did not name the company or reveal the letter. We found the name of the company in litigation records.
Nikola Intended to Acquire the Battery Tech, But After the Grand Announcement, Soon Learned it Was Vaporware.
Furthermore, Nikola Learned the President of the Battery Company it Intended to Acquire Had Been Indicted Months Earlier After Using His NASA Expense Account to Hire Numerous Prostitutes
In March 2020, Nikola sued the battery company, named ZapGo Ltd., alleging fraud, false representations, and failure to disclose that the President of ZapGo had been indicted months earlier for tax fraud.
Had anyone at Nikola merely Googled the President of ZapGo, Charles Resnick, they would have found that 6 months earlier Resnick made national news for allegedly conning NASA through a scheme to use his expense account to hire numerous prostitutes. Resnick pled guilty in January 2020.

Nikola's complaint against ZapGo describes how after entering into a Letter of Intent to acquire the company, and after it had already invested .2 million into the company, Nikola realized ZapGo's claims were highly questionable.
The complaint also made clear that Nikola, through its VP of Technology Development Jason Roycht, learned about the tax fraud issue and false claims made by ZapGo as early as December 2019: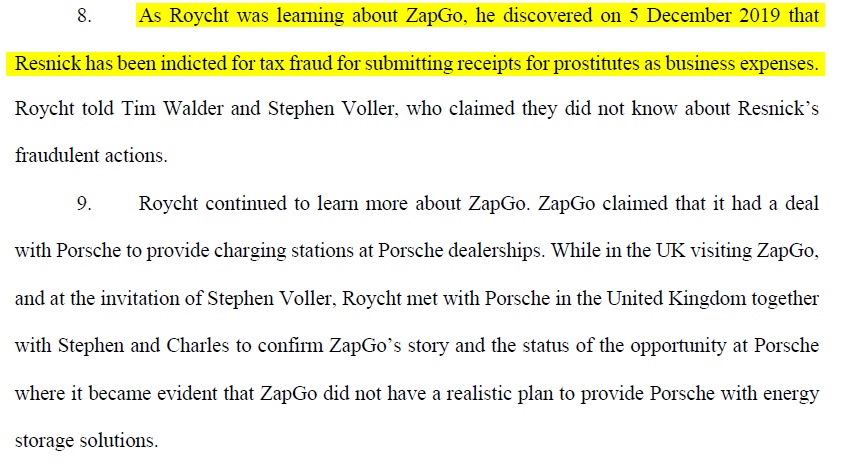 Despite Learning About the Issues with the Battery Tech in December 2019, Trevor
 Was Still Hyping the Tech in February 2020
Despite the issues with ZapGo, Trevor didn't see any reason to stop touting the battery technology via his Twitter account: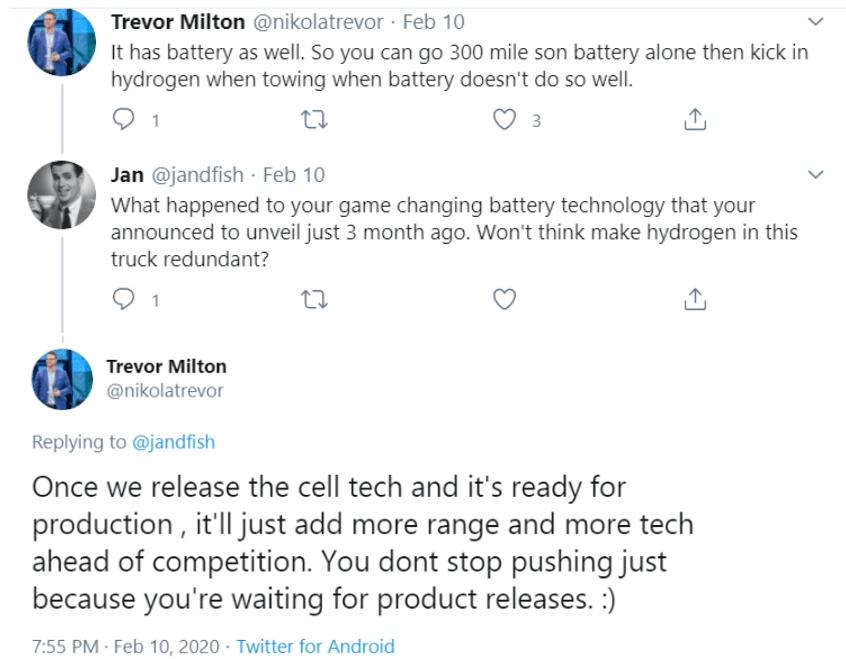 Nikola formally terminated the agreement on February 26, 2020 and appears to not have publicly discussed the situation since. The November 19, 2019, Nikola press release has not been rescinded or corrected, and investors likely believe the "game changing" battery technology still exists.
It never did.
Powercell AB Spokesman's Comments on Nikola's Battery (And Hydrogen Fuel Cell) Technology: "Hot Air"
In 2017, Nikola signed a deal appointing Sweden's Powercell AB as its primary supplier of hydrogen fuel cell stacks. Powercell was an investor spin-out from Volvo, one of the world's largest truck and industrial vehicle makers.
Bosch and Powercell had been completing tests on Nikola's behalf. But in early April 2019, Powercell issued a statement announcing it was ending its agreement with Nikola saying the business terms were "totally unacceptable".
Just days later, Nikola partner Bosch unveiled a .5 million licensing deal, with additional royalties, with Powercell for its S3 fuel cell stacks.
Referring to the breakdown of the deal with Nikola after more than two years of tests, Powercell spokesman Marten Wikforss told us by phone from Sweden this month:
"As you can tell from the press release, the terms we were presented for our cooperation with Nikola were, as we stated, unacceptable. So we communicated that and in response, they said 'we're out of the game'"
"What they communicated when they said they weren't going to use our parts and fuel cells was initially that they were going to launch their own fuel cells and it would be so much better or whatever. It was a lot of hot air coming from them…Then you didn't hear anything from them. And then all of a sudden they were going to launch a new revolutionizing lithium-ion battery system too. And I haven't heard anything about their own fuel cell system and I haven't heard anything about their revolutionary battery either."
He said, however, that there were no restrictions on Powercell's licensing deal with Bosch and that Bosch could provide batteries to Nikola even though their direct deal had collapsed.
"We're providing to Bosch and it's up to them if they want to supply to companies like Nikola. We haven't banned sales to certain clients. They're free to operate and sell their product."
When Subsequently Pressed on the Battery Acquisition by Tesla Fans, Trevor Dodged the Question Then Changed the Story Completely
Now, an Unnamed University Is Supposedly Developing the Technology
When skeptical Tesla fans visited Nikola in August of this year, Trevor had a conversation about battery cell technology. First, he claimed to be working on cells that eliminate all toxic materials, saying he's been working with companies to bring the tech to market:
"We've essentially worked with some battery companies to bring (those) cells to market."
The questioner then asked:
"Is this tied to that company you acquired and announced earlier this year…?"
Trevor initially said he was working with "battery companies", but when the Tesla fan brought up the deal for the company that Trevor (but not the questioner) knew had failed, he then suddenly changed course and said it was related not to a company, but to an unnamed university:
"No, it's not actually. It's tied to a university that had developed the technology. And we essentially ended up licensing all of it and helping them fund it all the way through."
Note that Nikola does have a deal with universities to develop fuel cells, but we found no indication that it has anything to do with battery cell technology. We found no record of any such licensing deal in its filings.
Following the discussion of the unnamed university, Trevor then downplayed the possibility of a breakthrough, despite his previous claims to have achieved the breakthrough in November 2019:
"I hate cell development. Likelihood of success is like hitting the lottery, you know? So, it's very unlikely you're gonna develop a cell that'll work. So, they did really good work, they had showed that they had thousands of cells that were already being cycled that were not failing. So, we came in and we helped fund 'em. We helped provide 'em funding for equipment that they needed. They furthered the development and now we're going to be showing off cells at Nikola World, we hope."
The conversation about universities developing the battery tech took place a mere two weeks ago, but now, the company has announced that it will be using GM's proprietary battery technology.
We're confident Nikola's battery technology simply never existed, yet has now managed to trade that empty promise for GM's actual capabilities.
June 2020: After Years of Deception, Nikola Goes Public—A Massive Monetization Event That Added Billions of Dollars of Liquidity and Value from Unknowing Public Market Participants
Nikola went public via a reverse merger on June 4th via a special purpose acquisition company.
Shares of Nikola spiked, largely on the backs of retail investor euphoria. Many inexperienced investors were learning about the company for the first time and, seeing a long list of impressive claims, believed that they were getting in on the ground floor of the next Tesla.
Overnight, Trevor became a multi-billionaire and a minor social media celebrity. A host of news articles came out comparing him to Elon Musk.
But Being Public Also Brought Criticism. Trevor Quickly Becomes Obsessed with Short Sellers, Critical Journalists, and Other "Haters"
We at Hindenburg take pride in reporting on companies that try to silence criticism with intimidation. A functioning market requires diverging views and opinions in order for investors to be able to make informed decisions.
We also believe that companies engaging in such practices are vastly more likely to have something to hide. In one recent example, MiMedx Group sued its critics, only to be charged criminally with fraud two years later.
Most public company leaders focus on developing their products and their business. But upon going public, Trevor almost immediately took to lashing out at short sellers and threatening journalists with litigation for writing critical articles: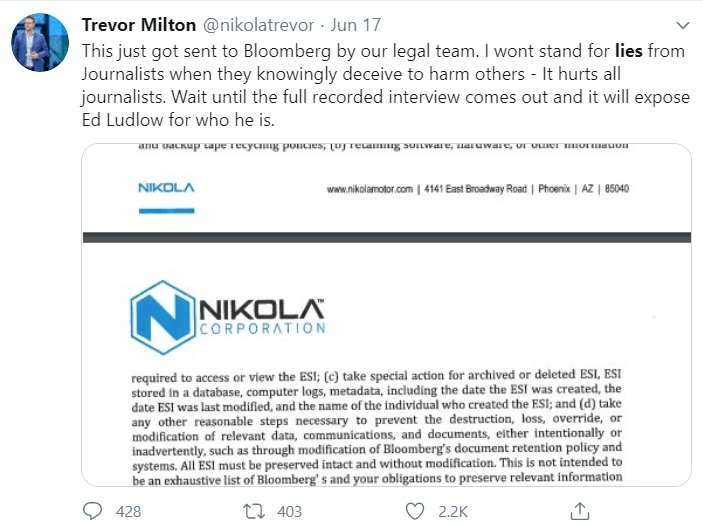 2020: Trevor Claimed Nikola Produces Hydrogen for Under /kg, ~81% Cheaper Than the Rest of The World, Representing a Major Breakthrough
The high cost of hydrogen, among other issues, has prevented it from becoming a mainstream fuel source for alternative energy vehicles. The high price tag results from both the cost to isolate hydrogen and the cost of building production facilities/transmission.
Low-cost hydrogen production is critical to Nikola's financial viability, as Nikola's hydrogen long haul truck sales would rely on a working network of hydrogen stations. Nikola's much anticipated fuel cell pickup truck's existence also hinges on a hydrogen station roll out.
As part of its hydrogen strategy, Nikola says it is planning on building 700 hydrogen stations across the US, with further plans to expand worldwide.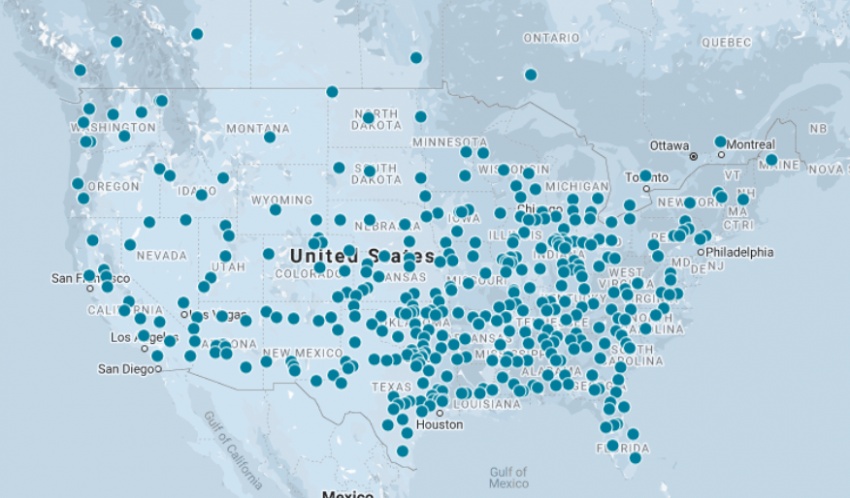 (Source: 
Nikola's website
)
Per the company's latest quarterly report:
"This planned construction of hydrogen stations is essential to persuading customers to pay a higher premium for our trucks." [Pg. 41]
To build these stations, Nikola announced in a June 2020 press release that it would be purchasing components from Norway-based Nel ASA.
At Nikola World in December 2019 Trevor claimed on video to a large audience to already be producing 1,000 kilograms of hydrogen a day on site at his Phoenix headquarters:
"In America we've already got the largest hydrogen station in the western hemisphere at our headquarters. Can produce over 1,000 kilograms a day on site."
Subsequent to Nikola world, Trevor reiterated in several public interviews to have already solved this major world problem, describing Nikola as having achieved breakthroughs in hydrogen production.
In an August 2020 interview with Fox Business News, when asked about hydrogen, Trevor says:
"We saw an opportunity to bring the cost of hydrogen down going zero-emission and putting it on parity with diesel, and it's the first time in history that's been able to be done, so it went from about /kg and we are down now below /kg. And there's a lot of reasons for that, but the main one is standardization of a hydrogen station worldwide has allowed us to drive that cost down dramatically. We tell people we're an energy technology company that happens to build really cool vehicles."
In another interview on July 17, 2020, on the TeslaCharts podcast, Trevor claimed Nikola has been able to "chop the cost of hydrogen from /kg down to – we're down below /kg on our hydrogen now."[1] [11:34]. This would mark an astonishing 81.25% reduction in the cost of hydrogen.
When challenged again about Nikola's hydrogen production cost by the TeslaCharts podcast host [25:00], Trevor repeats the question, compliments the host on asking the question, claims he has "so much experience" with answering the question, says he "knows the stuff better than anyone he has ever encountered" and says he has spent "7 years" driving the cost of hydrogen down.
But he then admits that many of the "changes" in the hydrogen world he has seen are "not so much on the technology side" and that Nikola has "seen maybe a 5% or 10% increase in efficiency across the board" in hydrogen technology. But that's "not what changes the world," Trevor says.
After providing an anecdote about his father, and offering some other sidetrack discussion, he then admits that Nikola's entire answer to bringing down the cost was to simply standardize a hydrogen station. "The standardization of the hydrogen station was the most important aspect," Trevor says.
Such standardization would clearly bring costs down, but Nikola already claimed to have accomplished the feat without having a single production facility of its own.
When Pressed on the Subject in July 2020, Trevor Acknowledged Nikola Produces No Hydrogen at All. The Claims Made at Nikola World and In Multiple Interviews Were, Once Again, Completely Fictitious
In a subsequent