Sept 10 2020 - Nikola: How to Parlay An Ocean of Lies Into a Partnership - Part 4
It's unclear whether Trevor actually became a millionaire two years after founding his first business, but he had already allegedly burned a business partner and the acquirer of that business.
July 2009: Trevor Launched uPillar.com, a Website He Claimed Had 80 Million Monthly Active Users, Invented the Online Shopping Cart and Was Beating Amazon
Former Employee: 80 Million Users Claim is "Absurd". uPillar Was a Failed Craigslist/eBay Clone and The Shopping Cart Was Invented in 1994
Trevor's account of his rise in the business world follows the " million" alarm company sale with claims he reinvested the money from the alarm company into uPillar.com, a website he launched in July 2009. The site offered free classified ads and monetized by charging car dealers to sell used cars online.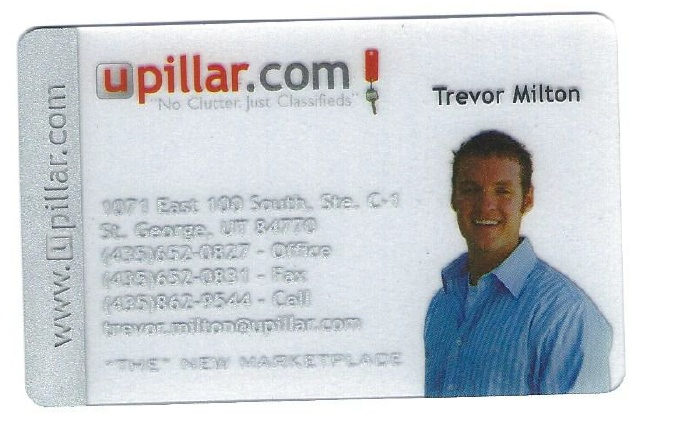 (Pictured: Scan of Trevor Milton uPillar business card from former employee)
These days in interviews, Trevor describes uPillar as a rapidly growing company that was beating Amazon and eBay:
"[It was] way ahead of its time actually…we were beating Amazon at what they were doing.

We had the first ever shopping cart in history. No one else had ever developed a shopping cart to buy 50 items from 50 different sellers, checkout at one time…the first group in the world to really do that. We beat Amazon, we beat eBay…"
"Ultimately we would have ended up being Amazon but we were in Utah and at the time Utah had no clue what investment was around the internet. So, we just grew too fast and that was a lesson for me at that time was not to grow too fast."
In a recent interview with Forbes, Trevor claimed uPillar had 80 million monthly users. Websites at the time describe uPillar as "only reporting on average around 200k monthly visits" and as spending big on advertising to get a temporary bump, then watching its usage subsequently tank.
We spoke with a former employee who called the claim of 80 million monthly users "absurd". They said of the site:
"Much of our time was spent approving classified postings. We were always able to keep up with it, with only a few of us approving them." (Because of the low traffic).

"Many of the ads were posted by scammers from overseas, so we constantly rooted those out by identifying I.P. addresses."
"The website failed to deliver a product to rival eBay. Our mass uploader feature was supposed to be able to compete with eBay, and we were trying to deliver it to customers before eBay raised its listing fees, but we weren't able to. Many users weren't able to move their storefronts from eBay, because our website couldn't facilitate the mass product info. Users were stuck using eBay."
The former employee also told us:
"Amazon was not talked about a competitor…eBay and Autotrader were."
For reference, uPillar launched in 2009. It did not have the first shopping cart, and it was not beating Amazon. The first online shopping carts were used in 1994, the same year Amazon was founded. By then, Google had processed almost 800 billion searches, and the iPhone had been in existence for 2 years. Amazon had existed for 15 years and reported over .6 billion in general eCommerce sales excluding books.
Disclosure: We are short shares of Nikola Corp (NASDAQ:NKLA)
Legal Disclaimer
Use of Hindenburg Research's research is at your own risk. In no event should Hindenburg Research or any affiliated party be liable for any direct or indirect trading losses caused by any information in this report. You further agree to do your own research and due diligence, consult your own financial, legal, and tax advisors before making any investment decision with respect to transacting in any securities covered herein. You should assume that as of the publication date of any short-biased report or letter, Hindenburg Research (possibly along with or through our members, partners, affiliates, employees, and/or consultants) along with our clients and/or investors has a short position in all stocks (and/or options of the stock) covered herein, and therefore stands to realize significant gains in the event that the price of any stock covered herein declines. Following publication of any report or letter, we intend to continue transacting in the securities covered herein, and we may be long, short, or neutral at any time hereafter regardless of our initial recommendation, conclusions, or opinions. This is not an offer to sell or a solicitation of an offer to buy any security, nor shall any security be offered or sold to any person, in any jurisdiction in which such offer would be unlawful under the securities laws of such jurisdiction. Hindenburg Research is not registered as an investment advisor in the United States or have similar registration in any other jurisdiction. To the best of our ability and belief, all information contained herein is accurate and reliable, and has been obtained from public sources we believe to be accurate and reliable, and who are not insiders or connected persons of the stock covered herein or who may otherwise owe any fiduciary duty or duty of confidentiality to the issuer. However, such information is presented "as is," without warranty of any kind – whether express or implied. Hindenburg Research makes no representation, express or implied, as to the accuracy, timeliness, or completeness of any such information or with regard to the results to be obtained from its use. All expressions of opinion are subject to change without notice, and Hindenburg Research does not undertake to update or supplement this report or any of the information contained herein.
[1] Additional sources [1,2] put the cost of hydrogen production for vehicles at .63/kg and .51/kg. Costs are coming down. A 2011 DoE report states that at /kg hydrogen would reach parity with fossil fuels. Recent reports by industry sources, including the Hydrogen Council and Shell and by investment groups including Goldman Sachs and Kepler Cheuvreux, envision hydrogen coming down 50% over the next 5-10 years. That all being said, it hasn't happened yet, and Nikola appears to have done nothing to advance the process despite its claims to have already achieved breakthrough levels.
Posted in Uncategorized  · 
469 thoughts on "
Nikola: How to Parlay An Ocean of Lies Into a Partnership With the Largest Auto OEM in America

"