Jan 6 2020 - Zoom: Will Surprise Your Portfolio In 2021, Multifaceted Growth Ahead
Summary
The market is missing the forest for the tree. The vaccine will not kill Zoom.
While the stock will not perform like in 2020, it will still surprise many.
Zoom is rapidly introducing new products, expanding to new industry verticals and geography.
Its competitive position is stronger than ever, and the untapped market opportunity is vast as communications move to the cloud, and remote working becomes the new normal.
We argue Zoom is an attractive investment at 30x EV/FY22 Sales.
Investment Thesis - Multifaceted Growth Ahead
2020 was a banner year for Zoom (ZM). It has the perfect product available at the ideal time. Its most recent quarterly revenue increased four-fold YoY, 25% bigger than the entire financial year of 2020. As a result, its market cap increased five-fold to 0B.
With the vaccination ramping up in 2021, the market is swift to rotating from Zoom to other investments. Zoom's market valuation dropped over 35% since November 2020. On Seeking Alpha, all of the latest articles have been bearish. Against market sentiment, we view this as an opportunity to initiate a position. Here's a quick overview of why.
Zoom's long-term investment thesis is alive. It remains the best-of-breed for work-from-home communication solutions. Zoom has become a verb, very much like 'Skype,' 'Google,' and 'DocuSign.' This achievement alone demonstrates Zoom possesses an incredible combination of moats in branding and network effects. As it grows, it adds more value, and users will find it very hard to leave. Unsurprisingly, Zoom is now a 0B company. But it isn't going to stop.
Zoom's next leg of growth is likely to come from Zoom Phone, OnZoom, Zoom Webinar, Zoom App Marketplace, and Zoom Room. These are products and features that will allow Zoom to grow beyond corporate video conferencing. Zoom Phone makes Zoom an end-to-end communication solution on the cloud, which helps Zoom enter a new market, Unified Communication as a Service ('Ucaas'). Interestingly, as offices reopen, Zoom Phone will be a surprise growth driver. Other products, particularly OnZoom and Zoom App Marketplace, put Zoom to new industry verticals such as telehealth, workflow, eCommerce, online education, online fitness, eSport events, online dating, real estate, human resources, etc. Finally, it will also allow Zoom to accelerate its international expansion.
Yes, many of these growth avenues are still in the early days, and a repeat performance of 2020 is not on our minds. Additionally, there will be user churn, more 'Zoom fatigue,' and new companies carving out the edges of Zoom's verticalization. However, as our way of work and play has changed forever, we believe Zoom's product has a permanent place in our lives one way or another.
Market Opportunity and Competition
What's attractive about Zoom is its Target Addressable Market ('TAM'), reportedly worth about B a year just within the Unified Communication as a Service ('UCaaS'). The figure is expected to triple in five years to 0B. The implied growth rate is one of the fastest and well supported as voice, messaging, and video communications packaged into an end-to-end communication solution on the cloud.
But these colossal TAM figures may not capture the massive opportunities available to Zoom. As Amazon was not just an online bookstore, Zoom will not be confined to video conferencing.
We believe Zoom's use cases are already multiplying. Zoom's Total Serviceable Market ('TSM') will grow beyond our comprehension. Thus, Zoom's market cap of 0B and its FY21 revenue of .58B still have room to grow even further.
Competition
Zoom's competition is plentiful. They include the legacy video communication tools such as GoToWebinar, GoToMeeting (both owned by LogMeIn), On24 (private), Skype (MSFT), Webex (CSCO), Teams, Slack (WORK), and many more. However, the market opportunity is vast, and there is room for multiple winners. Let's look at where Zoom stands among its rivals.
Why invest in Zoom?
Position in the market
Gartner's Magic Quadrant shows that Zoom is the leader for Meeting Solutions.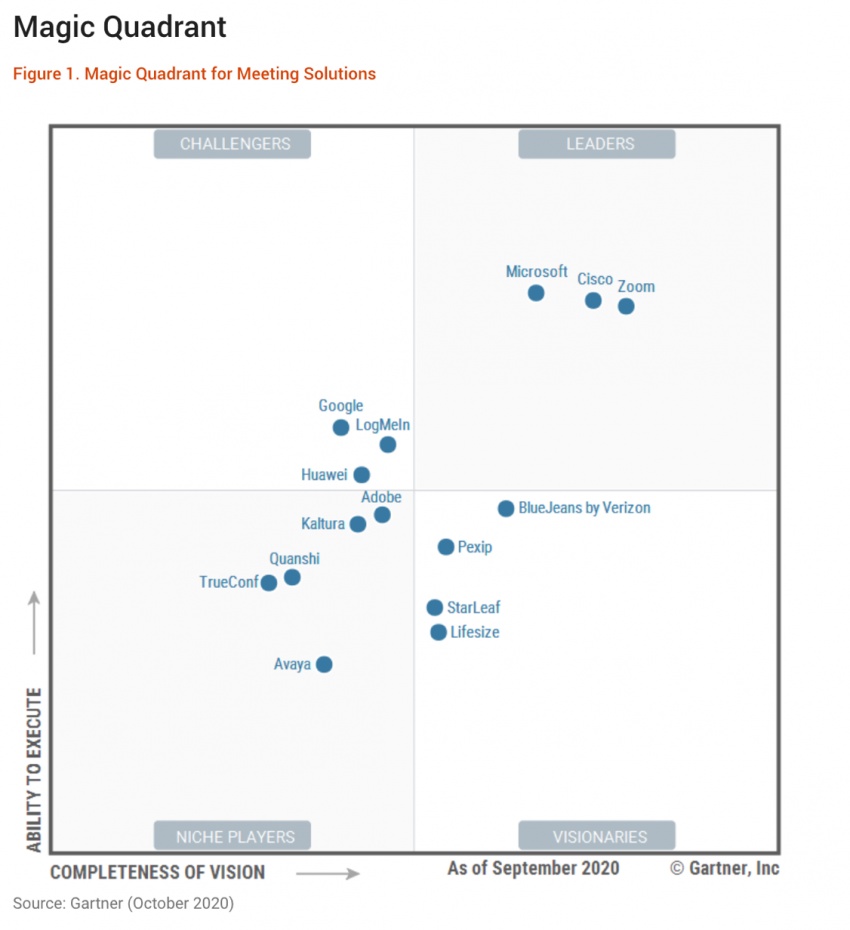 Zoom is also a leader in UcaaS.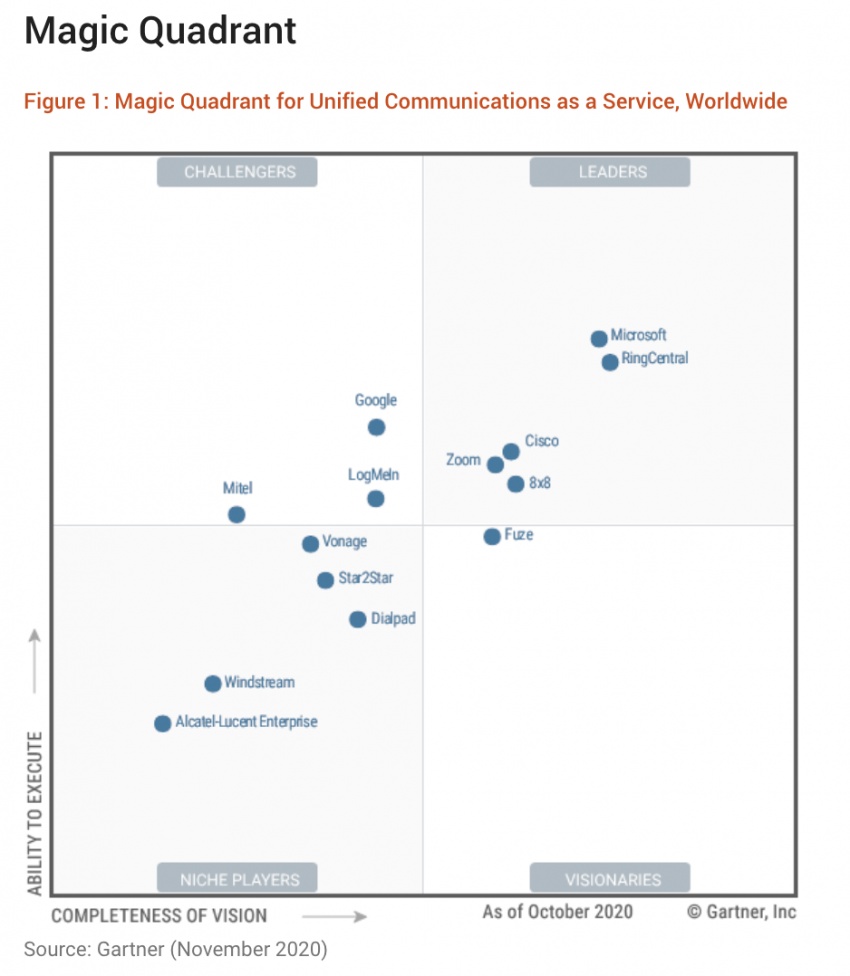 The rivals above may provide messaging, voice, video, or other team collaboration tools, but they do not provide an end-to-end communication solution like Zoom.
Unsurprisingly, the two biggest rivals are Microsoft and Cisco. While they enjoy more considerable resources and geographical reach, their products lack usability, visual appeals (and tools), and meeting controls. Hence, their products fell short in market enthusiasm and virality when compared to Zoom.
Competitive advantage/moat
Moats are commonly categorized into four types: Network effects, low costs, high switching cost, and intangible assets.
Zoom possesses the most powerful ones, network effects, and brand name. Zoom is reliable, easy to use, and easily deployable. Zoom's net promoter score ('NPS') is incredibly high +70. Competitors do not even compare. None has the virality effect in 2020, quite like Zoom.
As Zoom expands features, use cases, and integrates deeper into other platforms, we believe Zoom would also acquire the high switching cost moat. While this moat isn't seen as necessary as the first two, it would help Zoom to retain customers and maintain a large user base to monetize.
Potential for expansion
The main attraction to investing in Zoom is its optionality for growth, which are abundant:
+New customers, Zoom has been serving enterprise and SME customers, and it looks like they are also serving individuals (!). Q3'21 results show that 38% of revenue came from customers with less than ten employees, a significant shift from <20% in Q4'20. The growing trend also means that they might be subject to higher user churn. However, if they can manage to make Zoom ubiquitous for B2C like Skype for consumer use, it would become another massive revenue opportunity. More importantly, it will also bring meaningful data at the most granular level (think Twilio and Facebook).
+Higher spent per customer by expanding use cases of Zoom's platform. Zoom's explosion in user growth had left little time to fine-tune monetization. In 2021, we believe Zoom will still focus on product development, but eventually, they will balance the act between user growth and monetization to surprise total revenue on the upside. We are excited about the upselling opportunities in education as free users convert and add more modules.
+New features/services offered on the platform over time. There are a lot of use cases and verticals that Zoom is already exploring. While it is already viral in the education sector, there are massive opportunities in:
eCommerce and workflow management - Zoom is now integrated within Shopify (SHOP), Slack (WORK), Teams, Zendesk, Jira (TEAM), LinkedIn. Further integration with other platforms will make Zoom a fundamental building block in many verticals and industries.
Zoom Phone - Zoom is on the mission to consolidate communication channels into one single, unified platform. It provided phone services in 44 countries and was the fastest-growing product in Q3'21 (from 18 countries in Q1'21). Peloton and Rakuten added Zoom Phone shortly after Zoom Meetings. The management seems excited about the progress but remained tight lip about the details.
Real estates (In Q2'21, 50% of newly launched properties in Singapore was over Zoom)
Telehealth - Through Zoom's HIPAA/PIPEDA compliant Epic app, client: South Coast Community Services leverages Zoom to provide mental health support during COVID-19.
Fitness through OnZoom, integration with Peloton (PTON)
Others: Virtual jury in Florida, eSports, etc.
+Increase international presence: As of Q3'21, Zoom generates 70% of revenue in the US. Thus, there is a lot of room outside of the US for Zoom to grow.
Management
Eric Yuan is the captain of Zoom. He found Zoom out of his frustration at WebEx. His rise to success is a well-documented and inspiring one, so we'll show his Glassdoor rating to give you a preview of who he is as a CEO.

Now, let's have a look at the execution.
Financials scorecard
Customers:
-Paying customers with more than ten employees was 433.7K, up 485% YoY from 74.1K and made up 62% of total revenue.
-38% of revenue came from customers with less than ten employees, up from 36% in Q2 and from <20% in Q4'20.
-18% of revenue came from enterprises.
-Customers generating over 100K was 1,289, up 136% YoY from 546.
-Major customer wins were Peloton and Rakuten.
DBNER Zoom has maintained an over 130% dollar-based net expansion rate every quarter (ten) since the IPO. It shows a strong ability to land and expand, add value, and gain customers' trust.
Consequently, Q3'21 was another phenomenal quarter.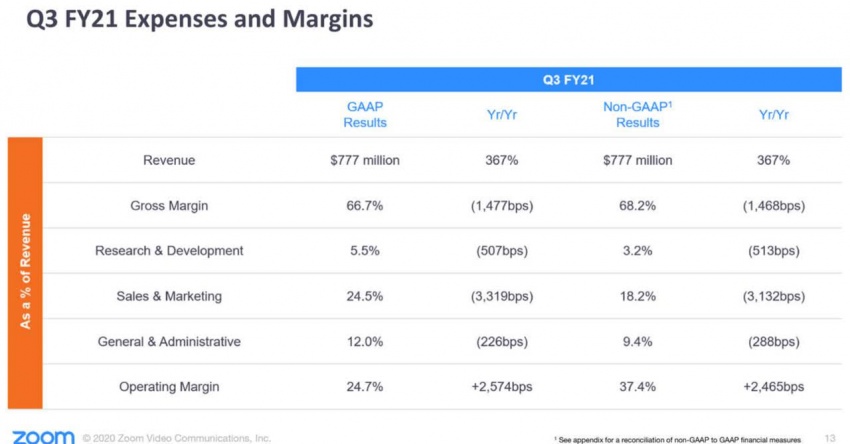 Revenue was 7M, up 367% YoY from 7M, an acceleration of 17% from 6M in Q2'21. Q3'21 revenue was 24% higher than its entire revenue in FY20.
International revenue was 30% and grew 629% vs. 300% domestically.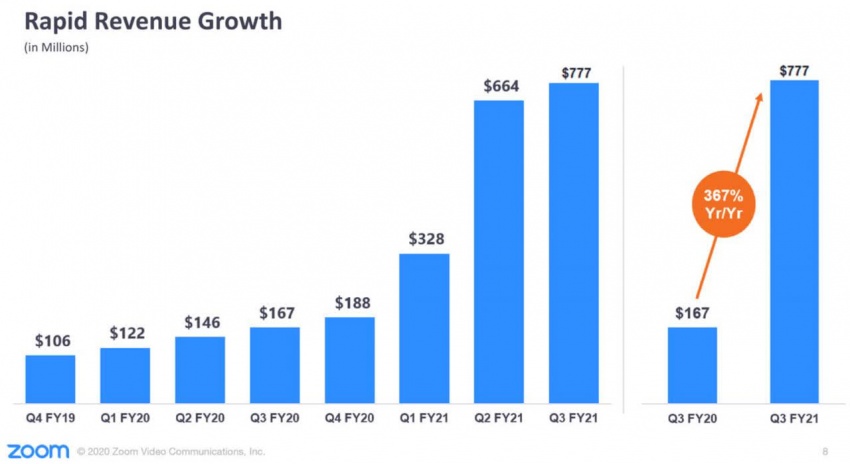 Gross margin was 68.2%, a significant drop from 83% YoY and 72.3% QoQ due to a considerable increase in free users' usage, particularly in K-12 education intuitions. During the quarter, Zoom recorded 3.5 trillion meeting minutes, up 75% QoQ. Once Covid-related usage diminishes, we expect gross margin to improve towards Zoom's long-term target.
Operating margin was 37.4%, up from 12.8% in Q3 last year, and a decrease from Q2'21's margin of 41.7%. The figure is still extremely high and demonstrates exceptional operating leverage.
Free cash flow was £388M, up from M in Q3 last year. That's a 50% free cash flow margin (!). Management intends to maintain a high R&D budget of 10% of sales over the long-term. Thus, Zoom's high free cash flow generation allows Zoom to continue fuelling growth.
The outlook is excellent in our view. The FY21 revenue of 2.58B is a five-fold increase from FY20. Q4'21 revenue will be almost 40% higher than the entire revenue in FY20.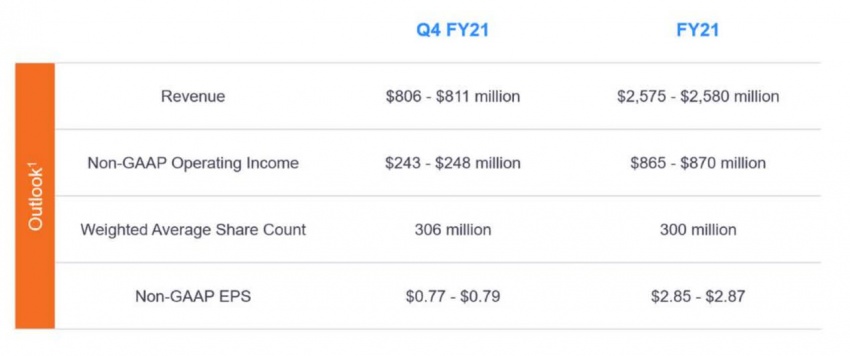 FY2022 and beyond looks good too. The following slide shows that .63B of revenue is already under contract, of which .18B could be realized in the next four quarters.
We struggle to see anything that comes out as a red flag here. Next, let's look if Zoom is reasonably priced to start a position?
Valuation
As of writing, Zoom is priced at just below the 0B market cap. With .58B of projected FY21 sales, the stock is priced at about 40x EV/Sales. It is also priced at about 30x Forward EV/FY2022 Sales.
The Forward EV/Sales is based on the premise of annualized Q4'21 revenue of 0M, or .24B for FY22. The number is in-line with Zoom delivering about 30% revenue growth, which is not a lot to ask as Zoom's DBNER is already at 130%.
As a reminder, Zoom was valued at 36x at IPO and around 40x EV/Sales pre-pandemic.
Is Zoom as 'valuable' as it was pre-pandemic or at IPO? While Zoom is much larger, it is also a much more formidable company that possesses way more avenues to growth. Again, it has proven to be extremely efficient in scaling as the free cash flow margin reaching 50% in Q3'21 and higher than the likes of Salesforce (CRM) on an annualized basis, .65B vs. .4B.
Overall, we find the current valuation to be extremely attractive to start a position.
Investment risks
We believe investing in Zoom today carries fewer risks thanks to the proven product-market fit, viral brand name, scalability, and importantly, at the helm, Zoom has Eric Yuan, who is highly motivated and visionary. Nevertheless, technology changes fast, and the threat of disruption is real.
While Zoom has the brand name, Zoom's 'one size fits all' solution will be challenged by new companies.
We highly recommend reading this blog post about Zoom's verticalization, where JJ Oslund explains how new companies may pose the biggest threat to Zoom by carving out the 'edge cases' that Zoom cannot meet due to its lack of focus.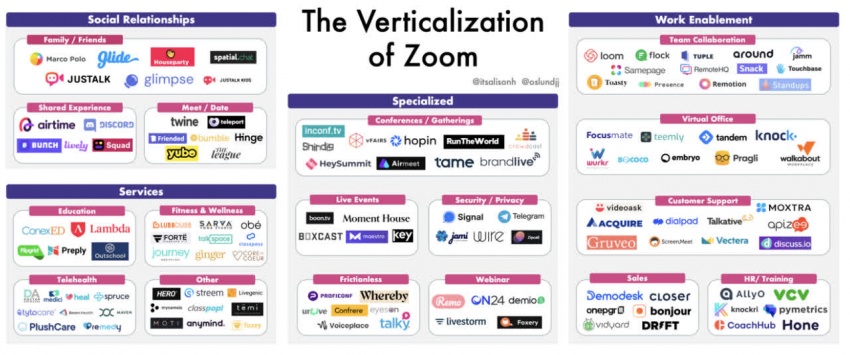 Conclusion
If you feel the risk of Zoom going obsolete due to disruption is significant and will happen soon, I don't blame you for giving Zoom a pass. However, Zoom's high valuation and the short-term sentiment that Zoom is a Covid stock are not good reasons for not considering it.
Remember that Zoom is a best-of-breed SaaS company that can touch everyone (almost)'s lives. In effect, Zoom is listening, watching, and collecting the most granule data from people's lives, at work and home. The data Zoom collects provides optionality long into the future. For the short to medium term, Zoom Phone, better monetization, K-12 free users' conversion, and expansion into telehealth, commerce, workflow, fitness, and internationally should provide a surprise boost to Zoom's growth.