Jan 12 - Limelight: Poised For 50% Upside, But Gradually
Summary
The CDN market is highly competitive with Limelight having cutting-edge video streaming services with low latency.
Investors dumped the stocks after third quarter's earnings miss despite upbeat revenues.
Also, this is a business where scalability does matter and Limelight has the cash to expand its web acceleration infrastructure.
On the other hand, spending on growth means that gross margins will only improve gradually.
The CDN play does have a distinct financial model allowing it to benefit from positive EBITDA margins and is, therefore, a buy.
The CDN (Content Distribution Network) market is a highly competitive one with Limelight Networks (NASDAQ: LLNW), the specialist of cloud edge services announcing in May 2020 two new solutions which improved video transmission performance significantly.
Also, during the second quarter the company had delivered record traffic volumes due to stay-at-home public healthcare measures inciting people to consume more video services. Also during the Q2-2020 earnings call in July, the executives had mentioned that traffic levels were still high despite the pandemic receding.
It seemed that the ingredients for the stock to surge were there. As a result, many SA analysts including myself were bullish on the stock creating high expectations in the minds of investors.
Then third quarter results came and there was actually not only a surge in sales, but record revenues too. In spite of the good news, the stock fell.
Figure 1: Stock rising in July and falling in October.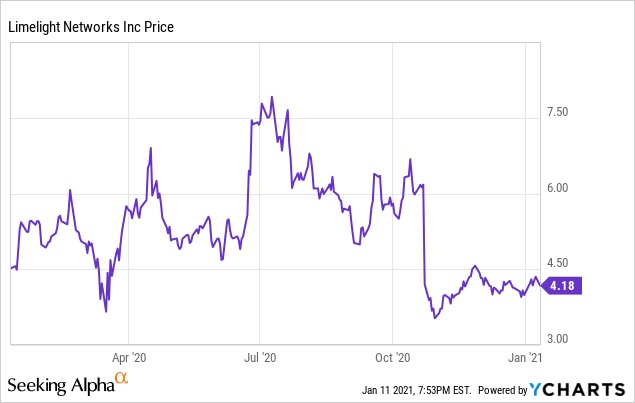 Data by YCharts
The market did not digest the fact that despite having a healthy balance sheet and continuing to see elevated traffic levels throughout the third quarter, the company's Q3-2020 earnings were worst than for the third quarter of 2019.
My aim with this thesis is to analyse what went wrong, by drilling into the financials but first, I check whether the company's aptitude in video services at the edge still prevails.
Competitive position
First, Limelight's aptitude in video performance remains intact as it enables content providers (using Live Push Ingest) to take control over workflows thereby, reducing origin server output costs. It also enables direct integration with the publishers' own CDNs allowing events to be delivered without any service interruption or overload concerns.
Additionally, the Low Latency Live Video Streaming service, which by leveraging on Limelight's global network expands the range of low latency multimedia broadcast thereby ensuring best quality for business customers.
A comparison with Cloudflare (NASDAQ: NET), currently at the top position in the CDN market, confirms that it is Limelight which possesses real-time and live-streaming features.
Figure 2: Comparison of product features and scale.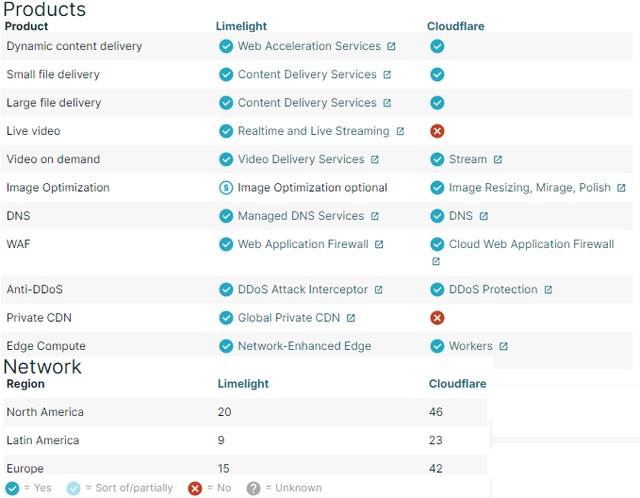 Source: cdnplanet.com
Also, Limelight does have the private CDN feature, which offers dedicated edge resources.
Conversely, it does not have the scale of Cloudflare with the latter boasting more than double the number of POPs (Points of Presence) especially in North America where Limelight is present in only 20 datacenter locations.
Furthermore, Cloudflare's larger CDN infrastructure has enabled the company to better reap the benefits of play-from-home as evidenced by the company's revenue growth at nearly twice as much as Limelight.
Figure 3: Comparison of key metrics.
Source: Seeking Alpha
Moreover, the company enjoys superior gross margins. However, looking deeper, it is Limelight which has better EBIT or operational margins, despite the figures being negative.
The difference between these two companies' operational (EBIT) margins is stunning.
This signifies that Cloudflare is seeing its high gross margins of nearly 77% melting away as a result of higher operational expenses. Reasons could be that either, it is performing aggressive marketing campaigns to drive sales or suffering from lower workforce productivity, at only 6K of revenues per employee.
On the other hand, Limelight, deriving 9K per employee seems to have a different financial model.
As per the executives, the average revenue per customer inched higher this quarter, and at approximately 0K, is the highest in the industry. This is total revenue divided by the customer base and is an important metric for Limelight due to its relatively smaller size. Thus, to compensate for its lower scale, the financial model has been focused on fewer and larger customers, which has allowed the company to accept a slightly reduced gross margin, but against a much lower operating expense profile. This has translated into a positive EBITDA (Earnings Before Interests, Taxation, Dilution and Amortization) margin.
The financials
At this point, some investors may be wondering how with a positive EBITDA of .7 million (up 49% over the third quarter last year), the company still reported a GAAP loss of million, compared to only .8 million in the year-ago quarter.
Looking deeper, Q3-2020 included .7 million of interest expense, translating into an EPS of almost .02 per share, as a result of the execution of a 5 million convertible debt offering in July of 2020.
Figure 4: Quarterly profit margin in millions of dollars.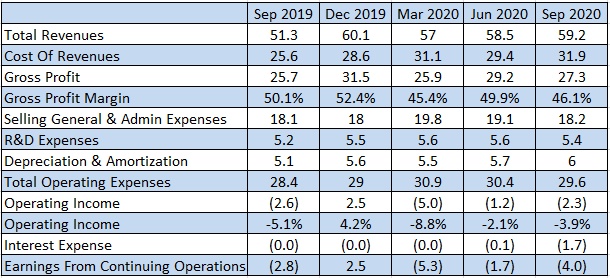 Source: Seeking Alpha
There was also exceptional operating expenses, which increased approximately by 0K, primarily due to one-time costs related to organizational re-alignments.
On a brighter note, operating cash flow in the third quarter was .7 million with .2 million incurred for capital expenditures, primarily for expanding footprint. As a result, the company ended Q3-2020 with cash and equivalents of 4.8 million, a 6 million surge from the .2 million available as at the end of the second quarter.
The company has a total debt to equity ratio of 64.35%.
Therefore, Limelight has a strong balance sheet and a financial model which generates positive EBITDA to compensate for less revenue growth. Now, subtracting some exceptional costs, operational margins should improve in the fourth quarter.
However, with IT security now constituting one of the most important challenges CDN providers face, in addition to delivering performance, I now analyse Limelight's capacity to deliver in this crucial area.
Future challenges
As accelerators of multimedia content, CDN providers are best placed not only to detect threats posed by hackers but also, mitigate them as well. Examples are denial of service (DDoS) attacks which can compromise end-users' devices. To solve this problem, Limelight has a DDoS Attack Interceptor solution which basically offers several lines of defense for client protection like proactive notification in the event of an attack and traffic cleanup.
More important, unlike competing offerings, which operate at the router level, DDoS Attack Interceptor is directly integrated into Limelight's global CDN network through placement of detection capability directly into the POP.
Second, Limelight is facing a scalability issue as seen during comparison with Cloudflare pertaining to the need of having significant bandwidth capacity scattered worldwide. This is where the convertible debt offering, I mentioned earlier becomes a handy tool to accelerate growth initiatives.
Figure 5: Global presence currently undergoing further expansion.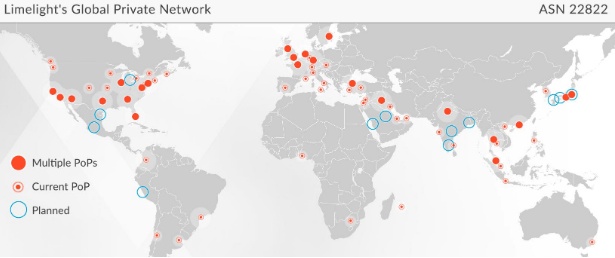 Source: limelight.com
However, the company is not going for a fully-blown expansion across all geographies, but instead prioritizing on countries with growing demand such as India, where capacity has been doubled to help meet the growing demand in the region.
Valuations and key takeaways
Going into the fourth quarter, the company should see continuously elevated traffic levels due to persistence of COVID-19, the colder weather in winter and online game providers releasing new versions. This should translate into higher revenue figures helped by competitive strength in edge and video services.
On the other hand, Limelight needs to add capacity at an accelerated mode in order to deliver the incremental traffic. Now, addition of capacity means incurring more expenses for new POPs in new geographies. This capacity expansion increases the cost of sales and should continue to put pressure on gross margins. Additionally, pricing also makes for a big component of gross margins.
Still, there are two factors at play here, which point to improvement of gross margins, starting in the fourth quarter:
The company is selling continuous capacity additions whereby it derives more income out of the new POPs being installed.
Automated traffic flows are being implemented in order to run the network at higher utilization rates which mean more sales out of the same infrastructure.
Here, one of the key aspects of an enterprise CDN technology is to bring automation to the process of allocating bandwidth. For this purpose, the company has created a new DevOps (Development and Operations) team which has a road-map to gradually implement the automation feature without negatively impacting performance of customers.
Consequently, the company plans a smooth deployment, "more willing to suffer a slower increase in margin than willing to tolerate lower performance for our customers".
Therefore, with the CDN provider being on a gradual path to increase gross profits, I next move to valuations.
In this respect, Cloudflare, which is valued at a trailing EV/Sales ratio of 60.89, generated a total sales of 9 million for the last four quarters whereas for Limelight, the figure was nearly 5 million. Therefore, with a valuation of only 2.23x Enterprise Value to Sales, Limelight is undervalued.
Also, the stock has under-performed both Cloudflare and the wider Wedbrush ETFMG Global Cloud Tech ETF (IVES).
Figure 6: Comparison of total returns with Cloudflare and IVES.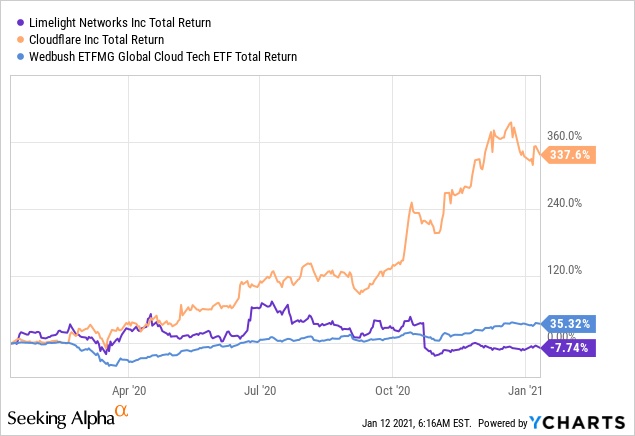 Data by YCharts
My target price is in the -.25 range but this will be a gradual rise, in pace with increase in gross margins.
Finally, with the same conditions prevailing as in Q2-2020, namely a resurgence of the pandemic, real-time streaming demands resulting from live events like gaming and sports are present to entertain stay-at-homers. This could lead to an upside in the second week of February 2021 when fourth quarter results show a surge in sales.