Apr 23 2021 - Tesla Stock Split: Will It Happen Again
Summary
Tesla not only has to contend with pure-play EV-makers. It will also face new entrants such as Apple and Chinese smartphone makers Huawei and Xiaomi.
More traditional automakers will also be producing electric vehicles. Even if the demand side is plausible, it would mean Tesla needs to build many more factories.
It's a high chance that a great number of new plants would be in China which carries plenty of geopolitical risks. The headwinds from the uncertainties could suppress TSLA stock.
However, if analysts are right that Tesla's true potential lies in a future rollout of an autonomous ride-hailing fleet, its share price has much room to head north based on the consensus projections.
Tesla could consider another stock split to get "more people in the stock." Past experiences suggest the EV titan could do one before the share price hit quadruple-digit again.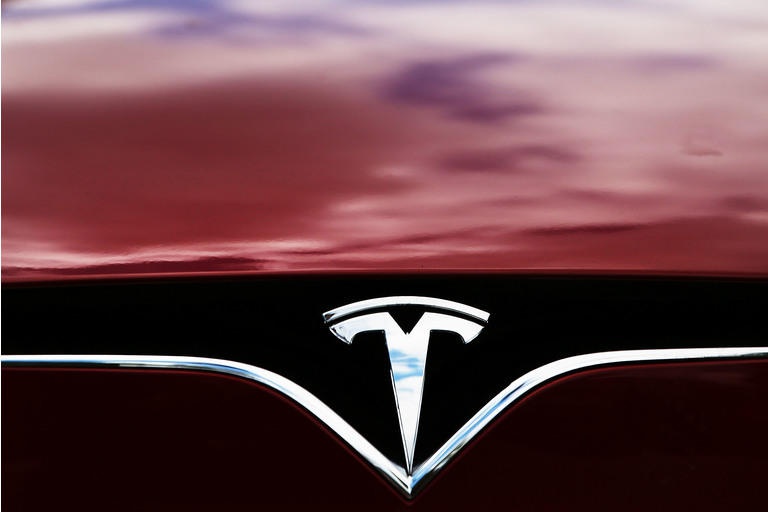 Photo by Spencer Platt/Getty Images News via Getty Images
TSLA stock is poised to rise in line with its business growth
In a recent article titled Who Will Be The Biggest Competitors By 2025, I questioned certain projections regarding Tesla's (TSLA) car sales. Some estimates implied that Tesla would take a lion's share of the EV market despite the rapid increase in the number of competitors.
By 2025, Tesla not only has to contend with pure-play EV-makers. It will also face new entrants such as Apple Inc. (AAPL) as well as Chinese smartphone giants Huawei and Xiaomi Corporation (OTC:XIACF)(OTCPK:XIACY). More traditional automakers will also be producing electric vehicles, even as they continue to churn out internal combustion engine-based cars.
Even if the demand side is plausible, it would mean Tesla, Inc. needs to build many more factories. Given the effusive praise we have heard from Elon Musk regarding the speed of factory construction and on China in general, we could expect additional new plants to be sited in the populous country. That could add more geopolitical risks to the stock, as SA author John Engle argued.
Then again, as many readers on Seeking Alpha, analysts, and Cathie Wood have postulated, Tesla's true potential lies in a future rollout of an autonomous ride-hailing fleet. Consequently, Tesla's revenue is projected to rise from .54 billion in 2020 to a whopping 8.52 billion on a consensus basis in 2030. That would bring the price-to-sales ratio to a mere 1.84 times on a forward basis.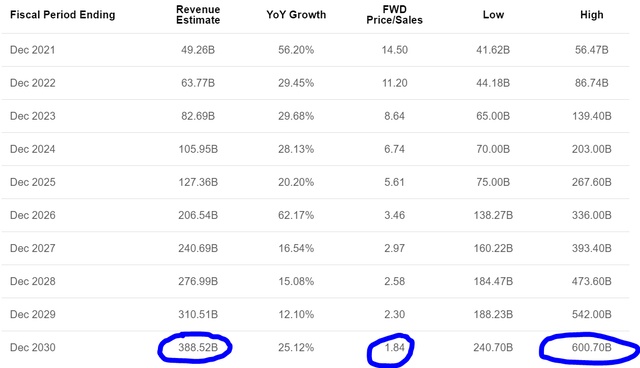 Source: Seeking Alpha Premium
If Tesla did not disappoint the most bullish of the optimists forecasting its revenue to hit 0.7 billion in 2030, its P/S ratio would drop even lower to 1.19 times! You might say, all that sales are wonderful but what does their profitability look like? Well, the analysts believe TSLA would make boatloads of money. The consensus EPS estimate for 2030 is .48, a massive jump from the .64 it achieved in 2020. If the 2030 EPS estimate is realized, those earnings at today's price would reflect a ratio of 22.2 times, which could be seen as incredibly low.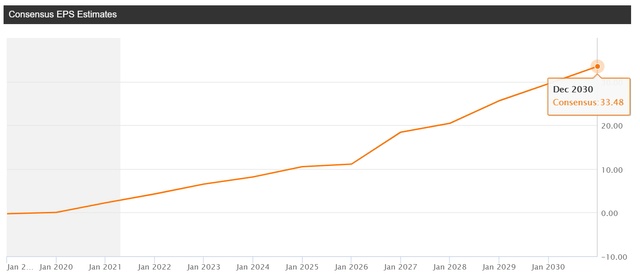 Source: Seeking Alpha Premium
With EV sales projected by industry consultancy Canalys to remain below 50 percent of the total car sales by 2030, there remains significant growth potential for Tesla to increase its revenue. As such, assuming the analysts are correct, the share price of TSLA will not stay at the present level for the P/S ratio to be just 1.84 times and the P/E ratio at 22.2 times, the share price of TSLA would rise further than where it stands today.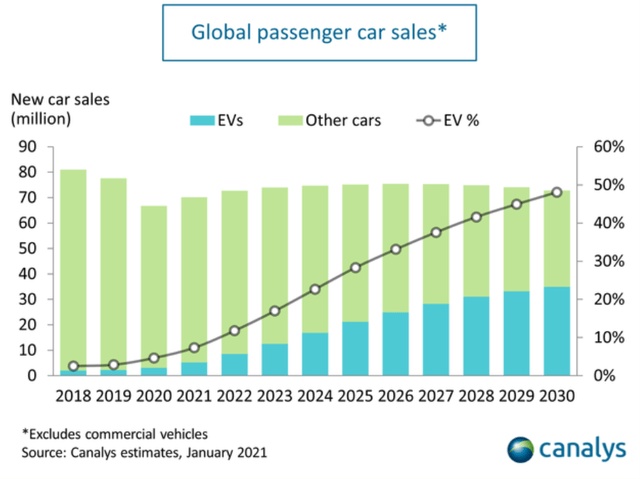 Tesla stock split history: What was Tesla's stock price before the recent split?
In other words, Tesla's share price would continue to rise over the next five to ten years. With that in mind, the question is, will TSLA split again? Before discussing that, let's review Tesla's previous split.
On August 11, 2020, Tesla announced, after the market closed, that its board approved a five-for-one split of shares to "make stock ownership more accessible to employees and investors." This marked Tesla's first-ever split announcement. The stock jumped from a pre-split price of 74.4 to as high as 85 the next day before closing at 54.75. TSLA went on to clock further gains the rest of the month, appreciating over 80 percent by the end of August 2020.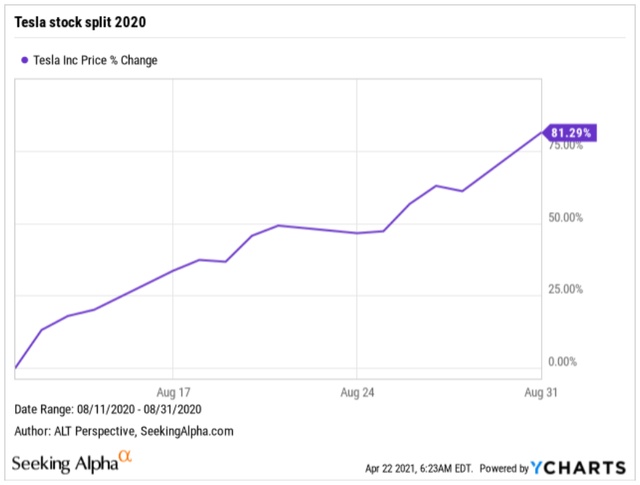 How did Tesla's most recent stock split affect share prices?
Interestingly, after the split was affected, Tesla stock lost much of the August gains in just a few trading sessions in early September. The share price decline was speculated by some to be due to shareholders paring their holdings since the split had resulted in them holding more TSLA shares. This seems logical as the purpose of the split was to accord shareholders with greater "liquidity" over their TSLA holding.
However, the weakness in Tesla's share price was more likely attributable to a capital-raising exercise announced pre-market on September 1, 2020. Although only up to billion worth of shares representing just over 1 percent of Tesla's market cap were to be sold, investors were probably looking for a trigger to take profit considering that TSLA was running in overbought territory for more than two weeks, according to the relative strength index [RSI] momentum indicator at that time.
TSLA's strong run upwards had also led to the stock becoming "overweight" on many shareholders' portfolios. Ironically, that meant investors, whether individuals or fund managers had to reduce their Tesla holdings to avoid concentration risk. For funds with concentration guidelines or rules, it's not even a choice but a mandatory reduction exercise once the Tesla position became outsized.
To make matters worse, Tesla stock was subsequently dragged down further into correction territory amid a sell-off by investors of tech favorites and "all things frothy." The share price recovered some grounds quickly but the stock stagnated for a few months thereafter before a powerful wave of EV hype swept TSLA up again to new heights.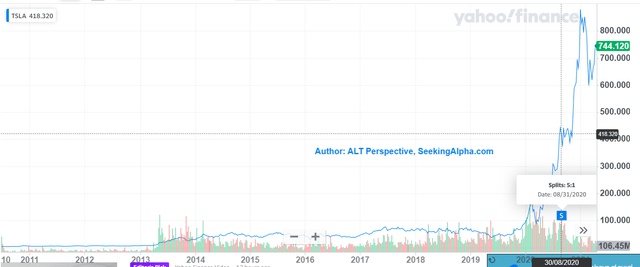 Source: Yahoo Finance
When will Tesla stock split again?
Although Tesla's share price has pulled back from the peak earlier in the year, it remains much higher than the post-split level last year. At 4.12 at the time of writing, TSLA is 49 percent higher than the 8.32 close on August 31, 2020, the day of the stock split.
If the past is any reference, Tesla executives did the stock split when the share price was in quadruple-digit. TSLA will need to rise more than 34 percent for that to happen again. As I opined earlier, Tesla stock appears to be poised for further upside. I believe it's more of a question of when, not if, will TSLA hit above ,000 per share.
Nevertheless, even in the current investing environment where there are platforms allowing the trading of fractional shares, there are still benefits for stocks with smaller prices. One obvious advantage is the impact on psychology, as the mind interprets low prices as "cheaply valued" and having room to head north.
The leadership at Apple must be thinking the same as the folks at Tesla when the company executed its stock split around the same time as the EV giant last August. The share price appreciation from pre-announcement to post-stock split date was less spectacular compared to Tesla but still a hefty 41 percent.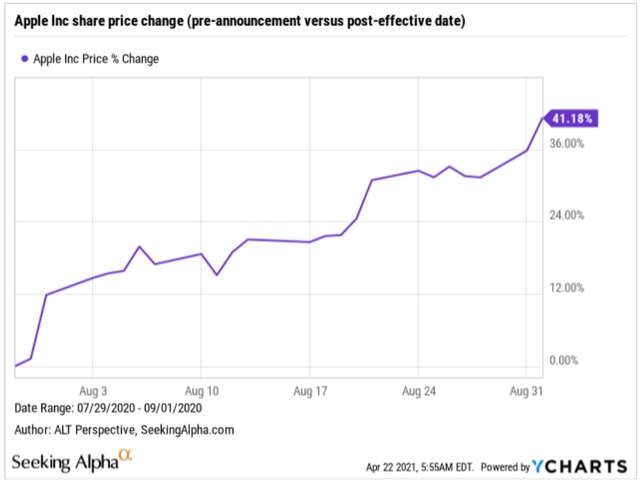 Considering that Apple announced a stock split when the share price was much lower at 4.76, it goes to show there's value in considering a split in the stock even without the share price hitting quadruple-digit. Furthermore, AAPL has done this four times before - in 1987, 2000, 2005, and 2014 - when the share prices were all below ,000. In 1987 and 2005, the stock was even trading at the sub-0 level when the company did the split.
Jim Cramer was quoted as saying during an interview last year that Tim Cook explained the 2020 stock split to him, telling him that he wanted "more people in the stock." I suppose that's what Bill Gates and his team thought when the software giant performed eight stock splits from the listing of Microsoft (MSFT) until 1999 as MSFT climbed exponentially during the period. Elon Musk and Tim Cook are the odd couple but I believe the former would agree on having "more people" in TSLA stock.

Source: Yahoo Finance
Should you buy Tesla now or wait for a split?
Video-streaming leader Netflix (NFLX) announced a seven-for-one stock split in 2015 when its share was around 0 pre-split. NFLX went on to do very well though it's very much due to its business success than a simple cosmetic stock split exercise. The point of bringing this up is that Tesla's share price is around where Netflix's share price was when the split was completed.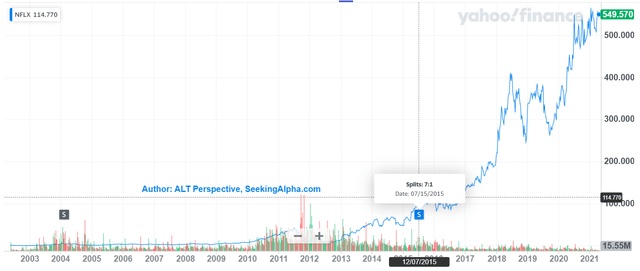 Source: Yahoo Finance
Although Amazon.com, Inc. (AMZN) and Alphabet Inc. (GOOGL)(GOOG) are the odd tech companies trading at quadruple-digit levels, most others are trading in the triple-digit or smaller. With the favorable experience from the previous stock split, Tesla might not want to wait for the share price to hit quadruple-digit again before contemplating another split.
Furthermore, there is existing literature that reveals a strong correlation between stock splits and "outstanding stock price performance", giving Tesla the impetus to do so. Another potential trigger point for Elon Musk to announce a stock split could be when TSLA hit 0 per share. He would be able to claim that the company would do a two-for-one split so that the share price becomes 0 post-split.
Of course, the share price wouldn't stay flat from the announcement date until the effective date. Nonetheless, the media would have gone into overdrive covering the announcement and speculating about the number's link to weed as well as Elon's past brush with the securities law on his previous take-Tesla-private-at-0 claim. This would generate plenty of free publicity for the company.
However, investors should not hang around for a stock split if they are intending to own shares in Tesla. It may not happen and the share price could still zoom upwards on speculations, improving sentiment, or due to business fundamentals.