Apr 8 2021 - PLBY Group Inc.: Bullish On The Playboy Bunny
Summary
PLBY Group reported its first quarterly results since it began trading as a public company in February.
Strong growth has been fueled by a focus on direct-to-consumer merchandise across several product categories.
Management is offering a positive outlook supported by significant growth opportunities including entering new lifestyle segments.
We are bullish on the stock and see shares as attractively priced against a peer group of other major global "premium" brands.
Looking for more investing ideas like this one? Get them exclusively at Conviction Dossier. Learn More »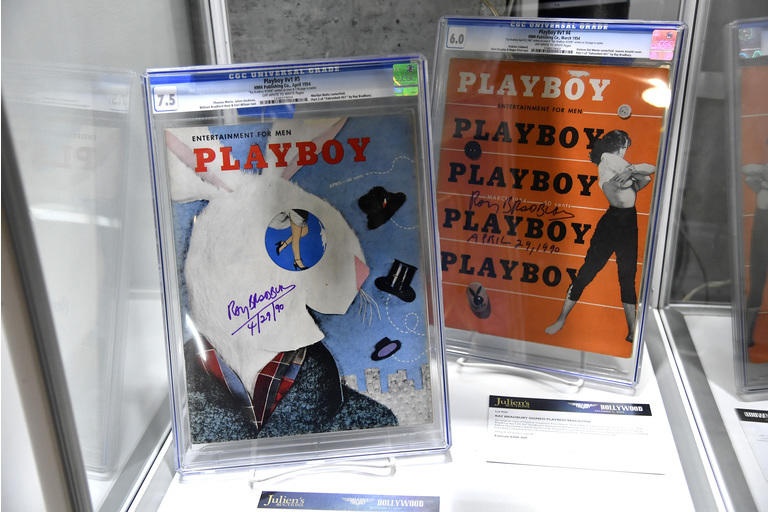 Photo by Frazer Harrison/Getty Images Entertainment via Getty Images
PLBY Group Inc (PLBY), which manages the iconic PLAYBOY brand, made a return to the stock market in February through a SPAC merger IPO. Following years of declining magazine and media sales, the business model has shifted to focus on direct-to-consumer retail merchandise and new licensing opportunities. Beyond a portfolio of adult wellness products, apparel goods, and grooming supplies; the company has entered lifestyle segments like online casino gaming and even cannabis. Indeed, shares of PLBY are up over 110% in just the last month boosted by a strong Q4 report with a positive outlook from management. We are bullish on the stock which is setting up to capture significant growth opportunities supported by overall solid fundamentals.

(Seeking Alpha)
PLBY Financials Recap
PLBY Group reported its Q4 results on March 23rd with a net loss of .5 million which favorably narrowed from -.0 million in Q4 2019. Revenues for the quarter climbed an impressive 118% year over year to reach .3 million. For the full-year 2020, revenues climbed 89% y/y to 8 million while adjusted EBITDA which excludes stock-based compensation and some other non-recurring items improved to .3 million for the year compared to .1 million in 2019.

(source: Company IR)
While licensing deals revenues still represent about 40% of the total business with revenues climbing 20% to million in 2020, the bigger story here has been the momentum in direct-to-consumer merchandising. Management believes that shifting towards company-owned products in key categories allows for better control of the brand and consumer experience while driving margins higher.
PLBY Group intends to move forward with an in-house fashion brand and expand apparel visibility. For some context, Playboy branded goods represent over billion in annual global sales which the company intends to recapture a larger portion as a strategy going forward. Geographically about 52% of sales are in the United States, while China is the next largest market at 27% of the business suggesting there is more room to diversify in the rest of the world.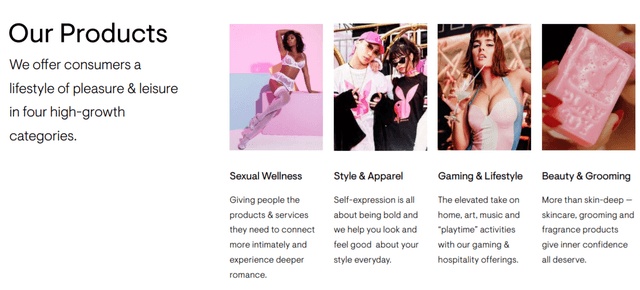 (source: company IR)
In terms of guidance, while management expects to generate over 0 million in revenue for 2021 which represents an approximate 35% growth from 2020. Longer-term the company expects to reach 0 million in revenues and 0 million in adjusted EBITDA over the coming years.
The company reported holding over 0 million in unrestrictive cash following the reverse merger as of February 11th. At the end of 2020, the company had 4 million in long-term debt. An estimated financial current ratio over 2x highlights the overall solid balance sheet liquidity position.
PLBY Growth Strategy
Recent acquisitions have also been part of the growth story. In February 2020, PLBY acquired the "Yandy" brand which focuses on lingerie. This past March, the group closed its most recent deal with the "Lovers" omnichannel retailer to expand its leadership into adult product categories. Company data shows the "sexual wellness" sector is set to grow from 3 billion in 2020 to nearly 0 billion by 2024. PLBY group sees an opportunity for mass-market distribution across a variety of channels including online to traditional drug and grocery stores.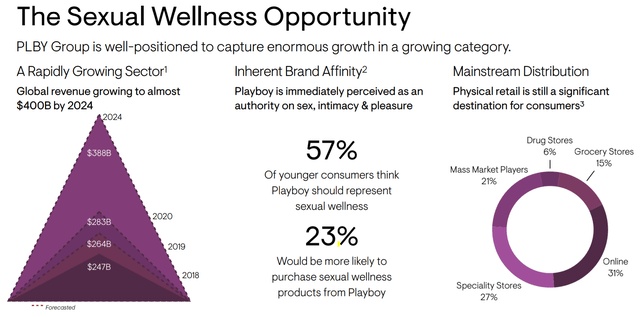 (source: company IR)
A new area the group is pursuing is opportunities in the market for non-fungible tokens "NFTs". As a primer, the concept is based on the cryptographic properties of the blockchain where a digital unit is provided proof of ownership as a unique asset. The idea here is that the Playboy brand could sell some form of digital collectible stored on the blockchain leveraging the company's vast photography collection and artwork archive that spans nearly 70 years. During a recent interview, CEO Ben Kohn highlighted what the company believes is a massive long-term opportunity in NFTs.
What's really unique about the NFT market is not only do you get paid on the first transaction, but you get paid on every subsequent transaction. So if these increase in value over time or trade hands over time, you continue to get paid on that. So we're looking at setting up a business really for the long term. We're going to enter the space slowly, but we think there's a massive opportunity for us long term. And there can also be a very long tail on this. And so that's what excites us.
Management presented several points encompassing PLBY's broader growth strategy during the earnings conference call which is summarized here:
Accelerate direct sales growth in the U.S. through increased merchandising, cross-selling, and influencer marketing programs.
Develop an in-house streetwear fashion business to launch seasonal collections.
Expand sexual wellness offerings with private label products along with a lingerie collection.
Pursue growth opportunities into India and China as high-growth regions.
Regain licensing rights in the online casino gaming space.
Grow intellectual property portfolio by creating or re-launching new sub-brands.
Invest in beauty, cosmetics, and men's grooming categories.
Launch spirits (alcohol) brands in Asia with joint venture partner.
Expand CBD-based product offerings internationally as well as launched THC cannabis products domestically pending legalization at federal level.
Leverage extensive legacy art collection into emerging NFT space.
Pursue strategic acquisitions as appropriate, similar to the "Lovers" and "Yandy" deals.
Analysis and Forward-Looking Commentary
The first earnings report for PLBY Group since going public offers several positive developments supporting the company's long-term outlook. We are particularly excited by the momentum in the direct-to-consumer initiatives and impressed by the multi-faceted growth strategy.
At the end of the day, the strength here is the Playboy brand which we place at a level comparable to companies like Coca-Cola (KO) and Nike Inc (NKE) in terms of global awareness. Indeed, PLBY Group notes that Playboy is currently among the top 20 most licensed brands in the world with a 97% brand awareness. The result is that the company immediately commands a higher retail premium with limited advertising and marketing requirements.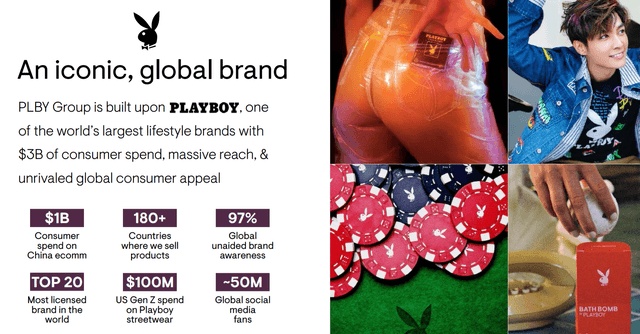 (source: company IR)
The bullish case for PLBY is simply that whatever category the company decides to enter, there is a high chance of success. Separately, the bigger theme is the earnings opportunity given the potential for expanding margins in the direct-to-consumer merchandising segments.
In terms of valuation, a current market cap for PLBY at around 0 million against 2020 revenues of 8 million imply the stock is trading at a 6x price to sell multiple, or 4.5x based on the 2021 revenue guidance from the company. The long-term target to reach 0 million in adjusted EBITDA implies the stock is trading at an approximate forward EV to adjusted EBITDA ratio of 11x. Our take is that these levels are reasonable in the context of the 35% top-line growth momentum estimated for this year and the premium the Playboy brand commands.
A current 6x price to sales ratio is also attractive against some other "luxury" brands like LVMH Moet Hennessy Louis Vuitton SE (OTCPK:OTCPK:LVMHF) at 6.8x, Canada Goose Holdings Inc (GOOS) trading at 7.3x, Moncler SpA (OTCPK:OTCPK:MONRF) at 9.1x, and even Ferrari NV (RACE) at 9.7x. While these companies each operate in a different segment, what they share in common is the brand appeal and premium connotation. In some ways, an advantage of Playboy in this group is that it has greater flexibility to be utilized in more product categories beyond simply apparel.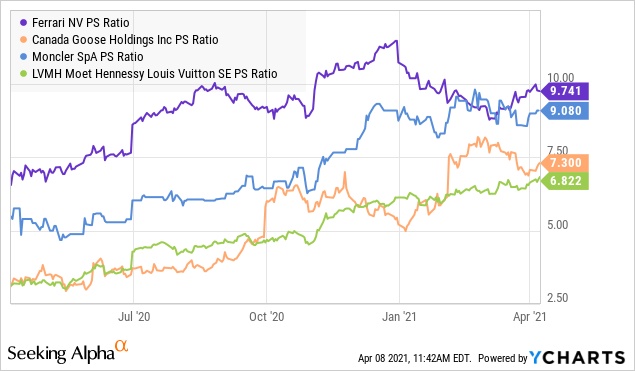 Data by 
YCharts
Final Thoughts
We believe 2021 is an important year for the PLBY Group to execute its growth strategy and reaffirm its earnings potential. The recent excitement around NFTs has boosted sentiment towards the stock but our take is that it's only a small part of the outlook there is a bigger underlying growth opportunity in the core businesses. Nevertheless, the incremental contribution can be positive and adds to the upside potential.
Even as shares have already climbed significantly since the IPO, we remain bullish and see more upside ahead. We rate shares of PLBY as a buy with a price target of .50 for the year ahead, implying a 5.6x forward price to sales multiple on the current 2021 sales guidance that could prove to be conservative.
The main risk to watch is the potential for deterioration to the global macro outlook. At the end of the day, the various product segments for PLBY group are in consumer discretionary categories which remain sensitive to income levels and economic growth. Any setback in the consensus for ending the pandemic would likely pressure the stock and force a reassessment of the growth outlook. Monitoring points for the company in the upcoming quarters include trends in the operating margins and cash flow levels.