May 7 2021 - Airbnb: 44% Downside As It Is Overvalued Compared To Peers
Summary
Airbnb is trading at an unjustified market cap relative to peer Booking Holdings.
DCF-models suggest 44% downside for Airbnb.
Business-model is not as resilient as it might seem compared to peers.
Short-interest has been consistently rising since the IPO.
Target price of in the next 12 months.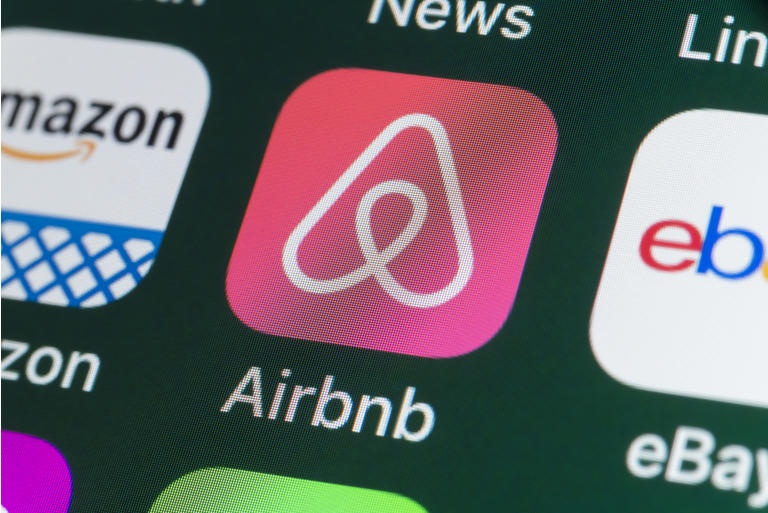 Photo by stockcam/iStock Unreleased via Getty Images
Thesis
Airbnb (NASDAQ:ABNB) is trading at an unjustified market cap compared to more established peers such as Booking Holdings. ABNB is fragile, as seen by its consistent losses before the COVID-19 crisis. It is also more reliant on a smaller subset of revenue from its primary lodging site than Booking Holdings, which is more diversified over many businesses and areas.
The DCF models I'm looking at suggest a downside potential of almost 44% from its current level at 8. I would abstain from purchasing Airbnb and place a target price of over the next 12 months.
Airbnb
Airbnb IPO'd in the middle of December 2020, at the height of the second Coronavirus-wave. Its stock enjoyed success and rose swiftly higher, and has since leveled off, and has begun dipping recently.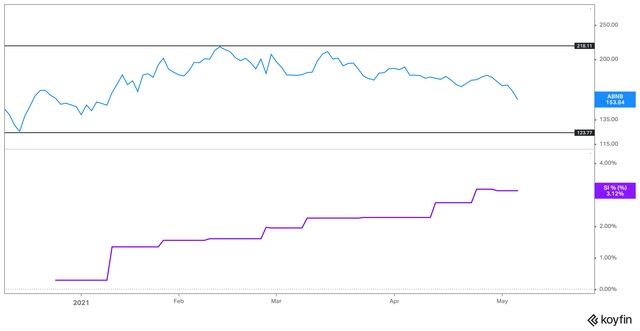 Source: Koyfin
While this price appreciation has likely been due to market participants' pricing in the global reopening trade, leading to increased travel and increased bookings at Airbnb, there are some issues with this line of thinking.
Airbnb did not show any meaningful profitability during the preceding years of the Coronavirus crisis that erupted in 2020.
We incurred net losses of .9 million, 4.3 million, and .6 billion for the years ended December 31, 2018, 2019, and 2020, respectively. As of December 31, 2020, we had an accumulated deficit of .0 billion. Historically, we have invested significantly in efforts to grow our host and guest community, introduced new or enhanced offerings and features, increased our marketing spend, expanded our operations, hired additional employees, and enhanced our platform. Beginning in the second quarter of 2020, as a result of COVID-19 pandemic, we have significantly reduced our fixed and variable costs including a reduction in force and a suspension of substantially all discretionary marketing program spend.
This raises several questions about the quality of the business model, as it increases the frailness of potential future cash flows. If the company could not generate any meaningful cash flows in the preceding years of the crisis, there is a risk that it will continue showing meager cash flows in the future.
One can certainly understand that a substantial amount of cash has gone into growing the business, as is usual of growth companies in the technology space. This growth has lead to Airbnb having a presence in over 220 countries.
In my opinion, there is scarce room left for Airbnb growing further. The growth would come now in generating substantial cash-flows from its presence in the countries it exists in.
That growth is not likely to materialize, as Airbnb's cash flow structure is problematic. Revenues are growing each year, with operating expenses growing as well, as seen in the chart below.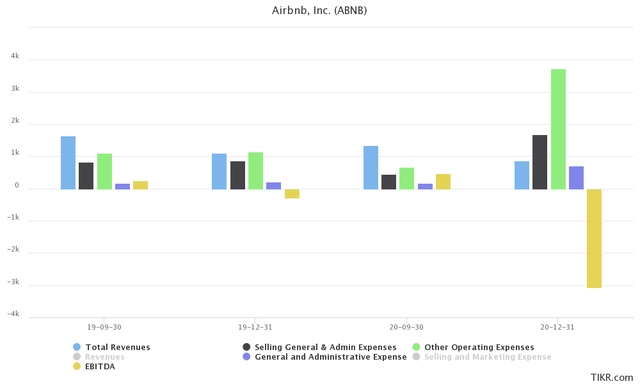 Source: tikr.com
I view it as unlikely that a rollback of Coronavirus-induced restrictions globally will lead to such a projected surge in price that other market participants are projecting. In addition, Airbnb enjoys significant competition from other OTAs (online-traveling agencies).
OTAs such as Booking Holdings (including the brands Booking.com, KAYAK, Priceline.com, and Agoda.com); Expedia Group (including the brands Expedia, Vrbo, HomeAway, Hotels.com, Orbitz, and Travelocity); Trip.com Group (including the brands Ctrip.com, Trip.com, Qunar, Tongcheng-eLong, and SkyScanner); Meituan Dianping; Fliggy (a subsidiary of Alibaba); Despegar; MakeMyTrip; and other regional OTAs.
The issue with these OTAs is that they have significantly longer operating histories, with more brand recognition than Airbnb. In addition, several of these competitors have diversified revenue streams as they possess several websites on which customers can book lodging. Below is a historical timeline of acquisitions the competitor Booking Holdings has made.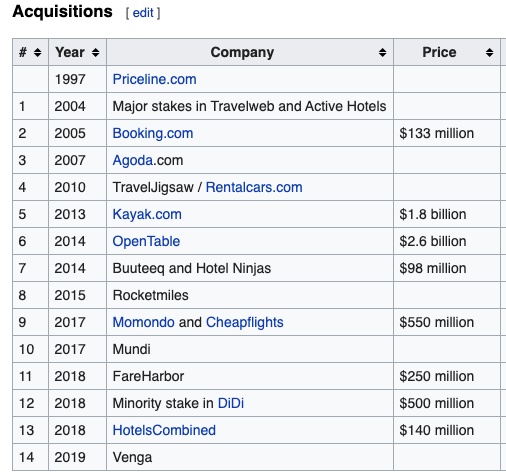 Historical acquisitions by Booking Holdings.
Source: Wikipedia
Airbnb is therefore in a more vulnerable position when it comes to diversified of revenue streams, as it does not possess the same variety of subsidiaries as Booking Holdings.
Booking Holdings (NASDAQ:BKNG) currently has a presence in 200 countries in the same vicinity as Airbnb (220). The conclusion one can draw is that Booking Holdings has successfully generated cash-flows compared to the newcomer Airbnb, despite their presence in an almost equal number of countries.
The competitive space of OTAs, with rivals such as Booking Holdings, adds complexity to the future cash-flow generation of all companies within the space. Complexity is increased, as the OTA-space is likely going to experience significant cannibalization of each other's revenue streams as hosts list on multiple platforms in order to attract customers to their lodging.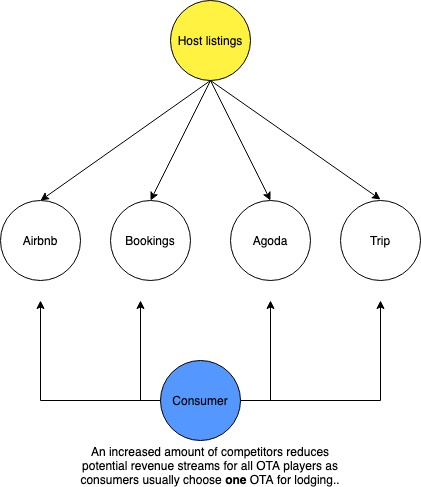 Hosts usually listen on multiple OTAs - Consumers usually choose one OTA.
Source: Author made
Logically, as the number of competitors increases, the lesser the revenue streams for all players. This is primarily due to hosts listing on multiple OTAs, with consumers usually choosing one OTA for booking lodging. From the chart, it also becomes clear why BKNG is better at generating cash-flows than Airbnb. Offering a wider variety of sites for lodging increases the likelihood of consumers choosing a site that is a direct subsidiary of BKNG.
Suppose BKNG has 5 sites and Airbnb 1, which puts the total pool of those two players at 6. Hypothetically let us assume a randomized probability of 1/6 for a consumer to choose any site out of 6.
BKNG has a 5/6 probability of a consumer choosing any site under the umbrella of BKNG, whilst Airbnb has a 1/6 chance. Extrapolate this line of thinking now to all existing players in the OTA space, and one quickly realizes why Airbnb will have difficulties becoming profitable.
If we make a relative-peer comparison between BKNG and ABNB, it becomes evidently clear that ABNB is overvalued relative to BKNG.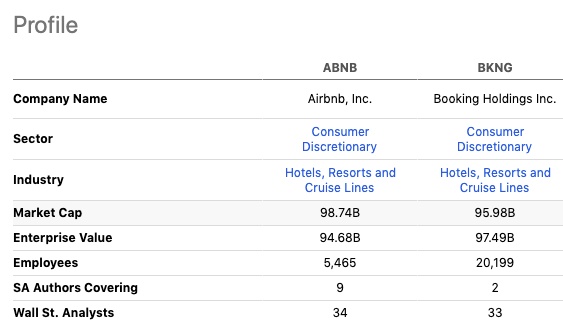 Source: SeekingAlpha
BKNG is trading at a billion market cap, while ABNB trades at a billion market cap.
BKNG has been consistently generating cash-flows whilst ABNB has been loss-making. BKNG's diversification of different subsidiary sites offers more consistency in generating cash-flows than ABNB. In fact, one of those standing to benefit the most in the reduction of Coronavirus-related restrictions would be BKNG and not ABNB, as it presents a higher diversity of businesses exposed to the traveling and hospitality industry, generating a more diversified stream of revenue flows.
If we take current DCF-estimates of both ABNB and BKNG in an Excel-model, we can clearly see that ABNB has a fair target price of , with BKNG having a fair price of ,536.42.
ABNB is overvalued by 77.5% if it trades at 8, whilst BKNG is undervalued by 10.2% if it trades at ,279.35.
The DCF-calculations provide a more quantitative argument and complement the relative peer comparison between ABNB and BKNG by factoring in the diversification of revenue streams BKNG possesses in comparison to undiversified ABNB.
From a valuation perspective, this would explain why short interest has been consistently rising in ABNB whilst it has stayed relatively flat in BKNG. Most likely, certain market participants, such as the buy-side, are identifying this discrepancy in valuation stemmed from different business structures and over-valuation between ABNB and BKNG.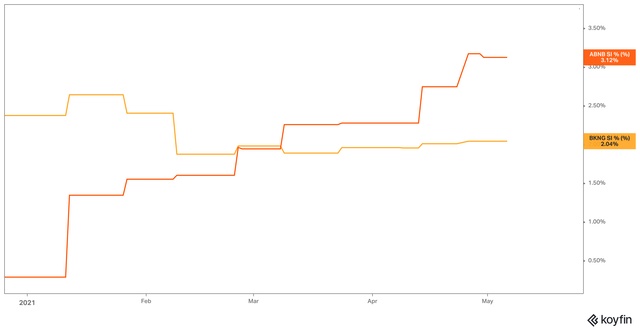 ABNB's short interest has risen since the IPO, with BKNG staying stagnant.
Source: Koyfin
In addition, if ABNB were to offer such attractive future returns, then why does it not have more significant institutional ownership in comparison to BKNG?

BKNG ownership breakdown.
Source: Simply Wall Street

ABNB ownership breakdown.
Source: Simply Wall Street
ABNB has a lockup period at 6 months after their IPO in December 2020, which is sometime in Q2 2021. It is not unreasonable to expect significant insider selling to occur at that time, primarily due to the overvaluation the company is seeing relative to peers.
Furthermore, 24.2% of the shares are held by the general public. If ABNB is such a promising company, why aren't institutions buying up shares at the open market?
Most likely, because they're identifying the overvaluation and are staying away until price reaches more reasonable levels.
I am highly skeptical of the current valuation of ABNB. I would expect a significant correction to occur to more sustainable price levels based on a relative peer comparison and DCF-models.
Summary
From both a relative peer perspective, it becomes abundantly clear that ABNB is overvalued and a DFC perspective that its current valuation is unjustified. Short-interest has risen since the IPO as certain market participants identify its lofty valuation and have increased short exposure.
Short interest will likely rise in the future based on the current low levels of borrowing costs, as more market participants identify this overvaluation. In addition, different levels of institutional holdings between ABNB and BKNG do not instill faith in the prospects of ABNB. The lock-up expiry in Q2 is likely to increase insider selling and exert additional downside pressure from current price levels.
I would therefore abstain from investing in ABNB and place a target price of over the next 12 months.