Apr 20 - 2021 - ARKW: All Good Things
Summary
Bull markets teach us lessons and so do bear markets.
ARKW has benefitted from the largesse of a market that refuses to use any sanity when applying valuation.
We tell you why the current set of holdings is destined for poor returns.
I do much more than just articles at Conservative Income Portfolio: Members get access to model portfolios, regular updates, a chat room, and more. Learn More »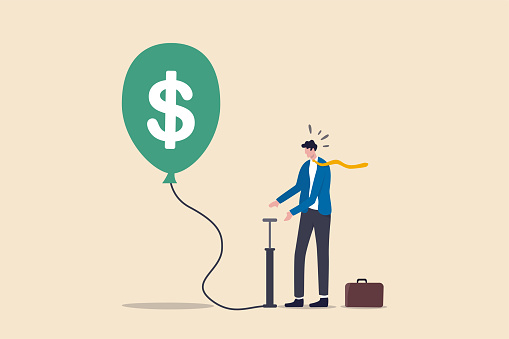 Photo by Nuthawut Somsuk/iStock via Getty Images
This is article number 1,000! There are so many people that have contributed to make this possible that it is impossible to mention them all individually. But we do want to try and include as many as possible in groups.

The fantastic editorial team at Seeking Alpha for all the corrections blended with encouragement. Sasirekha, Michael Hopkins, and the "Rebeccas" have helped develop and publish multiple complex pieces. We extend a special thanks for putting up with the "Diva" mode that all contributors occasionally feel the urge to go into.

The top tier team at Seeking Alpha that looks at microcaps and short calls, particularly Jeffrey Fischer, who spots all the errors and exaggerations before they hit print.

The readers and commenters who dive in and make the end result even better.

Finally, Seeking Alpha only works due to the fact that ideas are challenged. Contributors on Seeking Alpha create a fantastic ecosystem to enable that. While there too, there are just too many that have helped, we do want to name Michael Boyd and Ian Bezek, both of whom are exceptionally inspirational.
ARK Next Generation Internet ETF (ARKW)
Our experiences with a particular stock or ETF shape our outlook on it. If you made money on a stock, you're likely to view it favorably, even when valuations dictate you do otherwise. On the other hand, the converse also applies. That's why individual investors sell most at bottoms and buy most at tops. That's also why the orange bar in the next chart is at the far right.

ARKW ETF holders today don't know anything remotely about making 1.9% annually. After all, the ETF chart looks like this.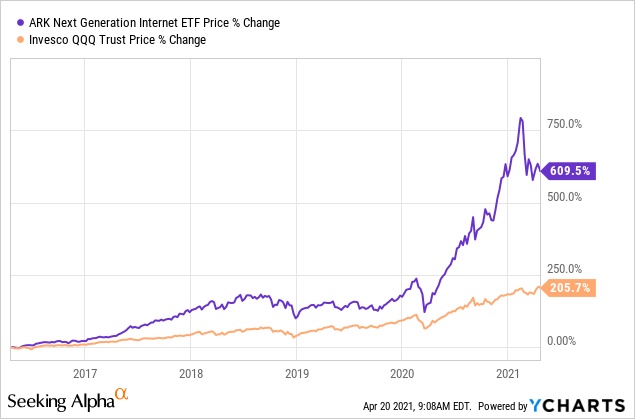 Data by YCharts
But let us tell you why the next few years may make you wish you sold ARKW and bought a 10-year Treasury bond instead.
Holdings
The fund is run by the famous Cathie Wood, who has been hailed as someone destined to revive the art of active management. At close to billion assets the fund is large enough for economies of scale but small enough to be nimble.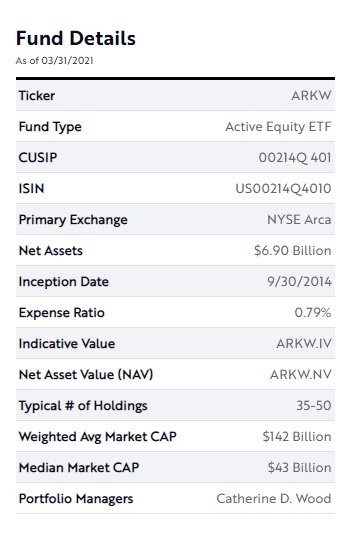 Source: Ark-Funds
ARKW aims for long-term growth of capital by investing in companies that are relevant to the fund's investment theme of next generation Internet. This is further defined as shifting technology infrastructure to the cloud, enabling mobile, artificial intelligence and internet-based products and services. The top 10 holdings contain familiar names like Tesla Inc (TSLA), Square Inc. (SQ), Shopify Inc. (SHOP) and Twitter (TWTR).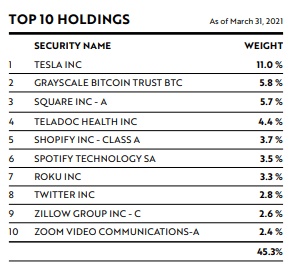 Source: Ark-Funds
The fund has 55 holdings and has been actively trading around those central names. The top 10 holdings shown above as at March 31, 2021, are the same ones you can find in the latest update, although their positions have shifted slightly.

Source: Ark-Funds
Further down the list you can see some more names that regularly make headlines like PayPal Holdings Inc (PYPL) and the recent IPO Coinbase Global Inc. (COIN).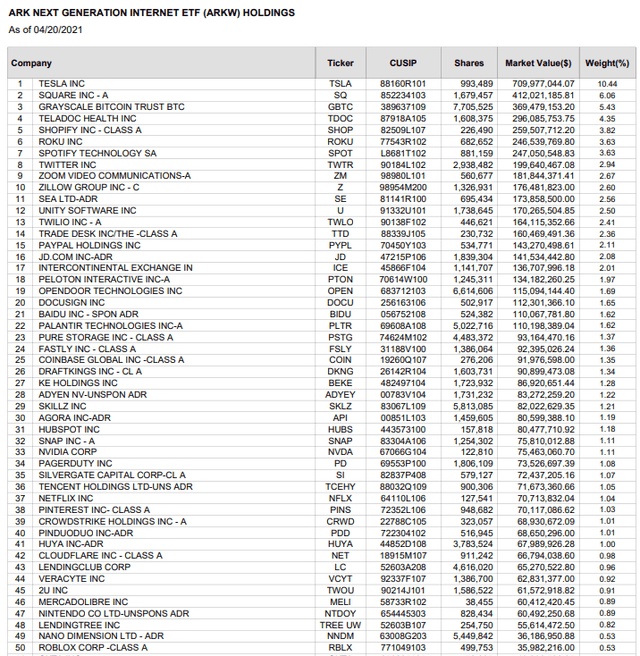 The underlying theme for most of these stocks is that they carry great promise for future revenue growth. The more obvious theme is that the odds are next to nothing that they will deliver price appreciation, even if they do deliver that growth.
Understanding Our Logic
Lot of companies grow very quickly. Whether you make money on them in the long run though depends on the price you pay. Now there are quite a few valuation metrics out there but we like price to sales ratios as they have some fantastic qualities. Price to sales ratios tend to not penalize the early growing companies that don't have profits. If you use only P/E ratios, you would miss these. Price to sales ratios also send warnings when margins are abnormally elevated and P/E ratios look normal. The "generics" bubble was easily visible by price to sales ratios, while everyone who looked at the garbled "adjusted earnings" thought the sector was cheap.
It's here that ARKW shows the bubble nature of the ETF. ARKW's holdings trade anywhere from 13 to 25X sales and below we show a small smattering of those holdings.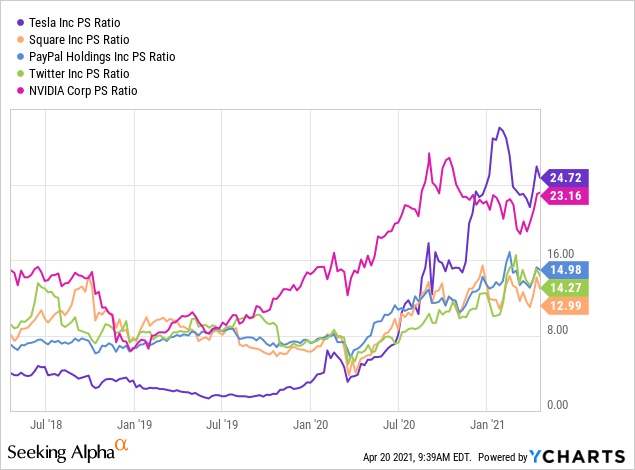 Data by YCharts
How difficult it's to make money by buying companies at 15X sales? We would say that it's exceptionally difficult. Yes things can work out at those levels if you buy emerging technologies that pretty much no one has heard of. But ARKW couples these price to sales ratios with something that investors need to really watch. The median market capitalization of these holdings is over billion.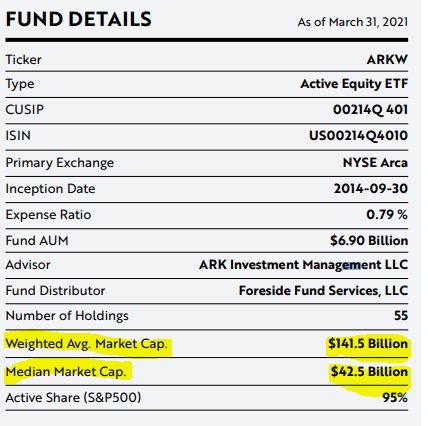 Source: Ark-Funds
The weighted average market capitalization is more than 0 billion. Only 80 odd companies in the S&P 500 have a market capitalization of more than 0 billion. The point we want to make is that there is zero precedent for an ultra-high price to sales ratio working out on companies this large. By working out we mean that you get good compounded returns over the next decade. Even far lower valuations have got stocks absolutely creamed over longer time frames.
A Look At 1999
To make our point more clear, we will look at the fantastic growth companies from the dot com era. As readers may recognize, two of those names have disappeared.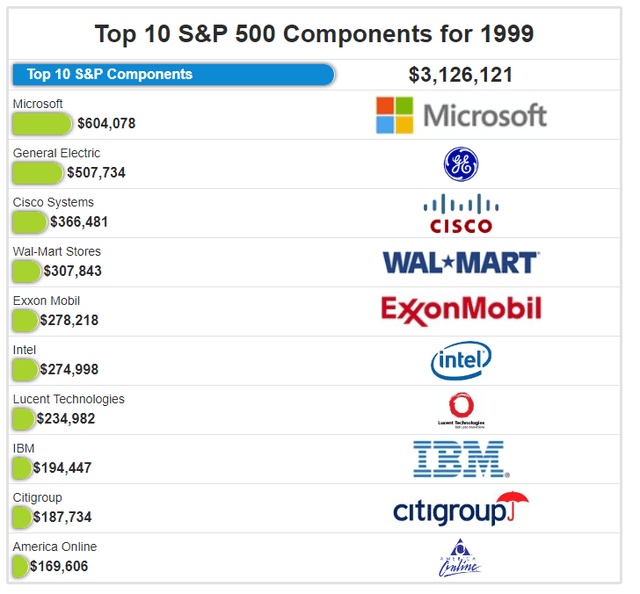 We chose five names from the top 10 to illustrate our case. Three of the five traded at price to sales ratios that you see routinely gracing ARKW. General Electric (GE) was expensive by historical standards but not insanely expensive. Walmart Inc (WMT) was the only one with a remotely sane valuation.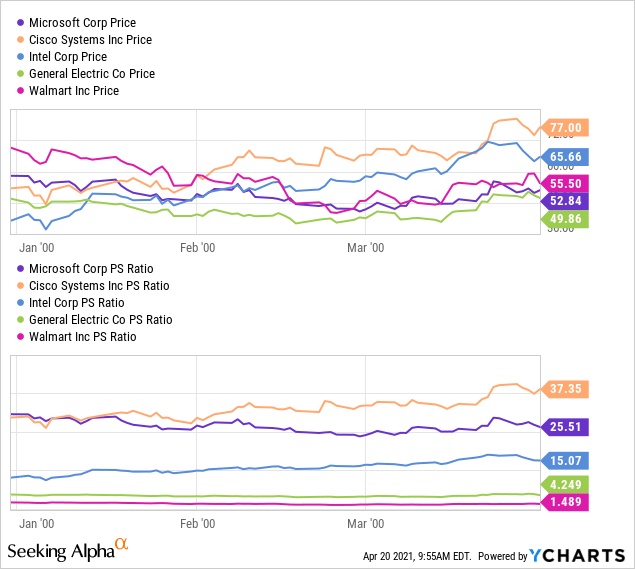 Data by YCharts
What happened next?
Ten years later the median return of this group was negative 50.43%.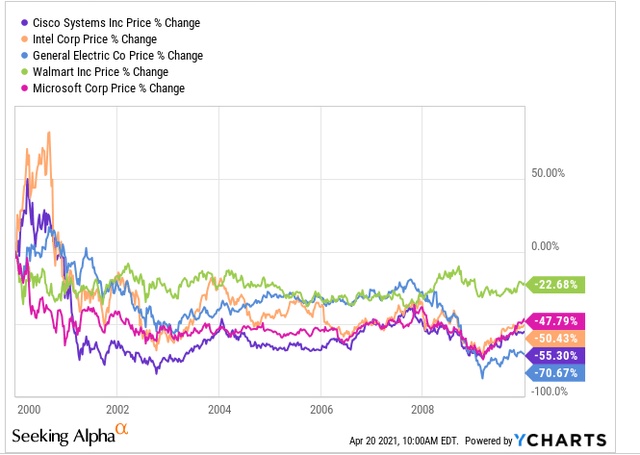 Fifteen years later the median return was still negative 20.43%.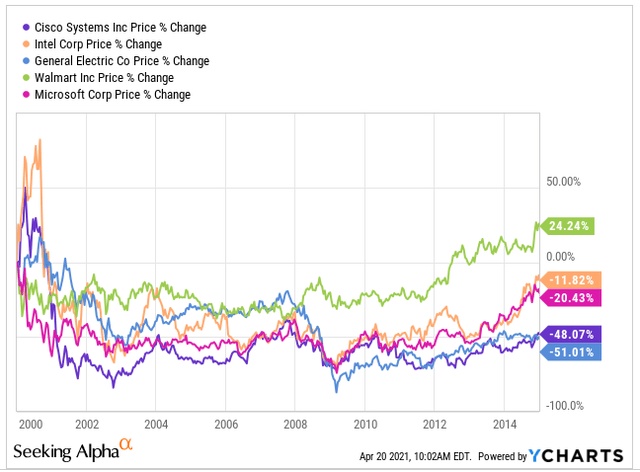 Eighteen years later at the peak of the tax cuts euphoria, three out of the five managed to break into positive territory.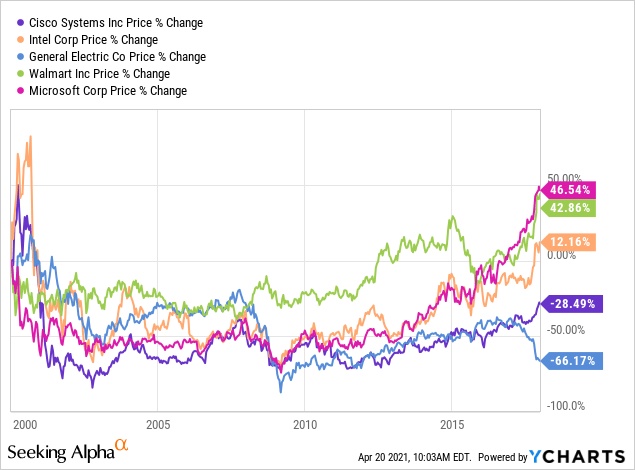 Data by YCharts
Our point is simple. You can pay high multiples for small companies and you stand a chance. You pay these multiples for large and mega-cap companies and you have close to a zero chance of making money over the long run. ARKW fund holders will learn this lesson slowly.
Conclusion
ARKW has been a fascinating ETF to watch and certainly the past performance has been spectacular. But all good things must come to an end. We think those returns are now in the rearview mirror. The bulk of even those returns have been driven by bubblicious valuation expansion. When that reverses there will be hell to pay. We want to end this note with a challenge for our readers. Find a company that meets these three criteria.
1) Traded at a price to sales ratio of 13 (lowest of the five shown above) or higher.
2) Had a market capitalization that got it within the top 50 S&P companies at the time.
3) Delivered 10% compounded or more, over the next decade from that point.
We looked and the only one we could find that got close was Microsoft (NASDAQ:MSFT) in 1997-1998. These are arbitrary numbers, but investors can play around with them and see just how few companies create good returns at these valuations. We look forward to your examples in the comments.
Please note that this is not financial advice. It may seem like it, sound like it, but surprisingly, it is not. Investors are expected to do their own due diligence and consult with