Sept 27 2021 - Is Shopify A Growth Stock To Consider?
Summary
I've been wrong on Shopify, and the stock has run 30% in the meantime.
SHOP continues to grow rapidly even as it laps pandemic quarters.
I expect the company to join AMZN in swallowing up the e-commerce market.
Long-term shareholders will likely enjoy many years of market-beating returns.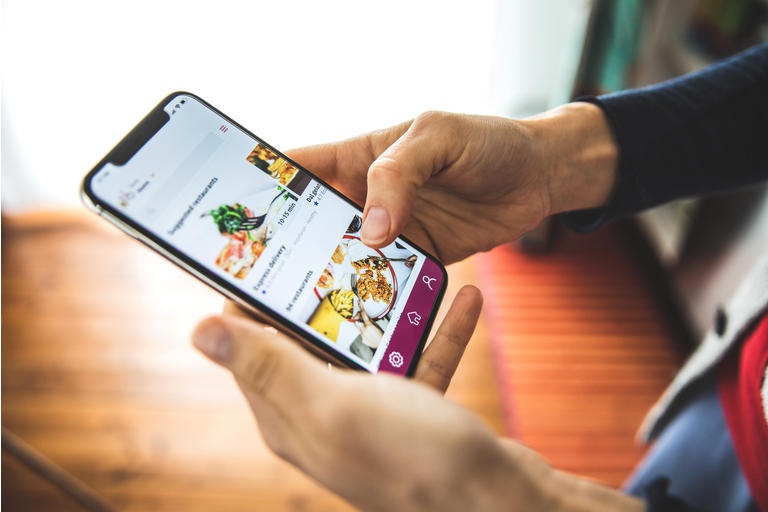 LeoPatrizi/E+ via Getty Images
There always comes the day when you have to admit when you've been wrong. That day has come for me. This year I have avoided buying Shopify (SHOP) on the excuse that it was overvalued. The stock has proceeded to rise 30% anyways, and in spite of the strong price performance, I have had a change of heart. I view SHOP to have a clear trajectory to emerge with e-commerce dominance that will rival the likes of Amazon. This is really a lower risk growth story that deserves to trade at a premium valuation. While the stock is unlikely to deliver similar returns in the past, I still expect the stock to materially outperform the market over the long term.
SHOP Stock Price
Shopify has delivered nearly 300% returns since the start of 2020.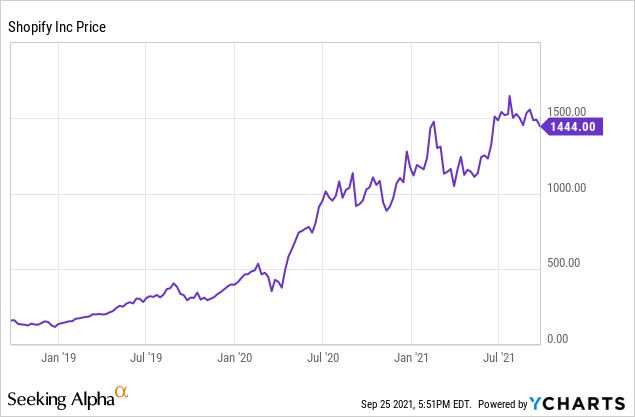 This year, the stock has returned "only" 32%. Is the stock too high or is this time to buy?
Is Shopify Still Growing?
There's ample reason to explain SHOP's upward trajectory this year. Total revenues grew 57% in the latest quarter - quite impressive considering that SHOP was lapping a pandemic quarter.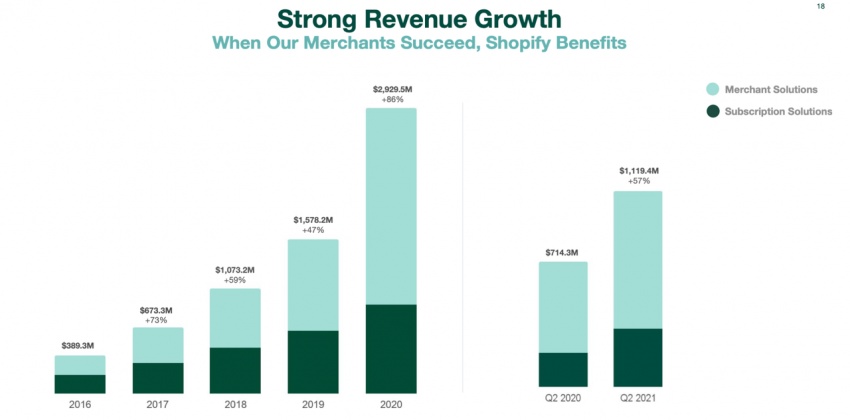 At this point, this is no longer just a top-line story. SHOP has been realizing steady operating leverage that accelerated significantly in 2020 and this year: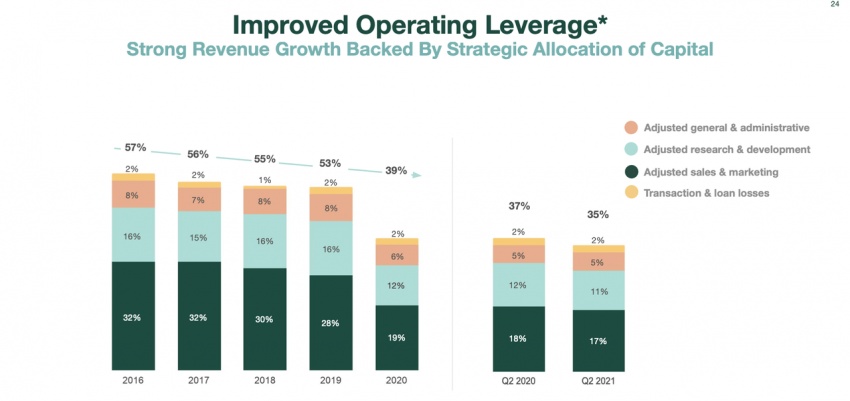 (Investor Presentation)
SHOP saw net income jump 23x to 9 million in the latest quarter, but that was driven by 0 million in unrealized investment gains. Focusing squarely on operating income, SHOP saw growth from 4 thousand to 9 million. Year to date, operating income swung from a .9 million loss last year to 8 million this year.
Is Shopify A Good Long-Term Stock?
This isn't just a pandemic story. The pandemic accelerated the growth of e-commerce, but e-commerce should continue growing long after this pandemic ends. SHOP has positioned itself as the strongest competitor to Amazon (AMZN).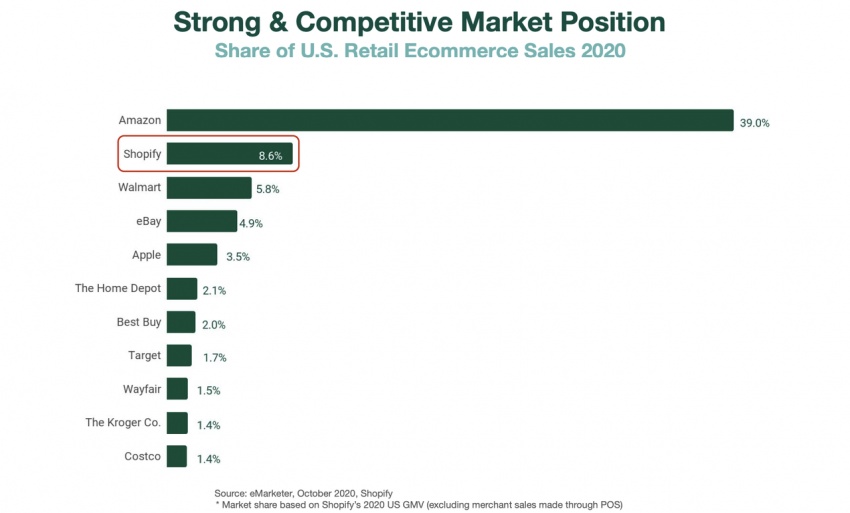 (Investor Presentation)
I expect SHOP to keep taking market share in e-commerce, first from everyone else and finally eventually from AMZN. SHOP benefits from the value it offers to online sellers: it offers one single platform that lets you manage not only your own website, but also your presence on various shopping channels.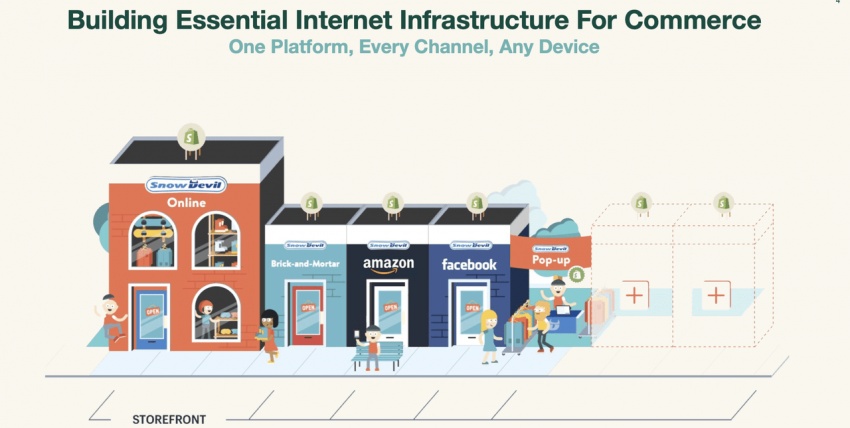 (Investor Presentation)
SHOP continues to invest in long term growth, as evidenced by the 37.8% growth in research & development ('R&D'). Longer term, SHOP hopes to build out, among other things, a fulfillment network which will rival that of AMZN.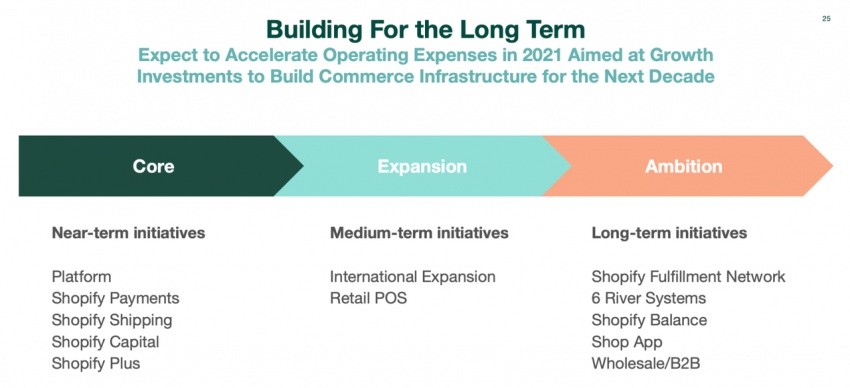 (Investor Presentation)
SHOP is the kind of stock that you pass down to your grandchildren - it is like a baby AMZN that, if successful, can grow to become much more.
Is SHOP Stock A Buy, Sell, or Hold Now?
Let's discuss valuation. SHOP is trading at 39x forward sales, and is projected to sustain strong growth even beyond the pandemic.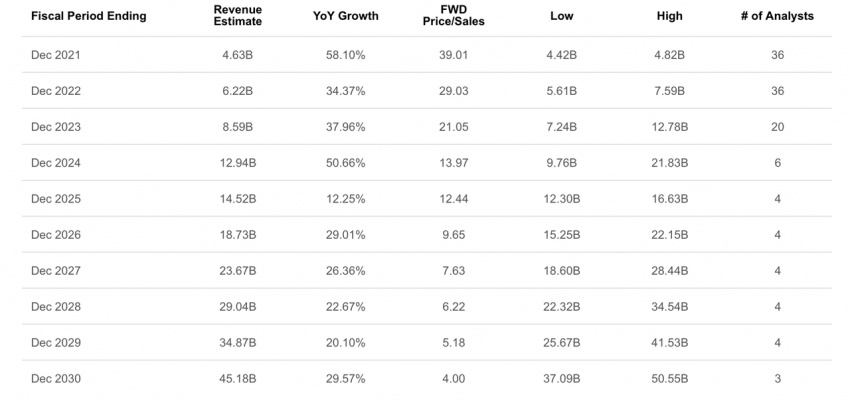 SHOP is also expected to finally see strong earnings growth: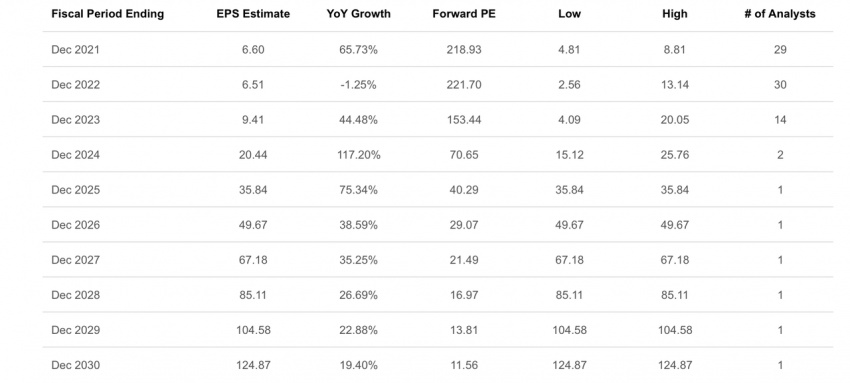 (Seeking Alpha)
I note that SHOP does have over billion in net cash and investments. SHOP's equity investments swelled as its equity holding Affirm (AFRM) came public. Is the stock buyable at current levels? Just looking at the consensus estimates above, I would expect SHOP to deliver strong results over the next 10 years. The stock currently trades at 11.6x 2030e earnings, yet I could see the stock trading up to 40x earnings if it can trade at a 2x price to earnings growth ratio ('PEG'). That appears feasible considering that SHOP should be considered a lower risk name. 40x 2030e earnings would place SHOP at nearly ,000 per share - 246% higher. That would equate to 13% annualized returns - a respectable amount again considering the lower risk profile. Is the estimate reasonable? 2030 estimates of 4.87 in earnings per share would equate to approximately .8 billion in net income, representing a 35% net margin. That appears reasonable, as in spite of the low 55% gross margin, I expect operating leverage to prove immense for this company.
What about the growth rate? On average, SHOP is expected to sustain 28% compounded annual growth over the next decade. That's some mighty expectations, but it seems believable considering that SHOP will benefit both by the overall growth of e-commerce as well as its growth within e-commerce. I previously have not been bullish on SHOP - to my detriment - and I am going to bite the poison and admit that my neutral position was wrong (the stock has jumped over 30% since my last article). While the potential return profile is far lower than the typical stock I buy, I can see the stock being a great addition to most portfolios as a low risk core position. That is, whereas I personally have no stake in SHOP, I technically rate shares a buy.
Risks
Volatility should be expected. While I consider SHOP to be lower risk due to its realistic trajectory to rival the likes of AMZN, the current stock valuation almost guarantees that the stock will eventually meet some bumps. Further, it's possible that SHOP does not achieve the 13% projected annual returns, especially if SHOP does not retain a premium valuation in a decade. My view is that with stocks like SHOP, if one holds long enough, the returns should outpace the market - if only due to the long secular growth story.

SHOP might not be able to rival AMZN as I predict. This might occur if another platform, or even AMZN itself, somehow manages to stop SHOP from continuing to grow its seller base. I find this to be unlikely, especially with the rollout of SHOP Pay which would instantly benefit any seller in SHOP's network. That said, anything is possible, and such a result would likely prevent SHOP from achieving the growth projections and cause it to trade at humble valuations. If there comes evidence of this happening, however unlikely it may seem, then investors would likely wish to take that as a sign to sell.
Conclusion
It isn't easy to admit when I'm wrong, but I have clearly been wrong on SHOP. I view my mistake to have stemmed from not giving SHOP enough credit as a lower risk growth story. SHOP has achieved the scale to drive positive cash flows - it will likely eventually achieve the network to challenge AMZN head-on. I would not be surprised to see a future where almost every e-commerce sale comes from either AMZN or SHOP. While the current stock price may seem difficult to swallow, I expect the stock to eventually grow into its valuation and then some. I rate shares a buy.