Nov 6 2021 - Roku's Q3 Update Highlights The Evolution Of Streaming Customers
Summary
ROKU's fundamentals are very strong, which belie the stock's current downward trajectory.
ROKU is shaping up to be a bridge to a key customer demographic.
Impact from other competitors, although not significant now, cannot be discounted.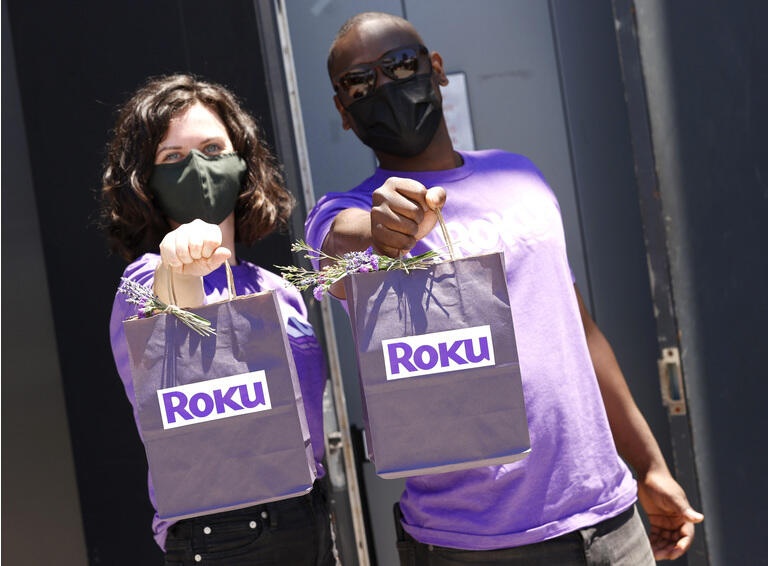 Arturo Holmes/Getty Images Entertainment
Once considered impossible due to the limited telecommunication bandwidth of a copper telephone cable, technology brought streaming to handheld devices and computers but looked like they would leave the television set behind.
Roku Inc (ROKU) acts as a bridge between the TV and the "stream", along with the potential to be a lot more. Given developments in the ongoing streaming wars and related factors, the company earns a guarded recommendation for inclusion into an investor's "core" portfolio ("core" and "satellite" portfolios were discussed in an earlier article).
Value Proposition
Starting out in 2008 as a Netflix project to develop a player, Roku went on to become a company in its right with the "Roku Box": a small square device for the TV that connects to the internet, allowing the user to watch both free and paid video content via apps (also called "Channels"). Each of these "channels" typically represent a streaming service. The company operates two main business segments:
The "Platform" segment, which generates revenue from digital advertising and related services, content distribution, premium subscriptions for customers wanting ad-free content, and licensing arrangements with the likes of TV brands;
The "Player" segment, which generates revenues from the sale of streaming players, audio products, and related accessories.
Obviously, the "Platform" segment is the most important segment for the company. For example, 94.6% of Roku's gross profit in 2020 came from this segment. The "Player" segment serves as something of a "bridge" between streaming on handheld devices and the TV set (and thus a revenue driver for the other segment). In early 2020, the company partnered with a number of global brands to both market its devices and produce "Roku-ready" TVs.
Q3 Update vis-à-vis Financials
Since Q3 2020, the company has had a very interesting feature with regard to Earnings Per Share (EPS) estimates projected by analysts: it beat them by a considerable margin.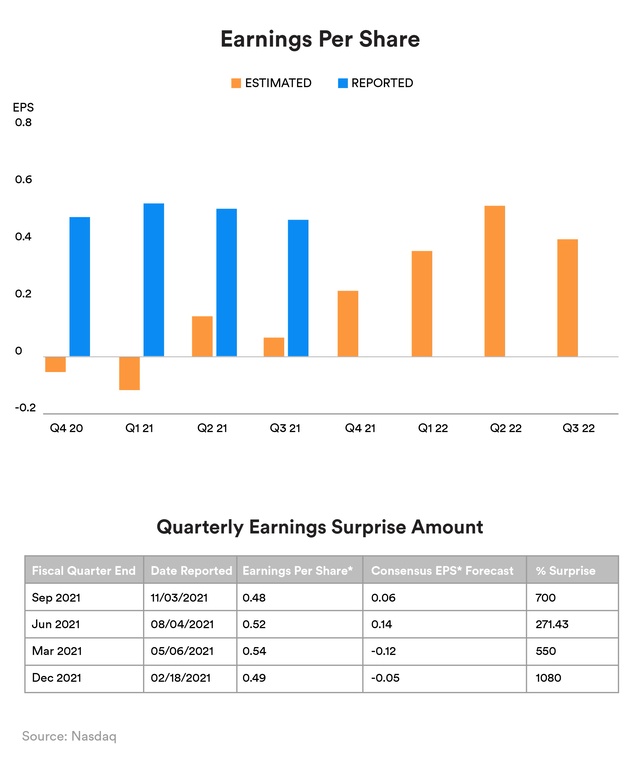 In its Q2 update, the company reported that its in-house Roku Channel received significant interest from its subscribers and that it lost a billion streaming hours, despite registering a sizeable number of new users. The company attributed this to easing of pandemic-caused movement restrictions and pointed out that while its streaming hours increased by nearly 19% globally in Q2 year over year, traditional TV was estimated to have declined by the same amount.
A dispute with YouTube TV leading to its removal from the platform seems to have been a source of perturbation for investors: Google's apps are very popular and readily available in many streaming-supported TV models. After the news release, the stock's YTD performance dipped below those of benchmarks Nasdaq-100 (NDX) and S&P 500 (SPX) for a period of time until a lightning-fast recovery sent the stock soaring again.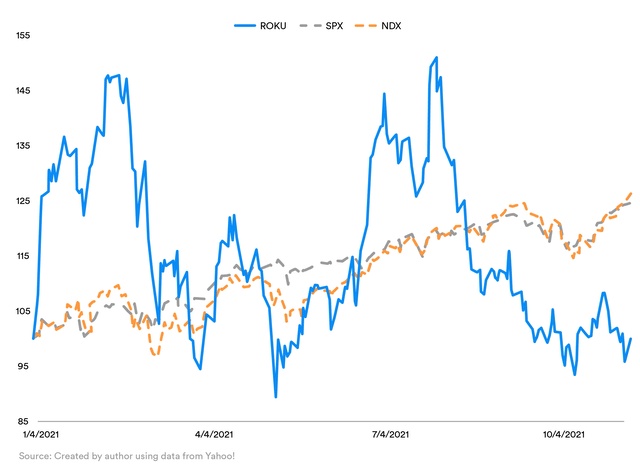 The company's financials show a delightful symmetry all the way till the Q2 numbers while factoring in the loss of streaming hours as well as the YouTube imbroglio.

In Q2, Roku comfortably beat analysts' estimates in virtually every significant metric except net subscriber adds – an issue Netflix notably has had throughout the year. The company also absorbed rising costs in its hardware segment to insulate customers and, of course, continue to push for switching over to the Roku platform from traditional TV.
However, despite the facts, investors' concerns regarding the dip in usage and cost increases in the company's hardware led to the stock taking a dip in YTD performance from around the Q2 update till the beginning of November, albeit with a brief attempt at recovery in mid-October stymied by YouTube's exit announcement as well as news that Cathie Wood's ARK funds sold their holdings in the stock.
Roku's Q3 update neatly wrecks its hitherto-delightful symmetry in financials with delightful outperformance – and the "Platform" segment carries the day. Net revenue and gross profit are up 7% and 27% respectively while cost of revenue and operating expenses are down 10% and 2% respectively as compared to the entirety of 2020 and a whole quarter left to go. Operating income had long become positive compared to the million loss in 2020.
The company's revenue share and cost of revenue across segments also shows the aforementioned-delightful symmetry until Q3 came roaring in.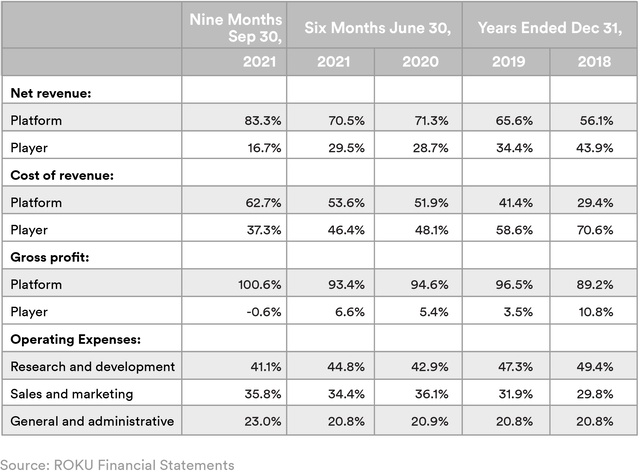 Furthermore, relative to 2020, the company's key operating metrics have registered an astounding rise in ARPU and a solid rise in active accounts, while registering a slight increase in streaming hours.

Despite all of this, the company apparently missed analysts' expectations and the shares were (at the time of writing) down in after-hours trading.
"Expectations" Versus the Big Picture Explained
Roku's clash with YouTube is hardly unique: over the past year, similar disputes had arisen with NBC's streaming service Peacock and HBO's streaming service HBO Max before being resolved. Central to these disputes is the company's revenue-sharing template. While the company wishes to maintain a precedent for its relationship with streaming majors (both current and prospective), the latter's quest for better terms is part of precedent-building for other companies like Roku (both current and prospective). Hence, this "value discovery" process (similar to "price discovery" in markets) is natural and to be expected. YouTube's declaration that it will end its partnership this December is part of this "discovery" process.
Now, the interplay between net subscriber adds and streaming companies can simply be analogized thus:
Not many people in recent history have purchased a cable plan with only a single network.
Roku's appellation of various streaming majors' offering as "Channels" is entirely apropos: it is (largely) to streaming majors what the likes of DirecTV and Xfinity/Comcast are to the likes of HBO and the Disney Channel.
The "net subscriber adds" metric should be expected to be lower for every streaming major going forward since the customer base is rapidly maturing. For example, Netflix's earlier proposition of offering a "curated" set of popular titles instead of paying for cable was a cost-efficient proposition. Now that the company is focused primarily on "original content" while the sources it used to "curate" from are developing into its rivals, this metric is bound to trend downwards; viewers won't watch a single channel when they're long-habituated to having many in the traditional TV space.
The current stabilization in the company's "streamed hours" metric vis-à-vis streaming majors' lowered "net subscriber adds", thus, gets context when considering the fact that streaming is not as ubiquitous as traditional TV, the aggregated cost proposition for turning to the new space can't be simultaneously higher than that of the traditional space and also have a high adoption rate from customers – since most of the latter can presumably do basic arithmetic. Hence, customers (as a whole) are also engaged in a "value discovery" process with the streaming majors' costs.
In January this year, Roku acquired Nielsen's ad insertion technology and also entered a long-term partnership that integrates the latter's mainstay – measuring content via ratings – into its products. Thus, the company offers streaming majors both the means to measure popularity and consumption for future content plans as well as the potential to gain audience share via multiple tiers of access options. Roku's increasing "active account" metrics is proof that traditional customers are transitioning to streaming. While a subset of the audience might prefer consuming exclusive content, the greater audience prefer a wider variety of choices. Thus, streaming majors have to evaluate partnerships with the likes of Roku more favourably over aiming for trends based on Netflix's past metrics. In the present paradigm, a massive audience is seeking efficient transfer costs into an evolving space.
This sort of evolution isn't always modellable and quite disruptive, which is why analysts' expectations would be off in this case. Having an objective view of the larger environment at play beyond the estimates empowers the investor into making a better investment decision.
Final Thoughts
Roku's strong fundamentals earns it a recommendation which is guarded on account of a couple of factors:
Another momentous clash a la YouTube might destabilize company revenue streams, which honestly isn't in either party's interest. Neither party should discount the fact that a rich audience awaits beyond the conflict which in itself might be academic, given the current stage of this space.
Given this space is still evolving, it isn't unlikely that another company offering the same technical bridge between audience and streaming major but with a different monetization model might rise up to challenge Roku and establish precedents for relationships.
Given these facts and the current lack of a sizeable rival in play, any downward trajectory of the stock in the near term due to clashes with streaming majors, et al, presents an interesting opportunity to "buy the dip". Such dips also make viable short-term plays in the "satellite" via fractional shorting or inverse/leveraged inverse instruments. The mid- to long-term outlook (i.e. from two quarters to two years), however, is bound to be a net positive.
Investors are also advised to keep an eye on developments in the streaming market for alternative/additional undervalued choices for a basket with the "streaming" theme.