Jan 19 2022- Nvidia Vs. AMD: Which Is The Better Growth Stock?
Summary
Both Nvidia and AMD have posted favourable gains in the past year thanks to rising chip demand across all industries from PC to automotives.
Nvidia has been an industry leader in graphics and AI processors in recent years, commanding more than 80% of global market share.
Meanwhile, AMD continues to gain prominence in the provision of computing processors for data centers and HPC systems, with robust market penetration that is putting industry leader Intel on notice.
With both companies being key enablers to high-growth digital trends that underpin the future of technology, there is still significant headroom for long-term growth underpinning massive upsides ahead.
With a robust growth trajectory and a strong balance sheet, both Nvidia and AMD are favourable growth stocks in 2022, especially as pandemic-era stimulus dwindles and rate hikes start rolling in.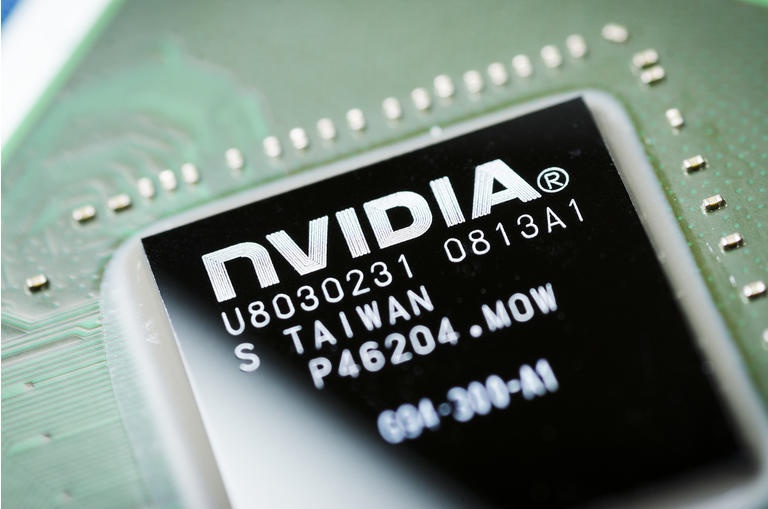 Antonio Bordunovi/iStock Editorial via Getty Images
Both NVIDIA (Nasdaq: NVDA) and AMD's (Nasdaq: AMD) stocks have been strong outperformers of the market in 2021. Over the past 12 months, Nvidia has more than doubled its market value with gains surpassing 125%, while AMD posted an uptrend of close to 57%. The chipmakers have reported blockbuster growth from both a fundamental and valuation perspective, as surging demand buoyed by accelerated global digitization trends continues to outpace supply.
But stepping into the new year, both stocks have suffered a mild pullback due to broader market declines triggered by imminent monetary policy tightening. The recent release of meeting minutes from the Federal Reserve's December policy meeting, paired with increasingly hawkish narratives from Fed representatives have indicated an urgency for faster and sooner rate hikes to tame inflation. While this has stoked fear amongst equity investors as they mull on how to price the upcoming rate hike impacts into asset valuations, leading to increased market volatility in recent weeks, we believe the Nvidia and AMD stocks will emerge favourably considering their high growth potentials and the stable nature of their respective businesses.
Although Nvidia currently trades at nearly double the valuation multiples of AMD, and is the second most expensive stock in the NYFANG+ Index after Tesla, the company still has significant headroom for growth in coming years. The fast-expanding market for next-generation AI and graphics processors to support the data center and gaming segments, paired with increasing growth momentum in emerging technologies like virtual reality and the metaverse make strong tailwinds for Nvidia.
And the same goes for AMD. Although the chipmaker specialized in CPU processors currently lags its comparable peer in terms of valuation, AMD has become a fast-expanding market share gainer that has put industry leader Intel (Nasdaq: INTC) on notice this past year. Similar to Nvidia, AMD's step-up in CPU processor technologies in recent years has made a large appeal to the gaming, data center, and high-performance computing ("HPC") segments, underpinning robust demand for AMD's products in coming years.
With both Nvidia and AMD being the leading enablers of key digital trends in coming years, their stocks are well-poised for further growth of as much as 50% in the near-term, making the recent price pullback a reasonable entry point.
Nvidia
Nvidia's consolidated sales grew by a solid 50% during the third fiscal quarter ended October. Not only did the blockbuster results set a new quarterly sales record for the chipmaker, it also blew away consensus estimates for both earnings and revenues. The chipmaker also guided similar growth for the fiscal fourth quarter ending later this month, which would take fiscal 2022 revenues up by more than 60% from the prior year.
With the expansion of Nvidia's core competencies in graphics and AI processors in recent years addressing the needs of nascent growth segments such as gaming, data centers, autonomous and connected vehicles, and virtual reality, the company is still in early stages of growth with significant upsides ahead. Although Nvidia already commands more than 80% of the global market share for graphics and AI processors, it continues to benefit from a growing addressable market buoyed by demand from said emerging technologies.
Differentiated by the Omniverse
Nvidia's launch of the "Omniverse" software platform was a major focus during its annual GPU Technology Conference ("GTC") in November. By leveraging its existing core competencies in graphics and AI, Nvidia has created an open 3D development platform that enables creators ranging from engineers to game developers to collaborate in real-time. Immediate applications for Nvidia Omniverse include the facilitation of 3D workflows and remote collaboration, as well as simulations through the digital replication of real environments through key apps like Nvidia Omniverse Avatar and Nvidia Replicator.
What differentiates Nvidia from its industry rivals when it comes to capitalizing on opportunities stemming from metaverse adoption is that the Nvidia Omniverse platform opens a gateway for the chipmaker to directly participate in what would blossom into an 0 billion market over the next five years. Software and service sales related to the metaverse, like Nvidia's Omniverse applications, are expected to drive more than 70% of the growing segment's addressable market, while the remainder will likely be driven by related hardware sales in which Nvidia would also participate in indirectly through the supply of supporting processors.
Take for instance Nvidia's Omniverse Avatar application. The virtual avatars are equipped with observation, speech, comprehension, and dialogue capabilities on a diverse range of subjects, and can facilitate real-time virtual collaborations within a 3D environment, as well as virtual customer service interactions. With the rapid digitization of more than 25 million retail and industrial spaces that would be requiring intelligent digital avatars for customer service support within the foreseeable future, Nvidia's Omniverse Avatar application caters exactly to this opportunity. There are also at least 40 million digital designers and creators worldwide that could use Omniverse Avatars to collaborate on 3D workflows within Nvidia's immersive software platform. The 3D virtual bot could also be integrated in in-vehicle AI features that will soon become standard in more than 100 million vehicles on city roads.
By implementing a "software-as-a-service" subscription-based model at a price of ,000 per user per year for Omniverse Avatar, Nvidia stands to capture a significant share of the emerging opportunities. Based solely on the use-cases mentioned above, the Omniverse Avatar application already addresses opportunities valued at a minimum of 5 billion per year, which represent about 30% of the total software-based metaverse market as mentioned above. Paired with Nvidia's other Omniverse applications like the Nvidia Replicator, which is scheduled for roll-out this year, the chipmaker is on track to adding metaverse software to its leadership roster, which already has graphics and AI processors on it. The new virtual world features are also expected to drive additional hardware sales, leading to the generation of incremental adjacent revenues in coming years.
Undisputed Leadership in GPU and AI Processors
As mentioned in earlier sections, Nvidia already commands more than 80% of the world's market share for GPU and AI processors. Considering Nvidia's continued commitment to innovation, it is expected to remain the undisputed leader in coming years, with further growth buoyed by entry to new verticals like autonomous driving.
Much of Nvidia's growth in recent quarters has been driven by demand for the high-power GeForce RTX GPUs used in gaming PCs. The trend has become especially prominent over the past year, with recurring pandemic-related lockdowns propelling a new surge of interest in competitive gaming and related digital content creation. The global gaming market is now expected to rapidly expand into a 5 billion opportunity over the next five years, representing growth at a compounded annual growth rate ("CAGR") of 12.4%. In order to capitalize on the growing momentum in gaming, Nvidia has introduced the second generation RTX architecture, Ampere, last year. Ampere offers improved ray-traced graphics and best-in-class AI features to enhance the high-performance gaming, and is now supporting more than 200 games including best-selling titles like Cyberpunk and Minecraft. The chipmaker has also recently unveiled the all-new GeForce RTX 3080 Ti graphics processor for use in high-end gaming laptops, underpinning greater exposure to the fast-expanding gaming and PC markets. With more than 85% of Nvidia's GeForce gaming laptop installed base still operating on the legacy GTX architecture, the chipmaker is poised for a large upgrade cycle ahead.
In addition to gaming, Nvidia's GPU processors are also a hot commodity within the data center segment thanks to growing adoption of nascent technologies like cloud and edge computing. About half of Nvidia's data center segment revenues are generated from the sale of GPUs to cloud service providers, with the most notable of which being its collaboration with Amazon's AWS (Nasdaq: AMZN). Nvidia's GPUs are also used in close to 70% of the world's top 500 supercomputers today, a testament to the chipmaker's prowess in high-performance computing and key validation for its technological competencies. Nvidia has become one of the best-equipped in the industry for additional growth opportunities ahead in the data center sector, which is expected to grow into a TAM valued at more than 0 billion over the next five years.
Nvidia also makes AI processors, such as the "Jetson AI" platform and "NVIDIA DRIVE" platform, which can be used to facilitate both deep learning and machine learning workloads, and enable a diverse range of use-cases from automating operational processes and facilitating big data analyses, to powering intelligent customer support systems and driving autonomous vehicles. AI is becoming a fast-growing market, as it continues to play an increasingly critical role in the development of emerging technologies that drive the future, underpinning additional high growth opportunities ahead for Nvidia. Meta Platforms (Nasdaq: FB) alone has announced a deployment of up to billion in capital spending towards expanding its AI capabilities, which would be a boon to Nvidia's fundamentals in coming years. AI processor demand arising from autonomous vehicles are also expected to grow into a  billion market by 2025. And Nvidia is already making meaningful progress in this field. NVIDIA DRIVE solutions have been sold to established OEMs, electric vehicle start-ups, robotaxi developers, as well as trucking companies including Daimler's Mercedes-Benz (OTCPK:DDAIF), NIO (NYSE: NIO), GM's Cruise (NYSE: GM), and Volvo.
NVDA's Financial and Valuation Prospects
Consistent with Nvidia's recent financial performance and management's full year guidance for fiscal 2022, we are projecting total revenues of .8 billion by the end of the current fiscal period. Paired with the high-growth opportunities ahead in which Nvidia has already shown a strong foothold in as discussed in earlier sections, the topline is expected to further advance at a CAGR of 16.3% towards .2 billion by fiscal 2026.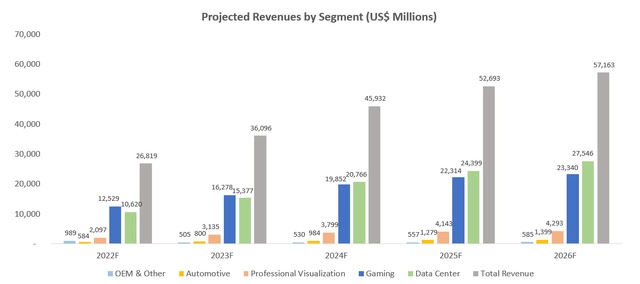 Combined with Nvidia's projected cost structure, which takes into consideration its current cost structure, increasing mix of high-margin data center segment sales, and anticipated ability to scale Omniverse opportunities in the long-run, the chipmaker is expected to generate net income of .3 billion for fiscal 2022, with further growth towards .1 billion by fiscal 2026.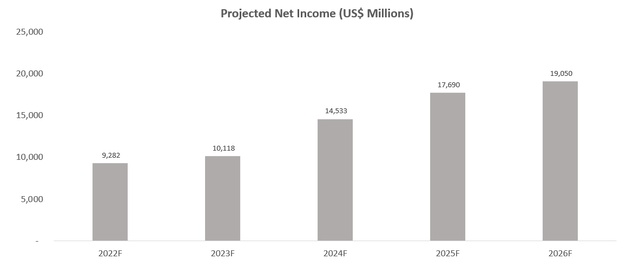 Nvidia Financial Forecast
Author
i. Base Case Financial Forecast – Nvidia:

Nvidia Financial Forecast
Author
Drawing on the above analysis, our 12-month price target for Nvidia remains at 9.80. This represents upside potential of more than 48% based on the last traded price of 9.42 on January 14th.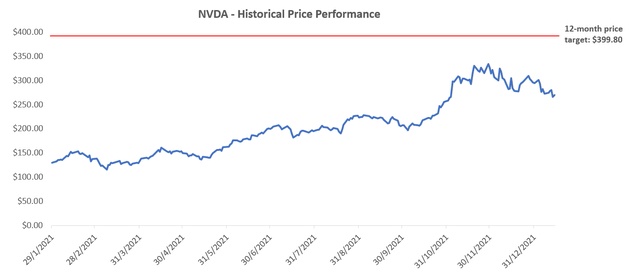 Nvidia Valuation Analysis
Author
The valuation analysis considers Nvidia's recent developments from an innovation and financial perspective, as well as expectations for the protracted chip supply constraints to ease in the latter half of calendar 2022.
i. Valuation Analysis – Nvidia: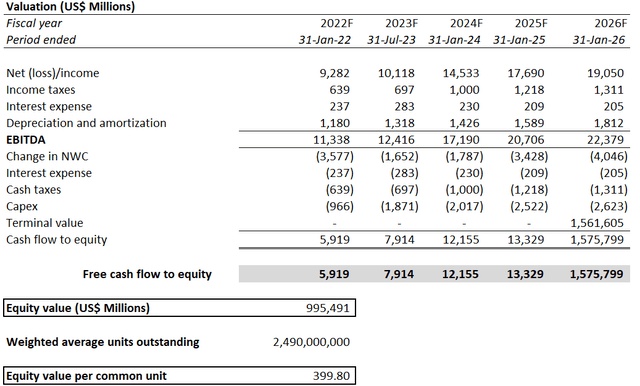 Nvidia Valuation Analysis
Author
AMD
AMD, on the other hand, benefits from favourable market trends ahead that are similar to those for Nvidia discussed above, but with a focus on CPUs. Much of AMD's growth in recent years has been driven by data center sales. Growing demand for its EPYC processors used in server platforms have led the segment to more than doubling its sales during the first nine months of 2021. This has led AMD to up its fiscal 2021 guidance for the third time with expectations for annual consolidated revenues to grow by 65% from the prior year, instead of the initial forecast of 37%. The company is now expected to report revenues of at least .1 billion in the upcoming earnings call for full year 2021 results.
Growth By Innovation
Key catalysts to AMD's success in recent years include major improvements to its CPU chip technologies under the leadership of CEO Dr. Lisa Su, which have been validated by its increasing market share in server processors across hyperscale data centers, PCs, and HPC systems.
The most prominent which are the EPYC server processors which launched in 2017. The EPYC processors are now onto the third generation dubbed "Milan", with the fourth generation dubbed "Genoa" currently in development. The powerful server processors have evolved into one of the fastest and most powerful chips used in HPC architectures today. AMD's EPYC processors are now responsible for powering almost 15% of the world's top 500 fastest supercomputers, including exascale systems like "Frontier" and "Polaris" which are capable of solving calculations five times faster than today's top supercomputers. In the 73 out of 500 fastest supercomputers powered by EPYC processors, four are in the top ten, including Europe's most powerful system "JUWELS". This is double the representation that legacy industry leader Intel has in the top ten, which provides validation to AMD's rising competency in the HPC market.
The EPYC server processors are also well-embraced by hyperscale data centers operated by reputable cloud providers like Google (Nasdaq: GOOG/GOOGL), Amazon, Microsoft (Nasdaq: MSFT), and Meta Platforms. And although AMD has yet to announce any direct participation in the impending roll-out of next-generation immersive experiences in the metaverse like rival Nvidia, it has made its way to participate indirectly through a partnership forged with Meta Platforms. In November, Meta Platforms announced its selection of AMD's third-generation Milan EPYC processors to power its data centers, which will likely be used in supporting the continued roll-out of metaverse functions in coming years. Paired with the upcoming launch of the fourth-generation Genoa EPYC processors, which is supposed to be the "world's highest performance process for general purpose computing", the company is well-positioned to capitalize on high-growth opportunities in server processors ahead, which are forecast to generate a combined value of more than 0 billion per year from HPC and hyperscale data center applications alone over the next five years.
In addition to data center server processors, AMD also continues to benefit from its strengths in PC and semi-custom chips, underpinned by growing momentum in gaming and other verticals like autonomous driving developments, as mentioned in the Nvidia discussion. AMD's Ryzen series computing processors and Radeon series graphics processors used in powering desktop/notebooks have been in high demand in the past 20 months due to increasing demand for portable PC workstations to support remote working and learning environments. The company's recent launch of the "RDNA 2" architecture, which promises improved graphics in PC and console gaming, also bolsters its ability in capture share in the booming gaming market. The RDNA 2 architecture has already driven meaningful adjacent revenues for AMD's semi-custom segment where it collaborates with OEMs like Microsoft and Sony (NYSE:SONY) to co-develop tailored solutions for gaming consoles like the Xbox and PlayStation devices.
With demand for gaming consoles like the PlayStation 5 continuing to outpace supply, and an anticipated ease in chip supply constraints later this year, AMD stands to benefit from a surge in related revenues in coming years. Sony, which hit a chip supply snag last year, is estimated to have sold about 15 million units of the PlayStation 5 last year, and is expected to sell more than 20 million units in the current year if chip supplies allow. Meanwhile, Microsoft's newest Xbox Series X and Series S consoles have also been a big hit since their launches last year. Sales of the Xbox Series X and Series S consoles are expected to have exceeded "any previous version of Xboxes" in the first full year of sales, which stands at a minimum of 12 million units, and demand continues to grow rapidly for the console buoyed by attractive new game releases. Buoyed by the anticipated surge in gaming console sales volumes during the past holiday season, AMD is expected to report another year of record-setting growth in coming weeks, while also benefitting from the PC and console gaming momentum in coming years.
Rising Direct Competition with Nvidia
In addition to excelling in server processors, AMD is also stepping up its GPU capabilities. The company recently launched the second generation of its data center graphic processors featuring the "CDNA 2" architecture, which fuels direct competition with current market leader Nvidia in coming years as demand from the sector accelerates. The CDNA 2 architecture delivers more than two-times the performance of its predecessor by enabling integration with AMD's server CPU chips, making it a competitive offering in addressing HPC, hyperscale data center and AI workloads. AMD's latest achievement in data center GPU chips is a complement to its strengthening data center strategy, and is expected to further bolster its market share in HPC and hyperscale data center applications in coming years.
Meanwhile, on the flip side, Nvidia has also announced its entry into data center server chips during the GTC conference last year with the development of "NVIDIA Grace". NVIDIA Grace is designed to deliver a "10x performance leap for systems training giant AI models" and would directly compete against AMD's rising prominence within the realm of HPC upon the Nvidia CPU chip's anticipated launch in 2023. The design of Nvidia's newest server processor is based on licensed IP from Arm Limited ("Arm"), the British "semiconductor-licensing giant" that Nvidia intends to acquire from SoftBank Group ("SoftBank"). Rising regulatory scrutiny on the transaction has soured the prospects of the two company's merger, which will likely impact Nvidia's ability to "scale up its ambitions" in data center CPUs down the road, meaning AMD will still be able to benefit exclusively from a years-long runway of growth in the industry.
AMD's Financial and Valuation Prospects
AMD is expected to have finished 2021 with total revenues of .1 billion, up 65% from the prior year consistent with management's guidance. And considering the chipmaker's increasing strengths in both computing and graphic processor technologies and favourable market tailwinds ahead, our forecast expects further top-line growth at a CAGR of 13.9% towards .9 billion by 2025.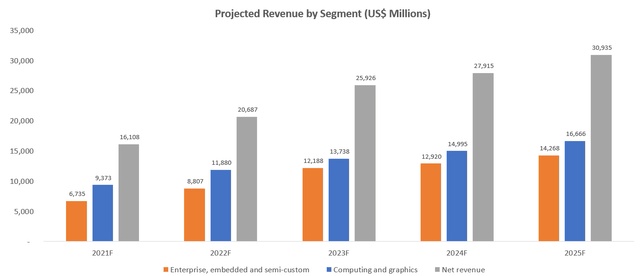 Similar to Nvidia's cost structure, AMD is expected to benefit from the increasing shift in product mix towards higher-margin server processor revenues, driving gross profit margins past 51% in the long-run, which is consistent with management's long-term goals. Paired with AMD's operating outlook discussed above, we are forecasting net income of .1 billion for 2021, with further growth towards .0 billion by 2025.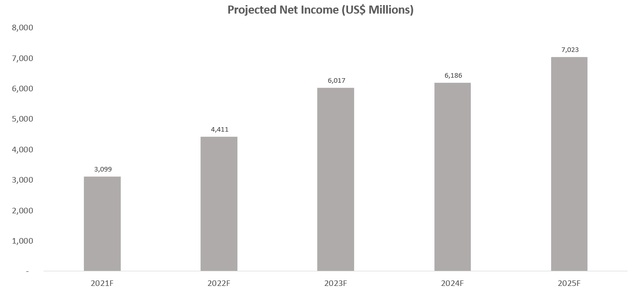 AMD Financial Forecast
Author
i. Base Case Financial Forecast – AMD: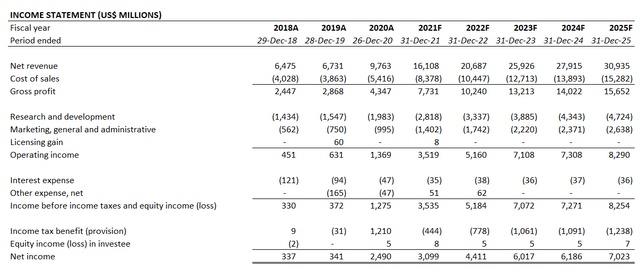 AMD Financial Forecast
Author
Drawing on the above analysis, our 12-month price target for AMD remains at 9.18. This represents upside potential of more than 45% based on the last traded price of 6.88 on January 14th.

AMD Valuation Analysis
Author
The valuation analysis considers AMD's recent achievements in HPC system and hyperscale data center applications made possible by continuous innovation, as well as its robust capital structure underpinned by robust cash flows generated from operations.
i. Valuation Analysis – AMD: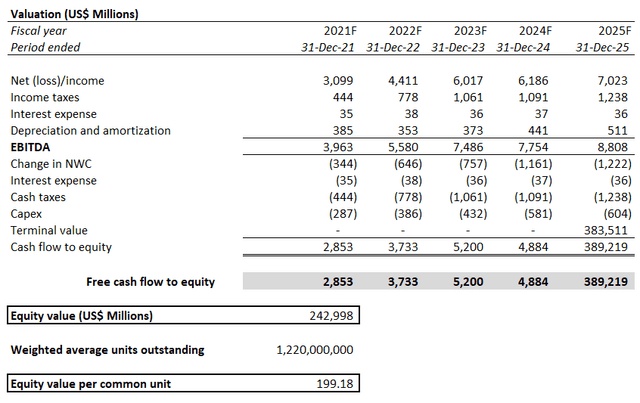 AMD Valuation Analysis
Author
Conclusion
With both Nvidia and AMD's technologies being key enablers of future digitization trends, both stocks are well-positioned for further ascension this year. The chipmakers both have "the wind at their back and a huge cheque-book in hand", which also makes them attractive growth stocks to invest in ahead of the upcoming rate hikes.